Steamer recce for safe Chhath
After 2 days of inspection by road, officials chose to inspect the ghats by travelling on a steamer on the Ganga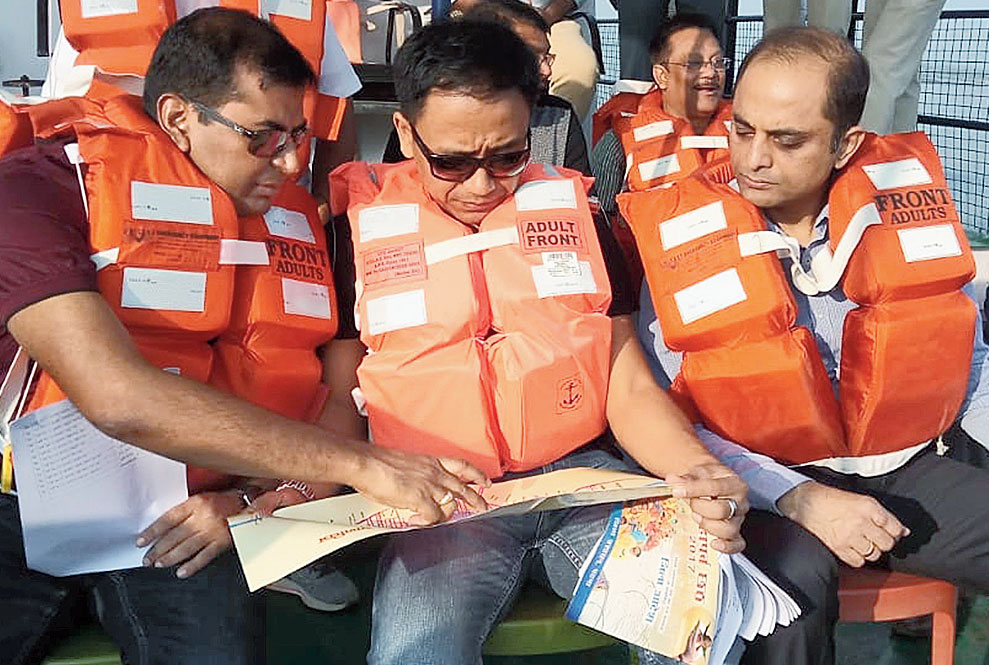 ---
|
Patna
|
Published 27.10.18, 06:45 PM
---
The district administration has stepped on the gas to ensure better arrangement at the ghats with less than three weeks left for Chhath.
After two days of inspection by road, officials on Saturday chose to inspect the ghats by travelling on a steamer on the Ganga. Patna divisional commissioner Robert L. Chongthu, urban development and housing principal secretary Chaitanya Prasad, Patna district magistrate Kumar Ravi jointly inspected the ghats for two-and-a-half hours starting from 7.30am.
Patna Municipal Corporation (PMC) commissioner Anupam Kumar Suman was also there.
The officials jointly inspected around 70 ghats starting from Nasriganj and ended at Kangan Ghat in Patna City locality from west to east.
All the officials issued orders at their own levels for making ghats safe and clean for devotees.
The work on the ghats is being carried out by the PMC, Bihar Urban Infrastructure Development Corporation (BUIDCO), building construction department, public health and engineering department (PHED) and Patna Electricity Supply Unit (Pesu) apart from traffic police and district administration. BUIDCO chief general manager Madan Mohan Kumar was also there.
These are departments responsible for installing changing room, watchtower, toilets, signages, and public address system, deputation of men and women police force apart from adequate power supply.
Patna DM Kumar Ravi told The Telegraph: "During inspection from the steamer, we found that LCT Ghat is not safe for devotees and it has been decided that Chhath cannot be performed at that ghat. On several ghats, we found that cleanliness needs to be given emphasis and we have given instruction to pace up work. Even the lights installed by BUIDCO were not functioning and instructions were given to repair it as soon as possible."
During the inspection it was decided that adequate number of boats of the National Disaster Response Force (NDRF) and the State Disaster Response Force (SDRF), necessary equipment and divers would be there on duty on the Ganga at different places.