Shotgun & Tejas go pandal hopping, spark buzz
Could rebel BJP leader get ticket from grand alliance led by rival RJD?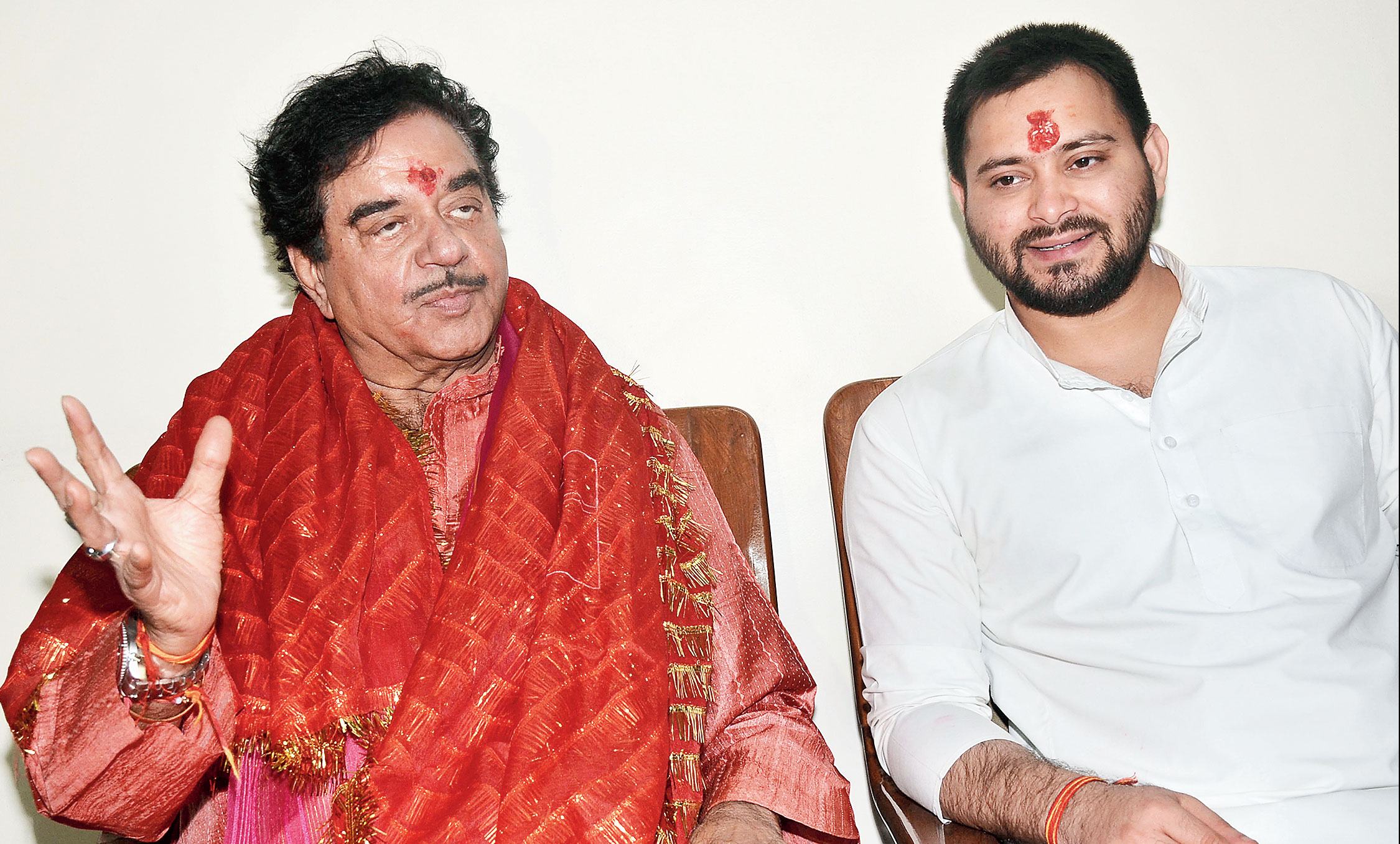 Shatrughan Sinha at home with Tejashwi Prasad Yadav in Patna on Wednesday night.
Picture by Nagendra Kumar Singh
---
Patna
|
Published 18.10.18, 06:41 PM
|
---
Tejashwi Prasad Yadav and Shatrughan "Shotgun" Sinha set tongues wagging after they went Durga Puja pandal hopping together and the Leader of Opposition dropped in for a late-evening visit to the "rebel" BJP Patna Sahib MP's house on Wednesday.
Sinha also said that he failed to convince Salman Khan to get married but that will not happen with Tejashwi.
It is no more a secret that the Bihari Babu — one of Sinha's several monikers — is not in good terms with his own party. He has spoken out against the party line several times, be it on demonetisation or frequent rise in the prices of petroleum products or the Rafale fighter aircraft deal. He also very often visits 10 Circular Road, where the RJD first family lives, to check on RJD
chief Lalu Prasad when he is home. However, on Wednesday it was Tejashwi who visited the house of Sinha around 10pm. It sparked speculation that the Bihari Babu is all set to contest the next Lok Sabha election on a Grand Alliance ticket.
Asked if the buzz was true, Sinha said: "Politics is always the game of possibilities and you never know what will happen."
Before reaching Sinha's house, Tejashwi and Sinha visited several pandals of the city together from Saguna Mor to Kadamkuan. Sinha was travelling in Tejashwi's car.
Sinha was all praise for Tejashwi.
"He has a bright future and he is the future of Bihar," he declared. "I realised this when I was roaming with him for the past two days. Wherever he visited I found that he received an electrifying welcome. This the first time that during Navratra I visited with him publicly. When people are seeing Tejashwi and Bihari Babu together, they are just going crazy. I have not seen such great response from the public in years."
Tejashwi too responded similarly when asked about his opinion of the rebel BJP MP.
"Shatrughan Sinhaji has been serving his party (read BJP) for a long time and he always thinks about the betterment of the party. I must say that there are some people in the party who do not want to see people speaking truth," the leader of Opposition said.
Asked about giving a Grand Alliance ticket to Sinha, Tejashwi said: "He is a big personality and it would be his decision. He is such a personality that whichever party he wishes to contest election with, all parties will happily welcome him."
Tejashwi also said that Sinha "is like my guardian and I have learned a lot of things from him".
Sinha speaks the truth and in favour of the nation, Tejashwi declared.