Tej appears for divorce hearing, avoids family
Court proceedings held in-camera on request of Lalu's elder son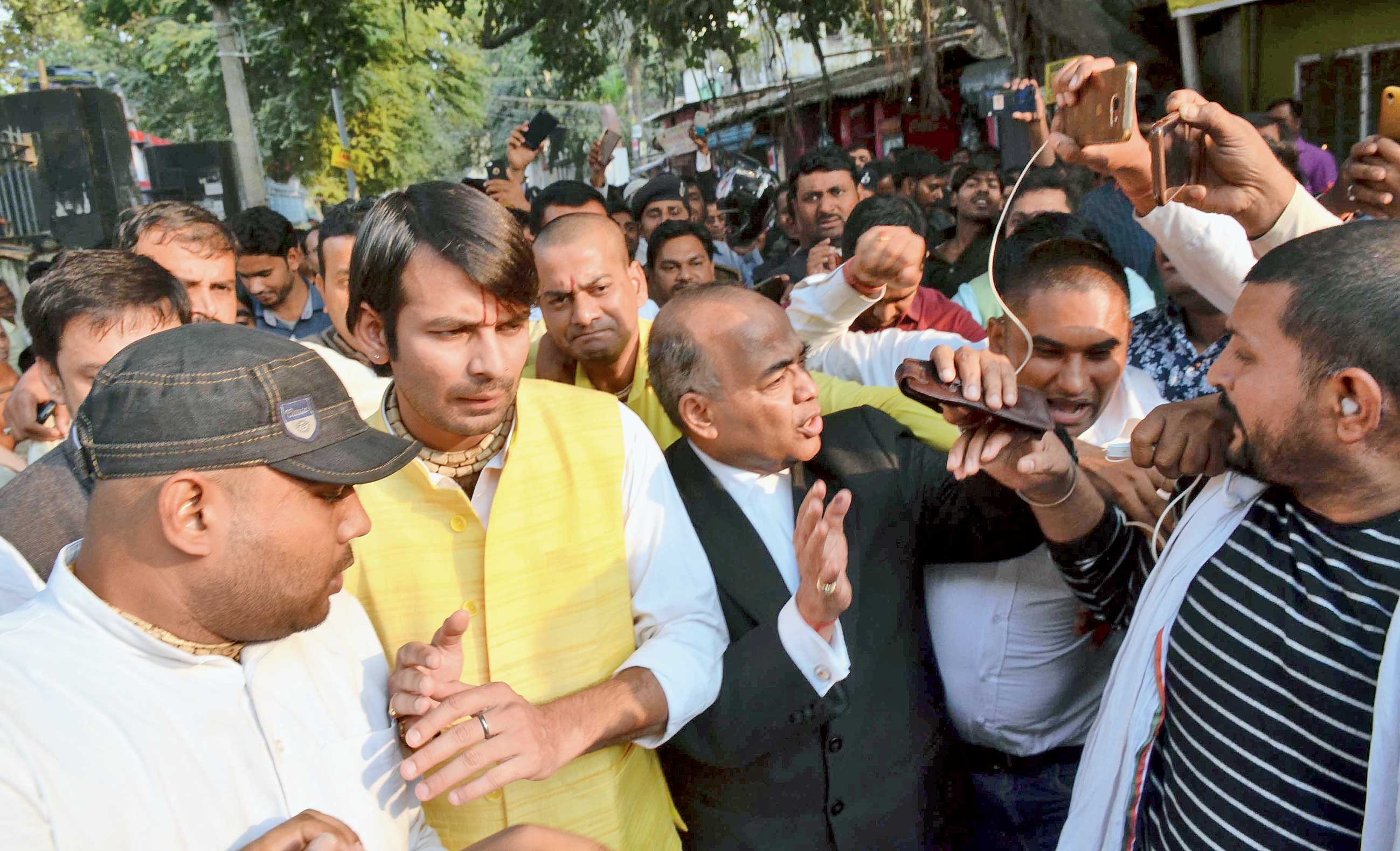 Tej Pratap Yadav at the civil court in Patna on Thursday.
Picture by Nagendra Kumar Singh
---
Patna
|
Published 29.11.18, 07:12 PM
|
---
RJD chief Lalu Prasad's elder son Tej Pratap Yadav returned to Patna on Wednesday after a gap of 27 days. He was on Thursday seen on the civil court premises, where he has filed a petition for divorce from his wife of six months, Aishwarya Rai.
He was accompanied by his counsel, Amit Khemka of Delhi High Court, who has come to Patna especially for this case.
After the hearing — which happened in-camera as he has requested so — Tej Pratap said: "I will fight my battle and am not going to withdraw the divorce petition at any cost."
He returned to Patna on Wednesday night, it was learnt, but did not visit his family's 10 Circular Road residence or meet his mother Rabri Devi and brother Tejashwi Prasad Yadav. Instead, Tej Pratap stayed in room number 119 of The AVR Hotel in the Raja Bazar locality.
On Thursday, Tej Pratap first reached the family court on the premises of the civil court at noon. He left after completing some formalities and returned at 2pm. During the hearing at 2:35pm, Tej Pratap requested in-camera proceedings. The judge of the family court, Uma Shankar Divedi, requested others to leave the courtroom but no one did.
At 2:42pm, Divedi went to his chamber followed by Tej Pratap and his counsel. The closed-door hearing happened for around eight minutes.
Later, the court issued notice to the defence side (read Aishwarya's side) to appear before the court and another counsel of Tej Pratap, Yashwant Kumar Sharma, said that the next date of hearing is on January 8, 2019, in which either Aishwarya will appear or she can send representatives.
Tej Pratap left the court along with a few supporters, but did not go to meet his family. Till the time of filing this report around 8.30pm, he had not visited 10 Circular Road.
Tej Pratap had married Aishwarya, who also comes from a political family, on May 12 this year. Lalu was granted provisional bail to attend the wedding where many politicians were present including chief minister Nitish Kumar.
Despite repeated requests from Lalu and Rabri, Tej Pratap is adamant on going through with the divorce. He has accused his family of not supporting him.
Tejashwi, on his part, remained busy in the Assembly, led a march to Raj Bhavan and hosted a dinner at his 5 Deshratna Marg bungalow for Opposition lawmakers.