Rabri Devi throws Ayodhya temple dare at BJP
She stressed that a temple can only be constructed in Ayodhya after the Supreme Court gives its verdict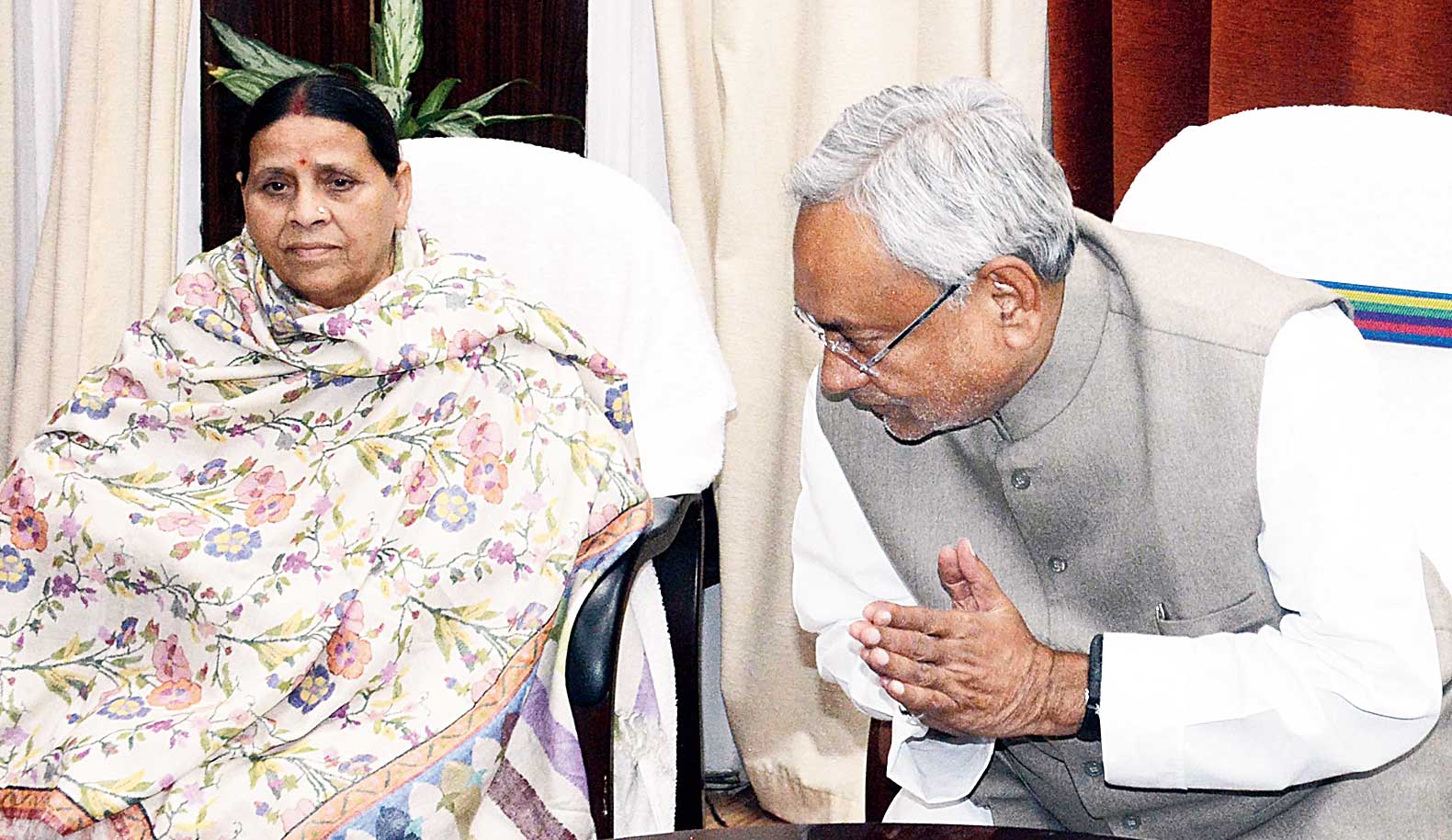 Chief minister Nitish Kumar with Rabri Devi at the state legislature on Monday, the first day of the winter session.
Picture by Nagendra Kumar Singh
---
Patna
|
Published 27.11.18, 07:56 AM
|
---
Former chief minister Rabri Devi on Monday dared the BJP to build the Ram temple in Ayodhya sidelining the Supreme Court.
Rabri, who is also the leader of the RJD legislature party, said the BJP makes the temple an issue every time elections are round the corner.
Sadhus have been gathering in Ayodhya to push for the construction of the Ram temple although the Supreme Court is to take up the Ayodhya title suit in the first week of January to fix a date for the hearing.
"I challenge the BJP to construct the Ram temple in Ayodhya, why they are not constructing the temple and who has stopped them from doing so?" Rabri asked outside the Council on the first day of the winter session of the legislature. "It is nothing but just an election issue and they do it whenever elections are round the corner."
She stressed that a temple can only be constructed in Ayodhya after the Supreme Court gives its verdict.
"The BJP cannot sideline the Supreme Court to build the temple. We are living in a democratic country and the country is run by the Constitution. Temple should be built but only with consensus. However, the BJP does not want to build the temple; they only want to do politics on the issue," Rabri asserted.
Chief minister Nitish Kumar, whose Janata Dal United is an ally of the BJP, has not uttered a word on the issue although the Ram temple issue has gained momentum in the past few days.
There have been shouts and murmurs that with rising pressure from the Vishwa Hindu Parishad (VHP) and RSS, the Narendra Modi government is mulling bringing an ordinance or enacting a law in Parliament to pave the way for the temple between December 11, 2018 (beginning of the winter session of Parliament) and January 12, 2019.
On Sunday, the VHP organised a Dharma Sabha in Ayodhya to press its demand for a temple.
At the event, Rambhadracharya, 68, a monk from Chitrakoot known to brag about his proximity to Prime Minister Narendra Modi, had appealed to Ram bhakts for patience, telling them he had an assurance the Centre would take concrete steps between December 11 and January 12 to build a temple in Ayodhya.
It's an open secret that Nitish has put a condition for his tie-up with the BJP from Day One that contentious issues like scrapping Article 370 of the Constitution and the push for a uniform civil code — another pet BJP issue — should be kept aside and the Ayodhya temple issue should be solved either through a court verdict or through negotiated settlement.