Prayers at Lalu home
JDU sees puja as a good opportunity for Tejashwi to repent for his "misdeeds"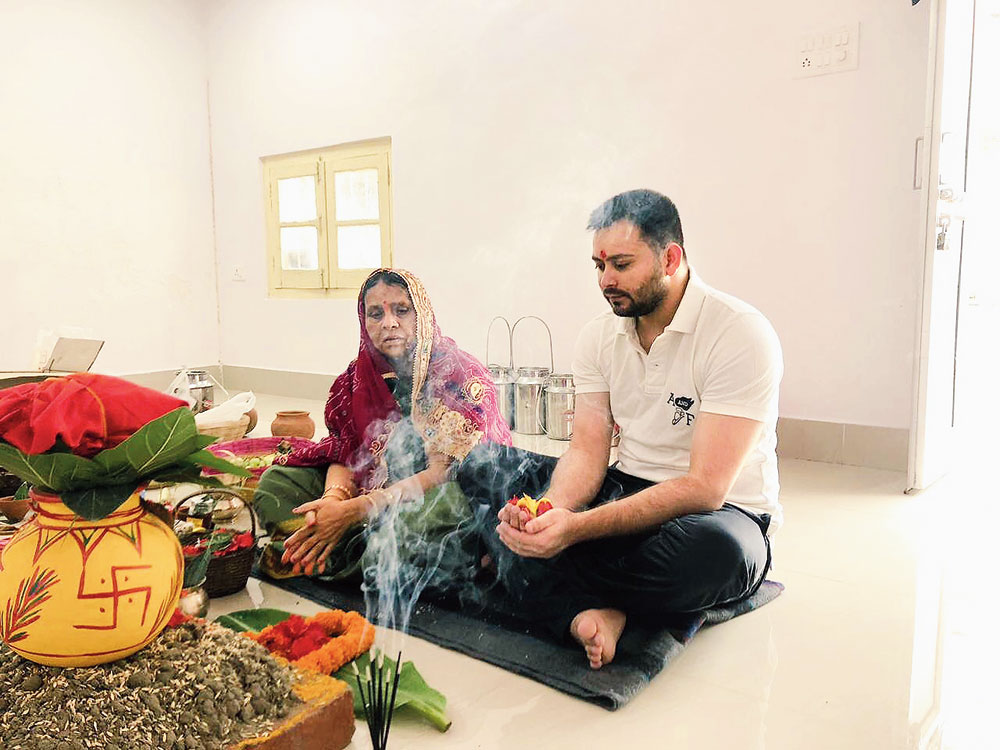 Rabri Devi and Tejashwi Yadav perform rituals during the kalash sthapna on the occasion of Navratra at 10 Circular Road in Patna
Telegraph picture
---
Patna
|
Published 10.10.18, 06:41 PM
|
---
Leader of Opposition Tejashwi Prasad Yadav performed special puja along with his mother Rabri Devi on Wednesday, the first day of Navratra.
The former chief minister will observe fast for the next nine days and will partake of only fruits and juices.
No non-vegetarian item will be cooked during the period at 10 Circular Road, the home of the RJD first family.
The Lalu family has always been very spiritual and religious, and this time Tejashwi has taken the lead.
He and his mother performed the puja for more than an hour. "Today I performed puja with my mother on the occasion of the beginning of Navratra. This Durga Puja I am just praying to mata rani that may good sense prevail among the misguided youths," Tejashwi said.
Sources close to the family said the focus of Rabri's puja this year to bring happiness to the family with Lalu in jail and his children also facing legal battles. "Rabriji is so attached to her family that she hardly goes out of the house," said an RJD source.
"You won't believe it, she never wants to leave her family members and that's the reason that she never got a passport made. Forget India, she does not even like going out of Bihar."
Rabri would be probably be the only chief minister who never went abroad despite serving a full term in office.
Tejashwi did not miss the opportunity to attack chief minister Nitish Kumar.
"This Navratra, may goddess give me strength and power to fight the people who are harassing and raping the sisters and daughters of Bihar. Jai Mata Di," Tejashwi said.
The JDU on the other hand quipped that getting involved in religious activities is a good opportunity for Tejashwi to repent for his "misdeeds".
"Tejashwi Yadav should pray to the goddess to give him good sense and culture because good sense is already prevailing among the youths of Bihar," JDU chief spokesperson Sanjay Singh said.
"It is Tejashwi who has deviated from his path. He left cricket, he left his studies and now he has left the good path of politics as well. I hope by performing puja, he will get the opportunity to repent for his misdeeds."