Neglect slur on senior officers
Savita Pathak, the 21-year-old trainee constable's death sparked violent clashes between trainee cops and senior officers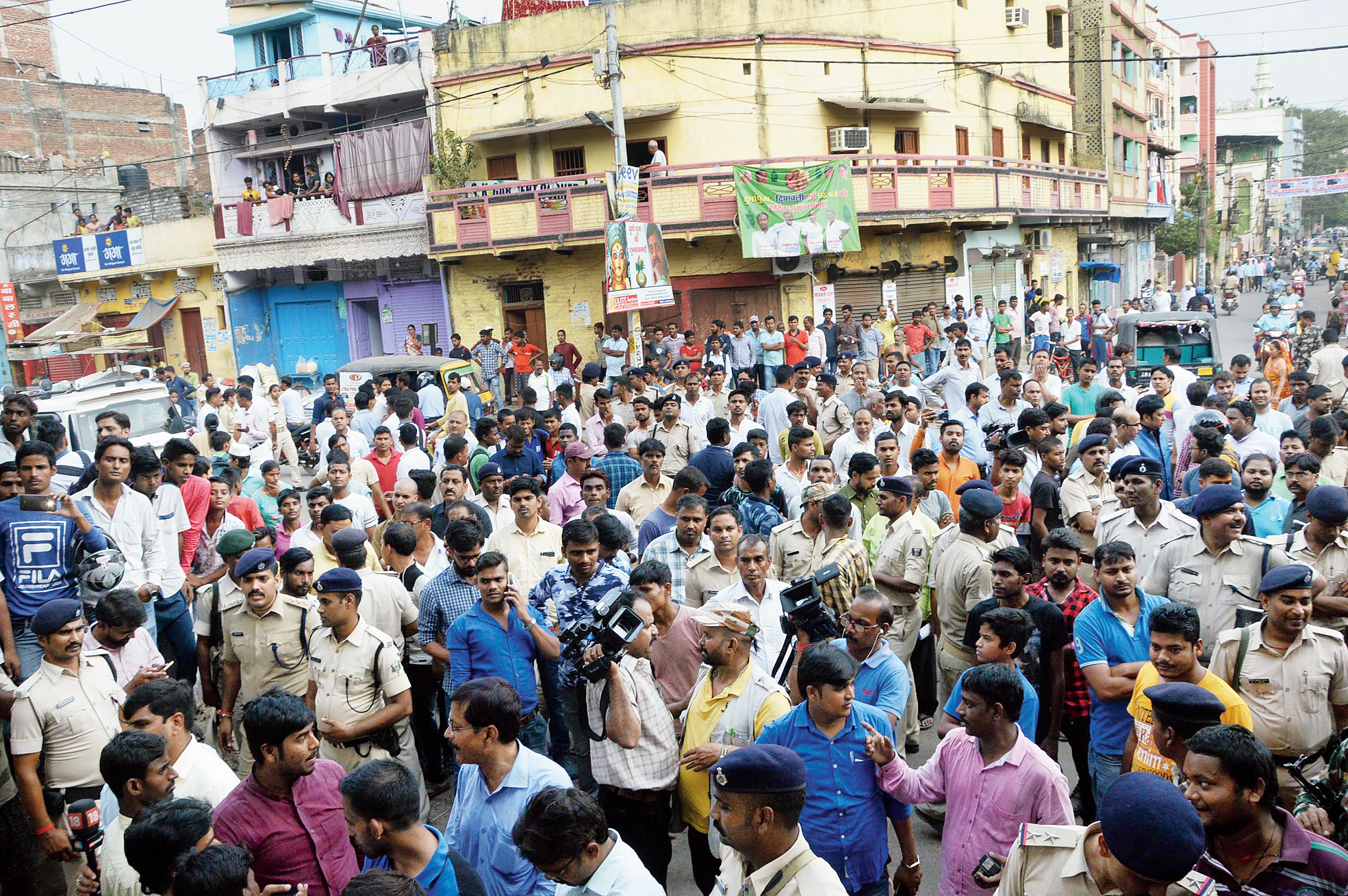 A crowd gathers at the police line on Friday.
Picture by Nagendra Kumar Singh
---
Patna
|
Published 02.11.18, 06:56 PM
|
---
Family members and colleagues of Savita Pathak, the 21-year-old trainee constable whose death sparked violent clashes between trainee cops and senior officers on Friday, have accused senior officials of the police line of negligence and cruelty.
Savita's younger brother Valmiki Pathak, who reached the police line after coming to know about his sister's death, said his sister was ill for the past 10 days.
"Around 10 days back she had complained of serious stomach pain. She was taking medicine and was also undergoing treatment," Valmiki said. "Despite being ill, she was working as she was not granted leave by the senior officials of the police line."
Savita, Valmiki said, was assigned duty at the Kargil Chowk traffic post.
On Wednesday, Savita had again come down with serious stomach pain and was admitted to a private hospital. As there was no improvement in her health she was referred to the Indira Gandhi Institute of Medical Sciences (IGIMS), but she could not be admitted there because no bed was available, Valmiki said.
Savita was brought back to the police line, and her condition deteriorated on Thursday night. Friday early morning she was admitted to Udayan Hospital, and died around 6am.
"She was brought to the hospital at 5.35am and died within half an hour after she was admitted. She was suffering from severe anaemia and septicaemia (blood infection). Her total leukocyte count was 2.83 lakh, which is very less," said an official at Udayan Hospital. Savita, a resident of Siwan and daughter of Triloki Pathak, had joined as constable in August this year.
Her colleagues at the police line also said that she was not granted leave despite her illness.
"Savita is not the isolated case. There are several trainee cops who have had to face the same situation. Trainee cops are not granted leave even in emergency situations," said a trainee woman constable.
The trainee cops claimed that apart from not getting leave, they live in pathetic condition; around 60 trainee cops are put in a single barrack and they say the food they get is poor in quality.
Patna senior superintendent of police Manu Maharaaj, however, claimed that Savita was on leave.
"As Savita was assigned duty with the traffic police, senior traffic police officers had to power to grant her leave. She was on leave. We will carry out a detailed investigation in this case," he said.
The SSP also said that the trainee cops will get all the compensation and allowances as per state government rules.
Friday's clashes come two days after Shambhu Sharan Rathod, a subedar in the Bihar Military Police (BMP), was suspended and an FIR was lodged against him when a trainee woman constable alleged he had molested her in his office. Hundreds of women trainee constables gathered in front of the office of the commandant of the BMP's 5th battalion, Ranjeet Kumar Mishra, demanding lodging of a criminal case and immediate arrest of the accused.