Mom-to-be safe even after bus turns turtle
Rupam, 30 weeks pregnant, was in the rear seat with her husband and four daughters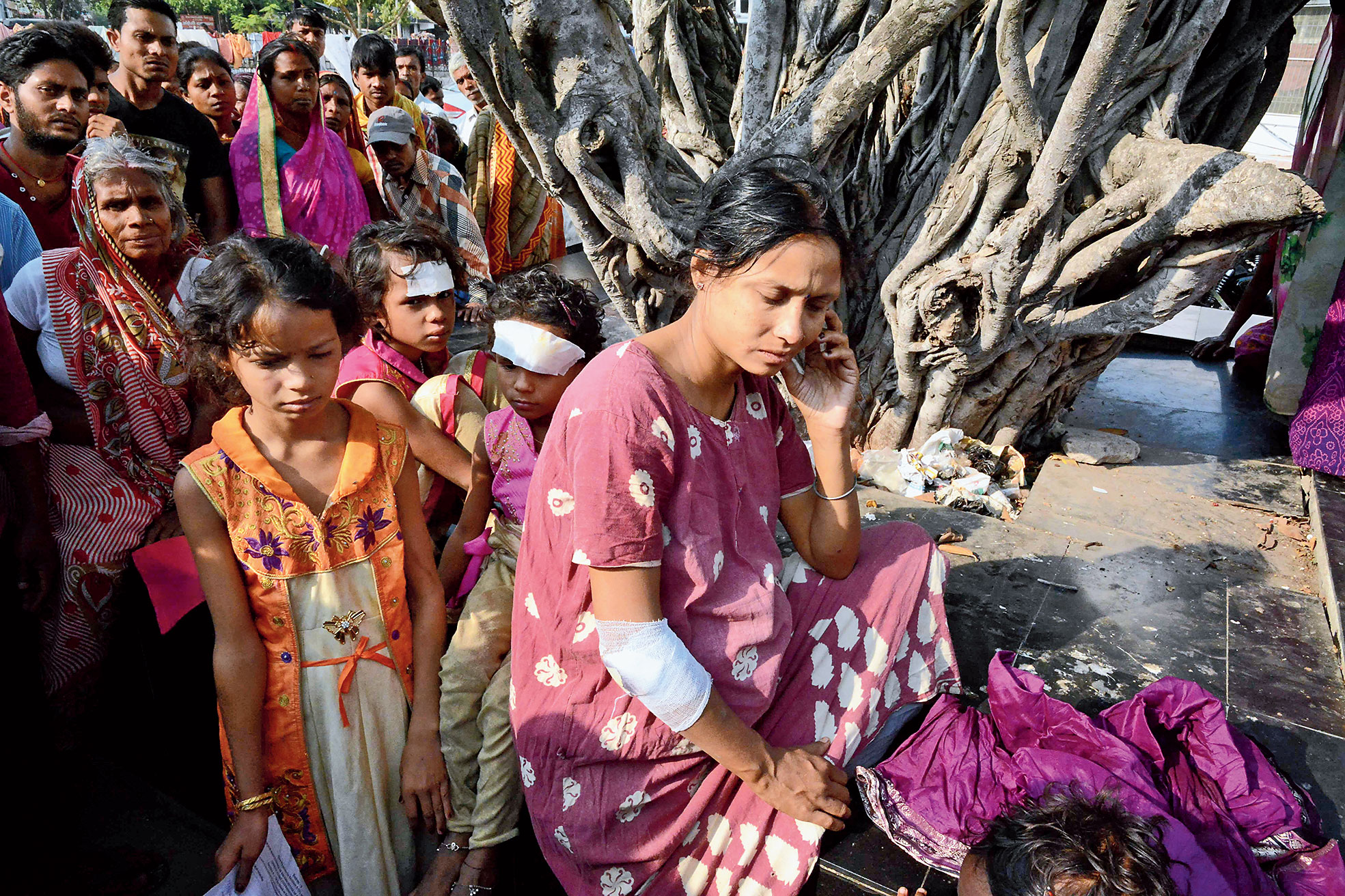 ---
|
Patna
|
Published 26.10.18, 07:40 PM
---
A 30-year-old pregnant woman escaped with minor injuries in the bus accident at Dhanuki Mor that killed three persons on Friday morning.
Rupam Devi, who is 30 weeks pregnant, was travelling with her husband and four daughters in the Rosera, Samastipur-bound private bus that fell into a roadside ditch at Dhanuki Mor in the Agamkuan police station area.
She was going to her native village in Dalsingsarai along with her husband, Suresh Rai, daughters Sonam, 10, Kajal, 8, Muskan, 6, and Sapna, 4.
The family members
were sitting on the back seat of the bus.
Doctors who examined Rupam too were surprised that she is safe.
Dr Renu Rohatgi, head of the gynaecology department at Nalanda Medical College and Hospital (NMCH), said: "We examined Rupam; her condition was stable. There were no complications in her pregnancy. It was a miraculous escape for Rupam as the woman was in the 30th week of her pregnancy and in such condition even minor stress can become fatal."
Suresh, who was in shock after the accident, said: "I am thankful to the almighty that none of my family members including my pregnant wife sustained any serious injuries."
He added: "I still remember how bus turned turtle.
For a few minutes I didn't know what was happening. The bus rolled over twice falling into the 30-foot-deep ditch. People were screaming after the accident.
"My wife and four daughters were trapped below the bus seat. As I had minor injuries, I dragged my wife out from the seat. She had minor injuries on her ears. I was tense as she was crying in pain. I was helpless.
"The local residents who rushed to the spot after the accident helped me in rescuing my wife and daughters. Soon, police personnel and rescue officials reached the spot. Rupam and my four daughters were admitted at NMCH but I am thankful that none of them had any serious injuries."
Suresh runs a chaat stall near AN College was going to drop Rupam to his native village. The family lives in the Boring Road area.
Other passengers who were in the bus too were surprised how Rupam had not suffered any internal injuries.
"Miracles do happen and this was evident in today's accident," said Dinesh Lal, who too was in bus.