Kushwaha slams Sushil by calling him mosquito, opportunist
He asks Sushil to speak on the multi-crore Srijan scam if he was talking about corruption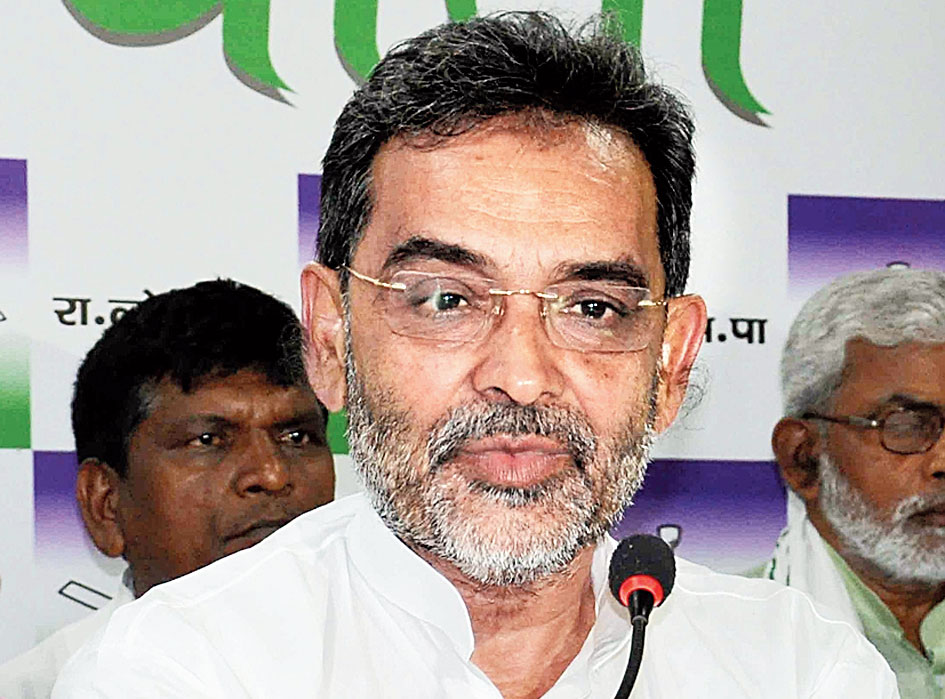 Upendra Kushwaha
Telegraph file picture
---
Patna
|
Published 18.11.18, 06:43 PM
|
---
A day after serving ultimatum to the BJP to announce the NDA seat-sharing for the 2019 Lok Sabha elections by November 30, RLSP chief Upendra Kushwaha on Sunday slammed deputy chief minister Sushil Kumar Modi by calling him "mosquito" and "opportunist".
On Saturday, Sushil had taken a potshot at Kushwaha in a tweet in Hindi saying that some people nurse a misunderstanding about themselves and continuously violate the alliance dharma by meeting the chargesheeted Leader of the Grand Alliance.
Kushwaha on Sunday took a jibe on Sushil by re-tweeting his post by calling him "opportunist". He added that he was like "mosquitoes who suck the blood and spread malaria and dengue in their own party to keep their existence alive". He asked Sushil to speak something on the multi-crore Srijan scam as well if he was talking about corruption.
Sushil, in that tweet, also mentioned that all the constituents of the NDA gave a corruption-free government by making Narendra Modi the Prime Minister of India in 2014.
"You (read Sushil Kumar Modi) are absolutely right that our Prime Minister Narendra Modi tried his level best to make a corruption-free country but you should also speak something on the Srijan scam," Kushwaha said in this tweet on Sunday morning.
Srijan scam deals with the fraudulent transfer of government funds of over Rs 1,300 crore to the account of Bhagalpur-based non-government organisation Srijan Mahila Vikas Sahyog Samiti Limited.
It's been more than a year but the kingpin of the scam, Amit Kumar, and his wife, Priya Kumar, are out of the reach of the CBI. Time and again, the RJD and other opposition leaders have asked questions to Sushil Modi and the Nitish Kumar government, accusing them of protecting the scam kingpin.
Kushwaha made a veiled attack at Sushil and said: "Few people are political followers and suffer from chhapas rog (obsessed on getting published about in newspapers). By mindset, they are opportunists and absolutely power-hungry. They are basically utilised by the alliance parties as bhopu (loudspeaker). Such people suck blood like mosquitoes and infect people of their own party with malaria and dengue to keep their existence alive."
The war of words between Kushwaha and Sushil started from the day when the latter tried to protect Nitish on the alleged neech (lowly person) issue. Kushwaha had made it a big political issue in Bihar, demanding withdrawal of his statement from the public domain.
Six days ago, Sushil had posted a tweet on his official Twitter handle, backing his boss, saying Nitish Kumar never used the word "NEECH" in his interaction with the media. He also wrote that he was present at the programme and still some leaders were trying to become martyr but would not succeed.