Dal claims Nitish saved Tejashwi bungalow
Tejashwi's father Lalu Prasad said to have called up Prashant Kishor, who then dialled Nitish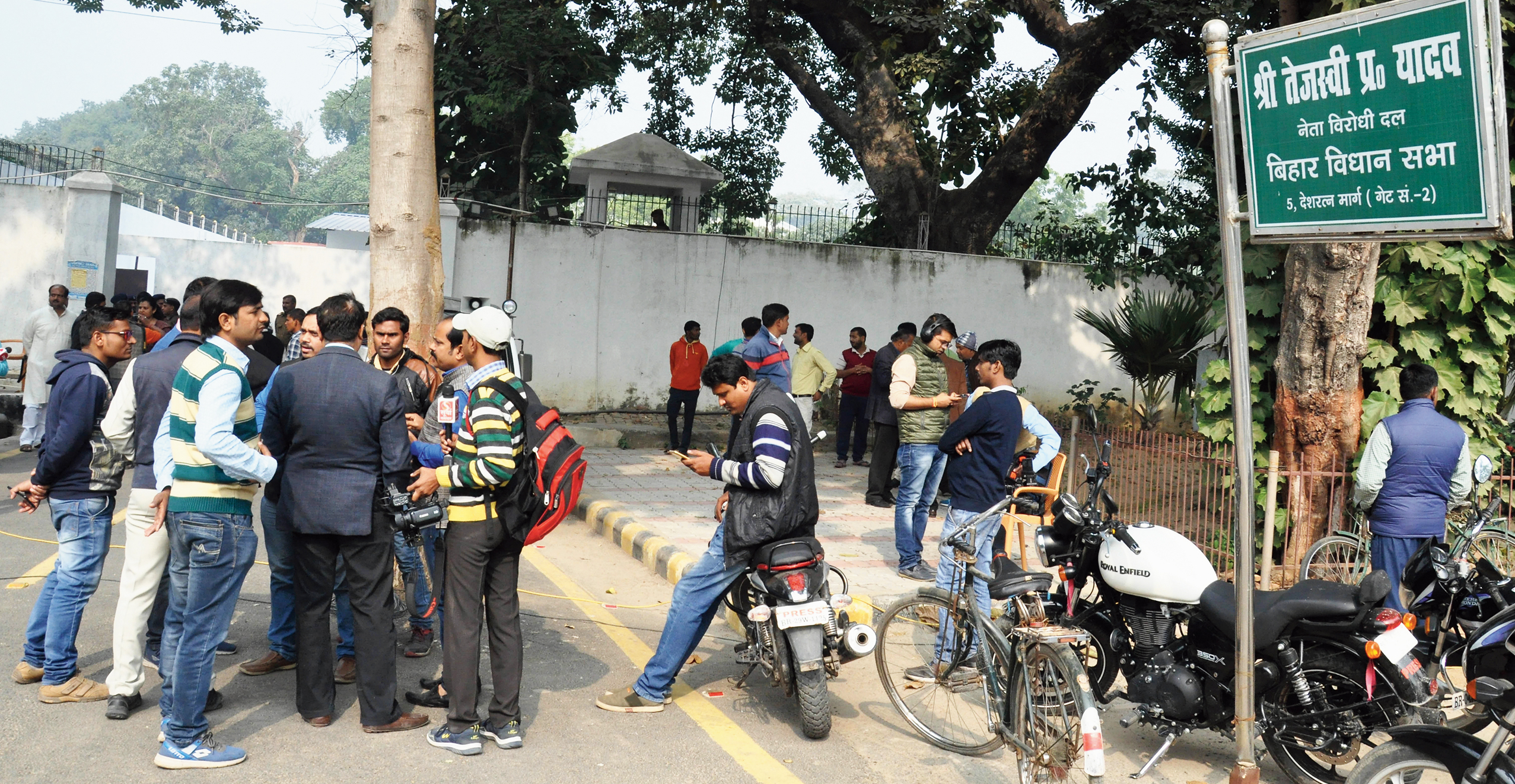 ---
|
Patna
|
Published 06.12.18, 06:56 PM
---
JDU chief spokesperson Sanjay Singh on Thursday claimed it was chief minister Nitish Kumar who saved the Leader of the Opposition Tejashwi Prasad Yadav's bungalow. Sanjay said that Tejashwi should reveal who his father Lalu Prasad had called up to save the bungalow.
There was high-voltage drama outside the 5 Deshratna Marg bungalow on Wednesday when district administration officials arrived with a police force and magistrates to evict Tejashwi.
The RJD MLAs and supporters on Wednesday sat on dharna in front of the bungalow, shouting slogans against Nitish, accusing him of playing politics in the name of bungalow. Even Tejashwi had attacked Nitish and accused him of double-standards in politics.
Since Thursday morning there was a buzz in Bihar's political circles that it was Nitish who saved Tejashwi's bungalow on a request by poll strategist Prashant Kishor, who received a call from none other than Lalu.
"Leader of the Opposition Tejashwi Prasad should declare in public who his father had called to save the bungalow," Sanjay said. "We have got information that his father, Lalu Prasad, called a person in Patna who then requested our leader Nitishji to stop the district administration from taking action on the bungalow."
Sanjay went on to say that Nitish had a large heart and it was because of him that the bungalow could be saved. The district administration had come fully prepared to evict Tejashwi, armed with a court order.
"We were simply following court orders because a single bench of Patna High Court gave an order in favour of the state government," an official who was present in the team told The Telegraph on condition of anonymity.
"The other party (Tejashwi) has appealed in a double bench but the bench has not put any stay on the order. So legally we were correct in trying to evict him from the bungalow. However, we received a call from a top district administration officer after which we had to step back."
Sanjay's statement seems to be in reaction to Tejashwi's statement on Wednesday where he named nine ruling party leaders who are either MLAs or MLCs or even former lawmakers but stayed in ministerial bungalows.
Among those named was Sanjay, a former MLC, who continues to stay at a bungalow on 8-M Strand Road.