Facebook invite for life in crime lane for Bihar youth
Criminal groups get more brazen as murder spree hits Bihar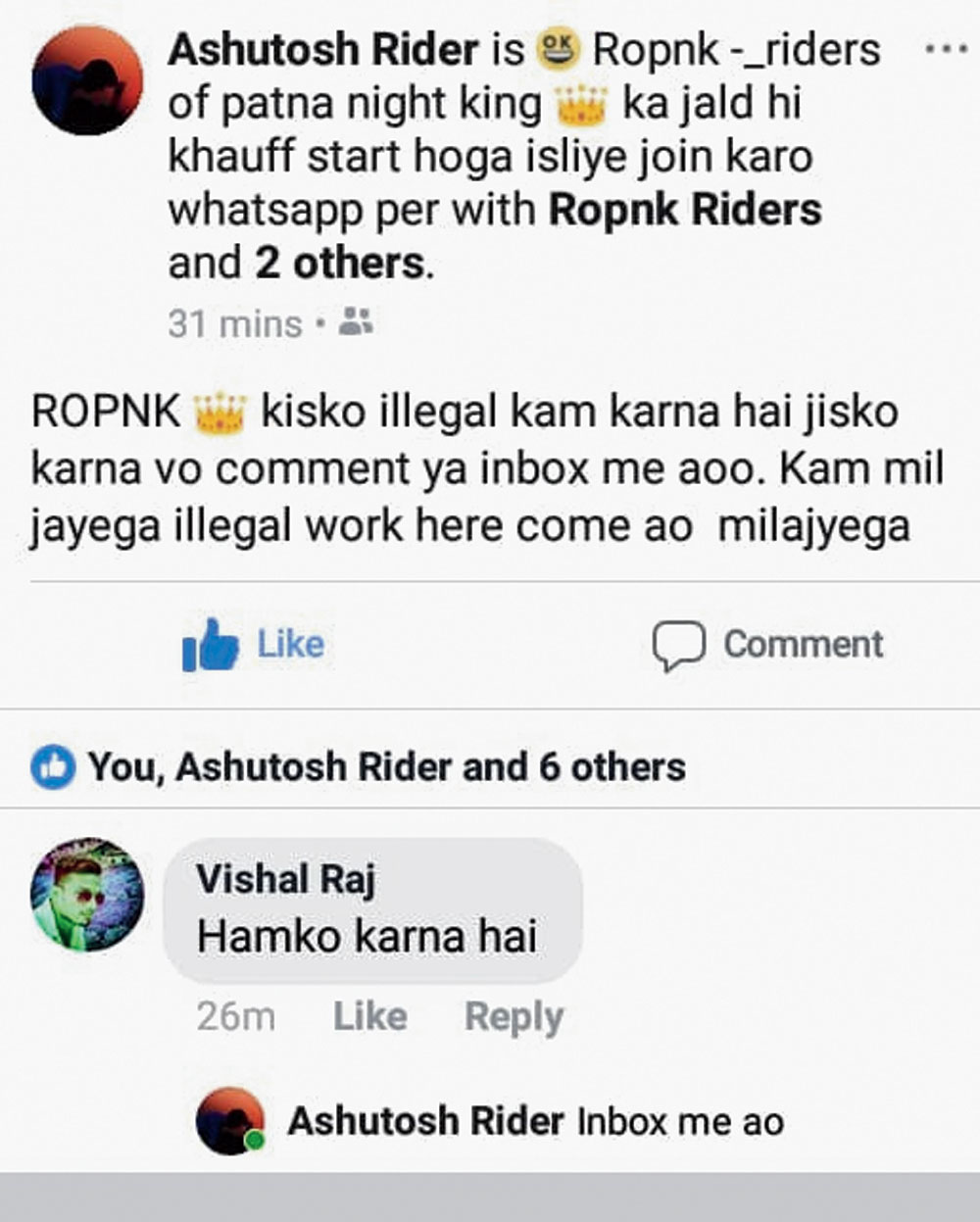 ---
Patna
|
Published 22.10.18, 05:37 PM
|
---
Poll strategist-turned-JDU national vice-president Prashant Kishor is not alone in roping in Bihar youngsters through social media; police have stumbled upon a criminal gang calling for recruits via Facebook.
In what can be cited as yet another example of the growing brazenness of the underworld in the state in general and the capital in particular, a gang called Riders of Patna Night King has invited youngsters to join and promised to provide them tips on how to commit crimes.
"The police have come across such a Facebook post," admitted Patna senior superintendent of police (SSP) Manu Maharaaj. "We have identified the gang and the gang members will be arrested soon. Prima facie it appears that the gang members, who are school/college going students, are behind the incident."
The SSP said some persons had even replied to the gang's post.
A cursory search on Facebook revealed a page called "Riders of Patna Night King" which had been "liked" by 11 people, and a Facebook group with the same name with 163 members, but it was not clear whether either of them were related to the gang concerned though a screenshot of the post seemed to suggest that it originated in the Facebook group.
"The gang had tried to target school/college students claiming that they can become famous if they join their gang," said a police officer looking after the investigation. "Through the Facebook post, the gang members had stated that only those not afraid of police can join."
Police sources said they are taking the gangs' brazen activities very seriously. On September first week, the cops launched a drive against biker gangs involving personnel from five police stations: Pirbahore, SK Puri, Gardanibagh, Kadam Kuan and Kotwali.
In one day, 19 members of biker gangs were arrested and five bikes, two pistols, cartridges, mobiles and cannabis was seized.
Most of the arrested youths were from the notorious Kings of Patna gang, involved in several criminal incidents.