US ambassador to the UN calls for arms embargo in Myanmar
Making the appeal during a virtual meet, Linda Thomas-Greenfield stressed that it is the only way to change the military's crackdown on civilians following its Feb 1 coup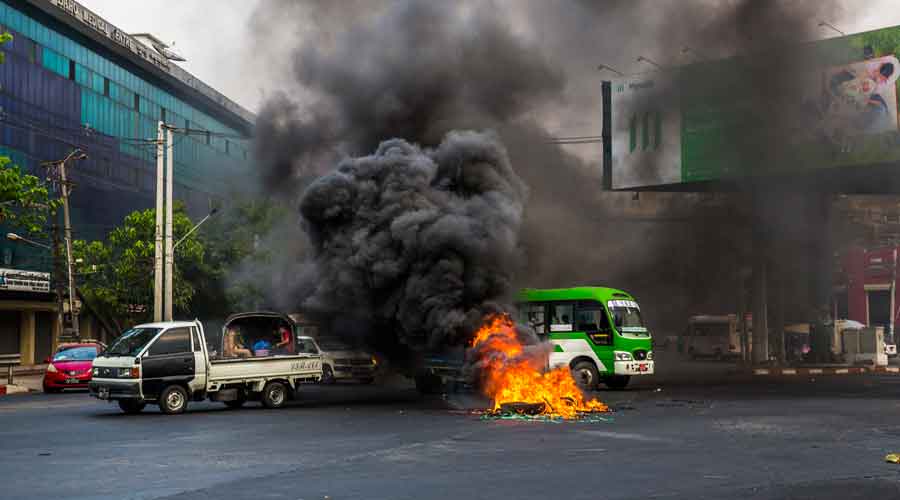 The coup reversed years of slow progress towards democracy in Myanmar, which for five decades had languished under strict military rule that led to international isolation and sanctions
NYTNS file picture
---
United Nations
|
Published 11.04.21, 01:16 AM
|
---
The US ambassador to the UN urged the international community to take "concrete action" against the military in Myanmar on Friday including an arms embargo and sanctions against its holding companies and those who profit from them, saying this is the only way to change the military's crackdown on civilians following its February 1 coup. 
Linda Thomas-Greenfield made the appeal at an informal virtual meeting of the UN Security Council where Zin Mar Aung, a leader of a post-coup committee representing elected members of Myanmar's parliament, urged all UN member nations to increase political, financial and security measures against the military "until the military's violent attacks on civilians stop and Myanmar returns to the rule of law under civilian and democratic rule".
Aung said the military has escalated armed violence in the last two weeks in ethnic states including Karen, Shan and Kachin, and before Friday's council meeting, military forces known as the Tatmadaw used live munitions and even rocket-propelled grenades to attack civilians in Bago Township in south-central Myanmar.
"The ambulances are not allowed to enter the area even though there have been dozens of civilian casualties," she said.
The coup reversed years of slow progress towards democracy in Myanmar, which for five decades had languished under strict military rule that led to international isolation and sanctions.
As the generals loosened their grip, the international community responded by lifting most sanctions.
The Security Council has called for a reversal of the coup, strongly condemned the violence against peaceful protesters, called for "utmost restraint" by the military, stressed the need to uphold "democratic institutions and processes" and urged the immediate release of detained government leaders.