Texas shooting: Two cousins in same class among those killed
The girls were among 21 people killed in the massacre on Tuesday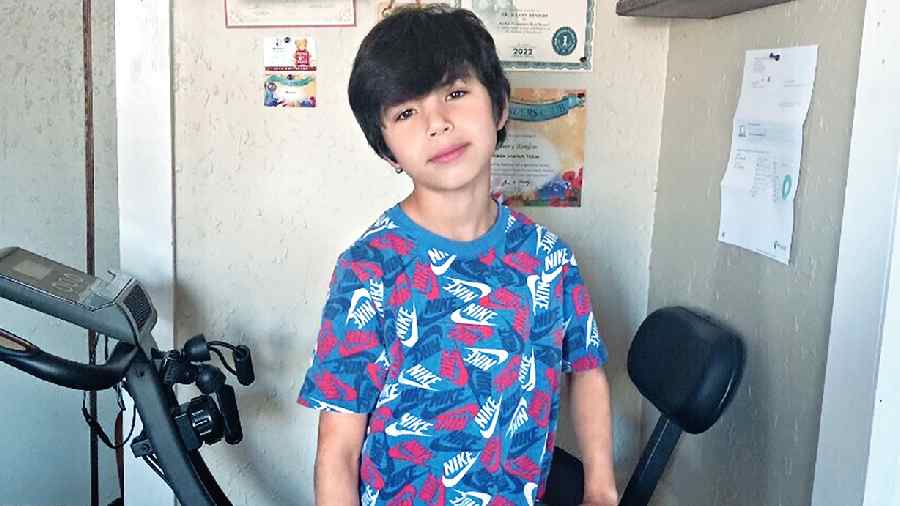 A picture provided by Manny Renfro shows his grandson, Uziyah Garcia, while on spring break in San Angelo, Texas. The 8-year-old was among those killed in Tuesday's shooting at Robb Elementary School in Uvalde.
AP/PTI file picture
---
Published 26.05.22, 01:34 AM
|
---
Jackie, who had her first communion two weeks ago, was the social one, said Polly Flores, who was Jackie's aunt and Annabelle's great-aunt. "She was outgoing; she always had to be the center of attention," Flores said. "She was my little diva."
Annabelle, an honour roll student, was quieter. But she and her cousin were close, so close that Annabelle's twin sister, who was home-schooled, "was always jealous", Flores said. "We are a very tight family," she said. "It's just devastating."
The girls were among 21 people killed, 19 children and two adults, in the massacre on Tuesday.
Amerie Jo Garza was a friendly 10-year-old who loved Play-Doh.
Amerie Jo was "full of life, a jokester, always smiling", her father, Alfred Garza III, said in a brief phone interview. She didn't talk a lot about school but liked spending time with her friends at lunch, in the playground and during recess. "She was very social," he said. "She talked to everybody."
Amerie Jo's extended family had gathered in the room when the Texas Rangers broke the horrible news late Tuesday.
The family's loss came after losing several loved ones to Covid-19 over the last two years. "We were finally getting a break, nobody was passing away," Garza said. "Then this happened."
Garza, who works at a used car dealership in Uvalde, said that he was on a lunch break when Amerie Jo's mother told him that she couldn't get their daughter out of the school because it was on lockdown.
"I just went straight over there and found the chaos," he said.
He recalled seeing cars backing up on the streets, with parents trying to enter the school to find their children. Police cars were everywhere.
At first, he said, he didn't think that anyone had been hurt. Then he heard that children had died. For hours, he awaited word about his daughter.
"I was in kind of in shock," he said, after hearing from the Texas Rangers. When he got home, he started to go through her pictures.
"That's when I kind of had the release," he said.
"I started crying and started mourning."
New York Times News Service