Russia will escalate hostilities, says Zelensky
Moscow moves closer to capturing Sievierodonetsk and Lysychansk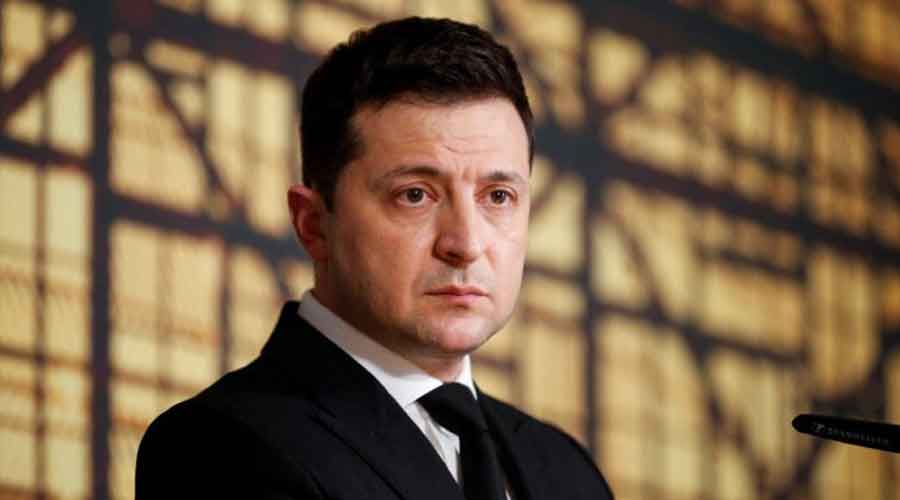 Volodymyr Zelensky
File picture
---
Published 21.06.22, 12:42 AM
|
---
President Volodymyr Zelensky of Ukraine warned late on Sunday of increased Russian aggression ahead of a EU decision this week on whether to accept his country as a candidate for inclusion in the bloc.
"Obviously, we should expect greater hostile activity from Russia," Zelensky said in his nightly address. "Purposefully, demonstratively. This week exactly."
Although he did not detail the threats, he said they were aimed not just at Ukraine "but also against other European countries".
On the battlefield, Russia has moved closer to capturing Sievierodonetsk and Lysychansk, two key cities in the east of Ukraine that have been pounded for weeks by bombardments and street fighting.
Zelensky said Russia had recently attacked fuel infrastructure and was concentrating forces near Kharkiv, in northeastern Ukraine, and in Zaporizhzhia in the southeast.
Beyond Ukraine, Russia's key role as an energy provider also reverberated across Europe last week, as Germany, Italy, Austria and the Czech Republic all reported reductions in natural gas flows.
While Gazprom, Russia's state-owned energy company, said the cuts were caused by repairs to a compressor station, they came as the leaders of Germany, France and Italy traveled to Kyiv and expressed support for Ukraine's EU candidacy.
Zelensky has pushed Ukraine's bid for E.U. membership, which he applied for after Russia invaded in February. The body's executive arm, the European Commission, recommended last week that Ukraine be granted candidate status, and EU leaders will consider that question at a meeting on Thursday and Friday in Brussels.
But the process could take years, and the European Commission's recommendation was contingent on legal overhauls in Ukraine to clamp down on corruption and protect rights.
Odessa warehouse
A food warehouse in the Black Sea port of Odessa was destroyed in a Russian missile attack on Monday but no civilians were killed, the Ukrainian military said.
New York Times News Service and Reuters