Red Cross urged to visit Donetsk jail
Prisoners released from the camp, in the town of Olenivka in Donetsk province, have described torture and hellish conditions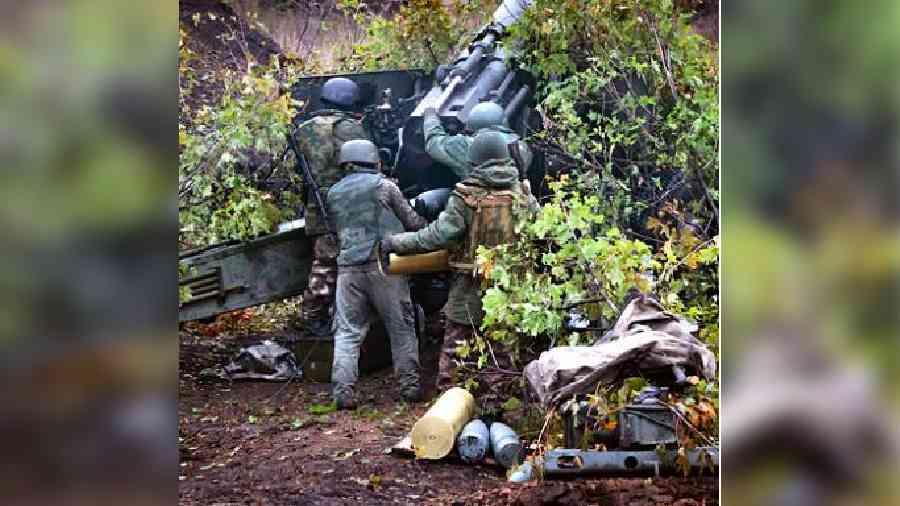 Russian servicemen prepare to fire their 152- mm howitzer at Ukrainian troops from an undisclosed location in the Donetsk People's Republic, eastern Ukraine.
AP/PTI
---
London
|
Published 15.10.22, 12:31 AM
|
---
Senior Ukrainian officials are demanding that the International Committee of the Red Cross visit a notorious prison camp in Russian-occupied eastern Ukraine, accusing the aid group of inaction while "lives are at stake" — but the organisation says its efforts to do so are being thwarted.
Prisoners released from the camp, in the town of Olenivka in Donetsk province, have described torture and hellish conditions. \
In July, at least 50 prisoners were killed and dozens were wounded in a blast there, including many prisoners of war who had surrendered in May after the Russian siege of a sprawling steelworks in the southern city of Mariupol.
The Ukrainian authorities have called for an investigation into the explosion. The Red Cross has been trying to visit the camp for months but has not been granted access by Moscow.
"The Third Geneva Convention obliges parties to an international armed conflict to grant the International Committee of the Red Cross immediate access to all POWs, and the right to visit them wherever they are held," the Red Cross said in a statement on Friday, adding that it had been working since February to obtain access to the Olenivka prison camp.
"We share the frustration regarding our lack of access to all prisoners of war (POWs) held in the international armed conflict between Russia and Ukraine," it said.
"We want to stress that our teams are ready on the ground — and have been ready for months — to visit the Olenivka penal facility and any other location where POWs are held," the statement said.
"We cannot access by force a place of detention or internment where we have not been admitted."
President Volodymyr Zelensky of Ukraine suggested in his regular overnight address that the Red Cross could plan a visit like the one that the International Atomic Energy Agency recently conducted to the Zaporizhzhia nuclear power plant, which is occupied by Russian forces.
"The Red Cross has obligations, primarily of a moral nature," he said. "The mandate of the Red Cross must be fulfilled." 
New York Times News Service