Defiant Trump told: You are not in N Korea
The President doubled down on his stance just hours after prominent Republicans made it clear that they were committed to the orderly transfer of power, without directly rebuking him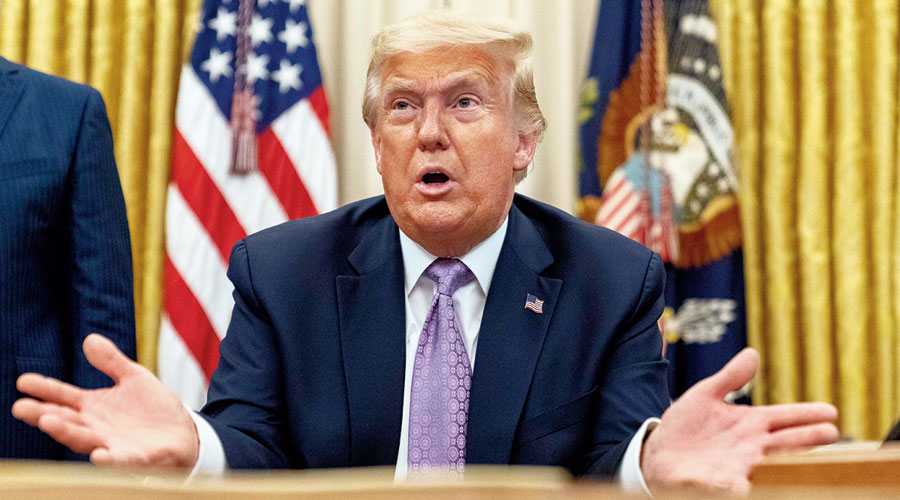 ---
---
President Donald Trump declined for a second straight day to commit to a peaceful transfer of power if he lost the election, repeating baseless assertions that the voting would be a "big scam", even as leading Republicans scrambled to assure the public that their party would respect the Constitution.
"We want to make sure that the election is honest, and I'm not sure that it can be," Trump told reporters on Thursday before leaving the White House for North Carolina.
The President doubled down on his stance just hours after prominent Republicans made it clear that they were committed to the orderly transfer of power, without directly rebuking him. "The winner of the November 3rd election will be inaugurated on January 20th," Mitch McConnell, the Senate majority leader, wrote on Twitter early Thursday. "There will be an orderly transition just as there has been every four years since 1792."
Democrats were far less restrained, comparing Trump's comments to those of an authoritarian leader and warning Americans to take his stance seriously.
"You are not in North Korea; you are not in Turkey; you are not in Russia, President, and by the way, you are not in Saudi Arabia," House Speaker Nancy Pelosi said. "You are in the United States of America. It is a democracy, so why don't you just try for a moment to honour your oath of office to the Constitution of the United States?"
Chris Edelson, an American University professor who has studied the expansion of presidential power during national emergencies, said Trump's comments represented a unique threat to a central pillar of democracy. "It's impossible to underscore how absolutely extraordinary this situation is — there are really no precedents in our country," he said. "This is a President who has threatened to jail his political opponents. Now he is suggesting he would not respect the results of an election. These are serious warning signs."
Douglas Brinkley, the presidential historian, said, "This may be the most damaging thing he has ever done to American democracy."
Over the past four years, establishment Republicans have tried to adjust to Trump's disruptions, either ignoring his comments or dismissing them as a temporary news-cycle diversion rather than a threat to the democratic process. Republicans appeared on Thursday to be trying to reassure the public about the electoral system while withholding personal criticism of the President, a balancing act that shows their political codependence — one that has led GOP lawmakers, with few exceptions, to faithfully execute his wishes.
Other Republicans, including senators Susan Collins and Marco Rubio and Representative Liz Cheney, followed McConnell on Thursday and issued statements conveying an implicit criticism of the President's stance. "America's leaders swear an oath to the Constitution,'' Cheney wrote on Twitter. "We will uphold that oath.''
Trump's comments follow a series of battleground state polls that show him trailing former Vice-President Joseph R. Biden Jr, the Democratic challenger.
Trump initially sparked alarm on Wednesday when, asked about a peaceful transition, he said that "we're going to have to see what happens".
New York Times News Service