No Tamil anthem at Lanka celebrations
Sri Lanka's Constitution provides for the singing of the national anthem in both Sinhala and Tamil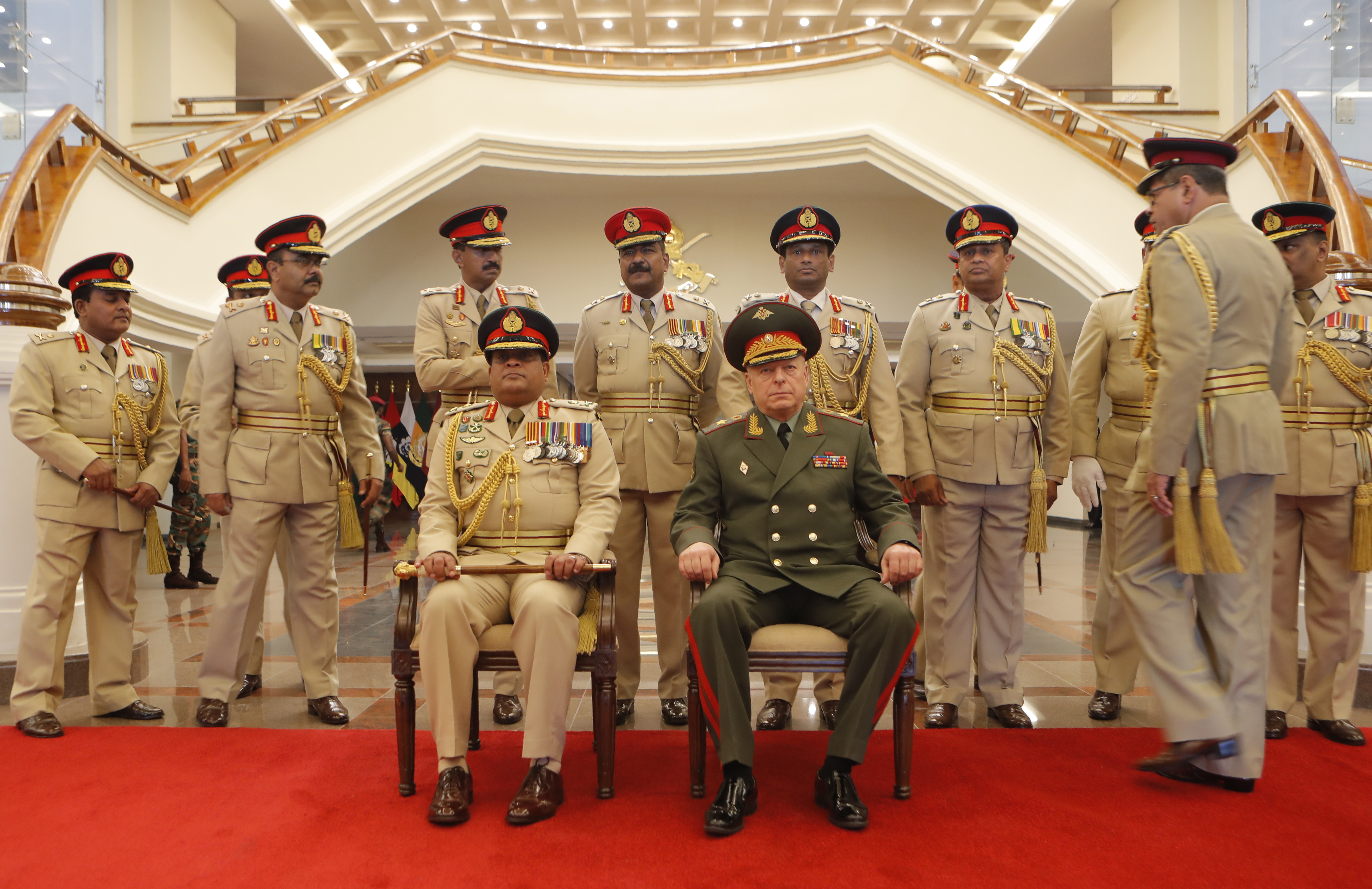 Sri Lankan army commander Lt. Gen. Shavendra Silva, seated left, along with his top command officers prepare to pose for a photograph with Russian Commander-in-Chief of the Ground Forces Colonel-General Oleg Salyukov at the military head quarters in Colombo, Sri Lanka on Monday
(AP)
---
Colombo
|
Published 03.02.20, 07:34 PM
|
---
For the first time since 2016, there will be no Tamil national anthem at the 72nd Independence Day celebrations in Sri Lanka and it will only be rendered in Sinhalese, the government announced on Monday, amply demonstrating the administration's priority for the majority Sinhala community.
(The disclosure has come at a time when concern has been expressed in India that Lankan Tamils have not been included in the Indian Citizenship Amendment Act which uses religion as the key yardstick to single out and omit Muslims.)
The then Sri Lankan government in 2015 started including the Tamil national anthem as a means of achieving reconciliation with the Tamil minority community.
This will be the first time since 2016 that there will be no Tamil national anthem at the Independence Day celebrations in the country.
The national anthem will be sung only in Sinhala, officials of the ministry of home affairs said on Monday.
Sri Lanka's Constitution provides for the singing of the national anthem in both Sinhala and Tamil.
The Tamil version Sri Lanka Thaye is a direct translation of Namo namo matha in the Sinhala language.
"The national anthem in Tamil is not just another song but the Sri Lankan identity of the Tamil speaking community," said Mano Ganesan, a Tamil politician who was the former minister of national integration and had been responsible for the Tamil version being accommodated during the previous Independence Day celebrations.
Home affairs state minister Maninda Samarasinghe said last week that although there will be only the Sinhala version of the national anthem at the main ceremony, at province-based ceremonies, the use of Tamil version will be permitted.
Sri Lankan President Gotabhaya Rajapaksa after his swearing-in ceremony in November thanked the powerful Buddhist clergy for backing his presidential bid and vowed to protect all communities, while giving foremost priority to Buddhism. He also thanked the Sinhala-majority people for electing him.
While the Tamils in 2016 appreciated the symbolic gesture of recognising them by adding the Tamil version at the Independence Day celebrations, the Opposition, then led by the Rajapaksas and a majority Sinhala community member, filed a fundamental rights petition against the move. Prime Minister Mahinda Rajapaksa earlier served as the country's President from 2005-2015.