Nawaz Sharif to return to Pakistan in February
Punjab province Governor Baligur Rehman of PML-N said Nawaz's daughter Maryam Nawaz will also return from London this month to look after the party affairs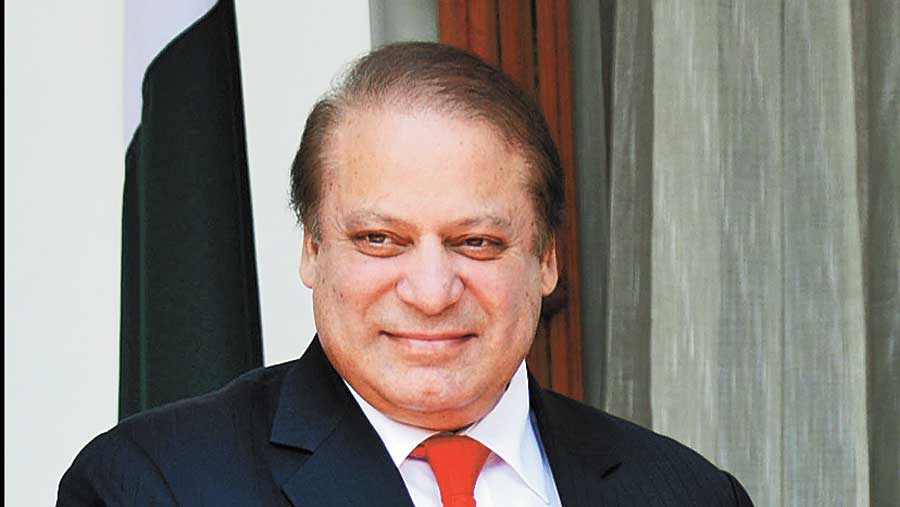 Nawaz Sharif
File picture
---
Lahore
|
Published 19.01.23, 05:17 PM
|
---
Pakistan's deposed prime minister Nawaz Sharif is likely to return to the country next month to end his over three-year self-exile in the United Kingdom, some senior leaders of Pakistan Muslim League-Nawaz (PML-N) said on Thursday.
Punjab province Governor Baligur Rehman of PML-N said Nawaz's daughter and PML-N chief organiser Maryam Nawaz will also return from London this month to look after the party affairs.
"Nawaz Sharif is returning to Pakistan within a month and I will go to the airport to receive him," he said.
Prime Minister's Special Assistant Malik Ahmad Khan told PTI that the 73-year-old Nawaz is considering the party's request to return ahead of crucial elections in Punjab and Khyber Pakhtunkhwa (KP) provinces.
Ousted prime minister Imran Khan's Pakistan Tehreek-e-Insaf (PTI) recently dissolved Punjab and KP assemblies to push the PML-N federal coalition to call for snap polls in the country.
"The elections in Punjab and KP will be held after 90 days and the PML-N wants Nawaz to be in Pakistan to spearhead the campaign in both provinces," the Prime Minister's special assistant said.
Asked if Sharif will be back in a month, Khan said: "Nawaz Sharif will be among his people in Pakistan very soon." Federal Minister Sardar Ayaz Sadiq, a close aide to Nawaz, said the three-time premier would return next month. "Nawaz will return in February to defeat Khan in the political arena," he told the media.
Interior Minister Rana Sanaullah said Nawaz will return once relief in the cases he is facing is ensured. "Nawaz will not go to jail on his return as he will manage to get bail (ahead of his return)." Interestingly, another federal minister Javed Latif had earlier given at least four different dates for the return of Nawaz.
In recent party meetings with Nawaz, most participants urged him to return without any further delay as the party is facing the brunt of his long absence as it may see fissures if he does not return.
In the face of the rising popularity of the cricketer-turned-politician, most of PML-N local leadership is unanimous that the party needs Nawaz to be in Pakistan ahead of the polls if it wants to counter Khan's juggernaut.
An "ailing" Nawaz has been living in London for "medical treatment" after the high court allowed him a four-week reprieve. He was serving seven-year imprisonment in the Kot Lakhpat Jail in Lahore in the Al-Azizia corruption case before his departure to London on medical grounds.
Prior to his exit, his younger brother (prime minister) Shehbaz Sharif had submitted an undertaking to the Lahore High Court ensuring his elder brother would return "within four weeks" or on certification by doctors that he has regained his health and is fit to return to Pakistan".
However, the return is repeatedly delayed due to health concerns.
Nawaz Sharif's passport expired in February 2021. However, Shehbaz Sharif's government issued a fresh passport to the elder Sharif in April last year.
In August 2021, Nawaz filed an appeal with the British Immigration Tribunal after the Home Department refused to extend his stay in the country on "medical grounds" any further.
Sharif can legally remain in the UK till the tribunal issues its decision on his plea for his stay in the country.
Except for the headline, this story has not been edited by The Telegraph Online staff and has been published from a syndicated feed.