Kyal Sin knew everything will not be OK
She was killed on the streets of Mandalay as she fought for a tentative democracy in which she had proudly voted for the first time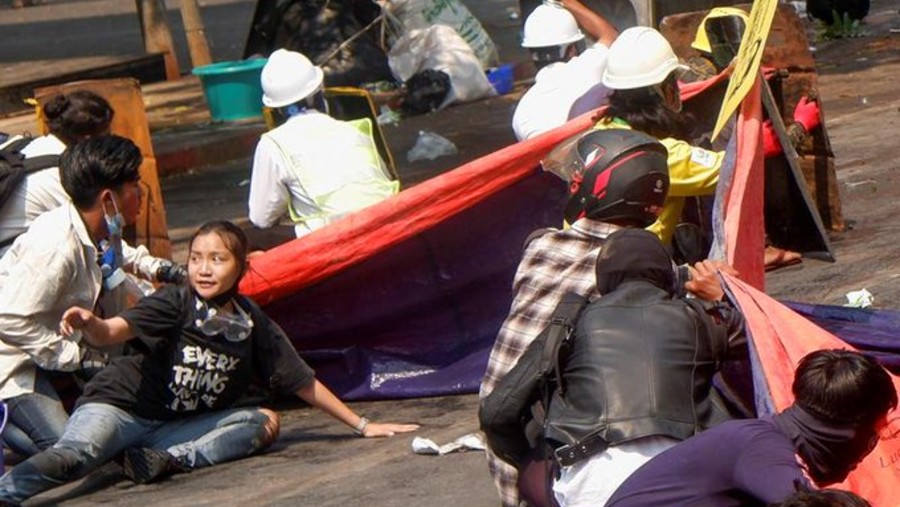 Angel, also known as Kyal Sin, takes cover as the police opened fire in Mandalay. She was killed by a shot to the head on Wednesday
Twitter/ @TostevinM
---
Bangkok
|
Published 04.03.21, 02:19 AM
|
---
"Everything will be OK," read 19-year-old Angel's T-shirt as the dancer and taekwondo champion joined anti-coup protesters in Myanmar on Wednesday. But she had known it might not be OK — leaving details of her blood group, a contact number and a request to donate her body in the event of her death. Angel, also known as Kyal Sin, was killed by a shot to the head on the streets of Mandalay as she fought for a tentative democracy in which she had proudly voted for the first time last year, an election overturned by the February 1 coup.
Seen in pictures of her at the protest, the phrase from Angel's T-shirt quickly went viral on social media as users posted it in defiance of security forces who killed at least 18 people around Myanmar over the day. A spokesman for the junta did not respond to a request for comment on the killings. Myat Thu, who was with her at the protests, recalled a brave young woman who kicked open a water pipe so that protesters could wash tear gas from their eyes, and who lobbed a tear gas cannister back towards the police.
"When the police opened fire she told me 'Sit! Sit! Bullets will hit you. You look like you're on a stage'," recalled Myat Thu, 23. "She cared for and protected others as a comrade." Myat Thu said he and Angel were among hundreds who had gathered peacefully in Myanmar's second city. Before the police assault, Angel can be heard on video shouting, "We won't run" and "blood must not be shed". First police hit them with tear gas, Myat Thu said. Then the bullets came. Pictures taken before she was killed show Angel lying down for cover beside a protest banner, with her head slightly raised.
Everyone scattered, Myat Thu said. It was only later that he got the message: One girl was dead.