Moderna sues Pfizer for patent infringement
The lawsuit, which seeks undetermined monetary damages, was being filed in US District Court in Massachusetts and the Regional Court of Dusseldorf in Germany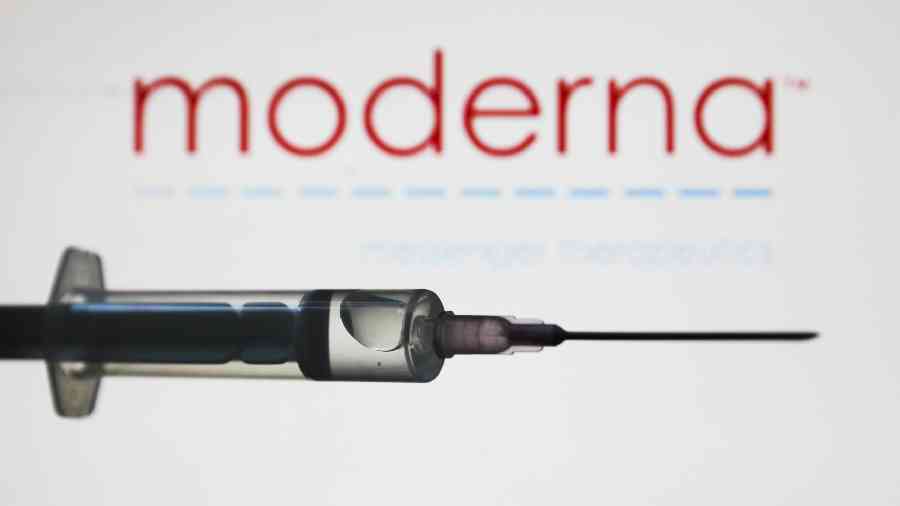 Moderna Inc, on its own, and the partnership of Pfizer Inc and BioNTech SE were two of the first groups to develop a vaccine for the novel coronavirus.
Twitter
---
New York
|
Published 27.08.22, 12:18 AM
|
---
Moderna is suing Pfizer and its German partner BioNTech for patent infringement in the development of the first Covid-19 vaccine approved in the US, alleging they copied technology that Moderna developed years before the pandemic.
Pfizer shares fell 1.4 per cent before the bell while BioNTech was down about 2 per cent. The lawsuit, which seeks undetermined monetary damages, was being filed in US District Court in Massachusetts and the Regional Court of Dusseldorf in Germany, Moderna said in a news release on Friday.
"We are filing these lawsuits to protect the innovative mRNA technology platform that we pioneered, invested billions of dollars in creating, and patented during the decade preceding the Covid-19 pandemic," Moderna chief executive Stephane Bancel said in the statement.
Moderna Inc, on its own, and the partnership of Pfizer Inc and BioNTech SE were two of the first groups to develop a vaccine for the novel coronavirus. Just a decade old, Moderna, based in Cambridge, Massachusetts, had been an innovator in the messenger RNA (mRNA) vaccine technology that enabled unprecedented speed in developing the Covid19 vaccine.
An approval process that previously took years was completed in months, thanks largely to the breakthrough in mRNA vaccines, which teach human cells how to make a protein that will trigger an immune response.
Germany-based BioNTech had also been working in this field when it partnered with the US pharma giant Pfizer.
The US Food and Drug Administration granted emergency use authorisation for the Covid-19 vaccine first to Pfizer/BioNTech in December 2020, then one week later to Moderna.
Moderna's Covid vaccine — its lone commercial product — has brought in $10.4 billion in revenue this year while Pfizer's vaccine brought in about $22 billion.
Moderna alleges Pfizer/ BioNTech, without permission, copied mRNA technology that Moderna had patented between 2010 and 2016, well before Covid-19 emerged in 2019 and exploded into global consciousness in early 2020.  
Strike fills Scotland streets with garbage
A strike by Scottish refuse workers over pay is spreading to more cities, with garbage from unattended bins overflowing onto Edinburgh'shigh streets, raising a stink during the city's international arts and Fringe festivals.
Pay negotiations between local authorities and union leaders have been ongoing but Edinburgh's bin strikes, which began on Aug. 18, are set to continue until Tuesday, the day after the festival ends.
Similar strikes have begun in more than a dozen other regions including Aberdeen and Scotland's largest city, Glasgow.
The Unite trade union said this week a local government body had made clear no additional funds would be allocated for an improved pay deal following a rejected 5 percent offer.
The strikes have coincided with Edinburgh's annual Fringe festival that runs through most of August.