Kabul's largest mosque overflows with the faithful for prayer when group of Taliban fighters enter
These were special forces fighters — and an escort for Khalil Haqqani, a member of one of the most powerful networks behind Taliban's rise to power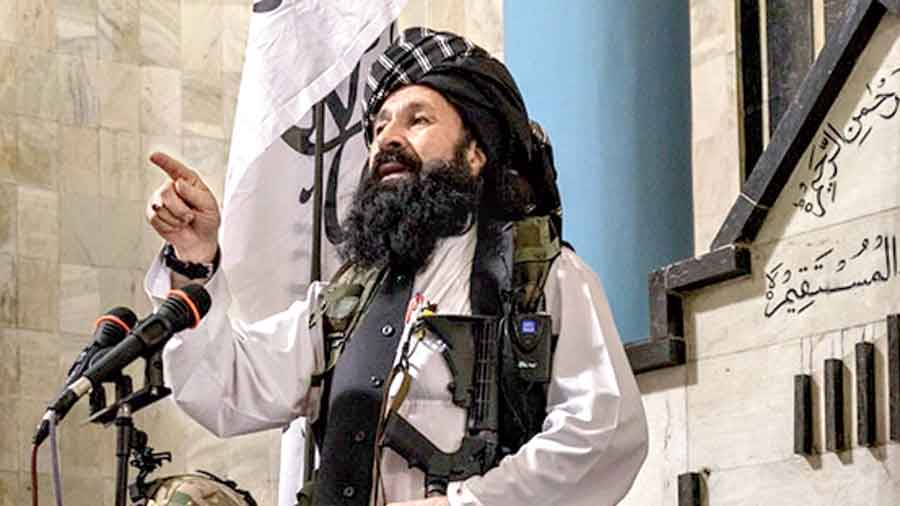 Khalil Haqqani
File picture
---
New York
|
Published 21.08.21, 01:45 AM
|
---
Kabul's largest mosque, a grand, blue-domed building in the heart of the old city, was overflowing with the faithful for Friday prayer when a group of Taliban fighters entered.
These were special forces fighters — and an escort for Khalil Haqqani, a member of one of the most powerful networks behind the Taliban's rise to power and now an integral part of their moves to set up a government.
His protection detail dressed like the commandos in the military of the now deposed Afghan government. They wore uniforms and helmets, had night-vision goggles and carried themselves with a professional deportment.
They cleared a space for Haqqani in the front row, where he watched — a new American-made M4 assault rifle at his side. After the sermon by the imam of the mosque ended, Haqqani rose to address those present.
"Our first priority for Afghanistan is security," he told the crowd, which flowed out onto the street. "If there is no security, there is no life. We will give security, then we will give economy, trade, education for men and women. There will be no discrimination."
He was greeted by rapturous cheers.
The scene was a reminder that the Taliban enjoy broad support in many pockets of Afghanistan, although it is hard to know how deep that support runs and how long it will last.
"People are happy now, because the Taliban brought security," said a security guard near a money exchange booth, who declined to give his name.
For the moment, Haqqani basked in the reception. He was the victor and carried himself as such.
In the long and twisted tale of the US involvement in Afghanistan, few groups have played as important a role as the Haqqani network.
Founded by the renowned mujahideen commander Jalaluddin Haqqani in the late 1970s, the family's network is suspected of aiding in Osama bin Laden's escape from Tora Bora in 2001. Khalil Haqqani is Jalaluddin's brother.
New York Times News Service