Ivanka, Jared look for new beginning
Wherever they alight, they seem poised for a quick departure from Washington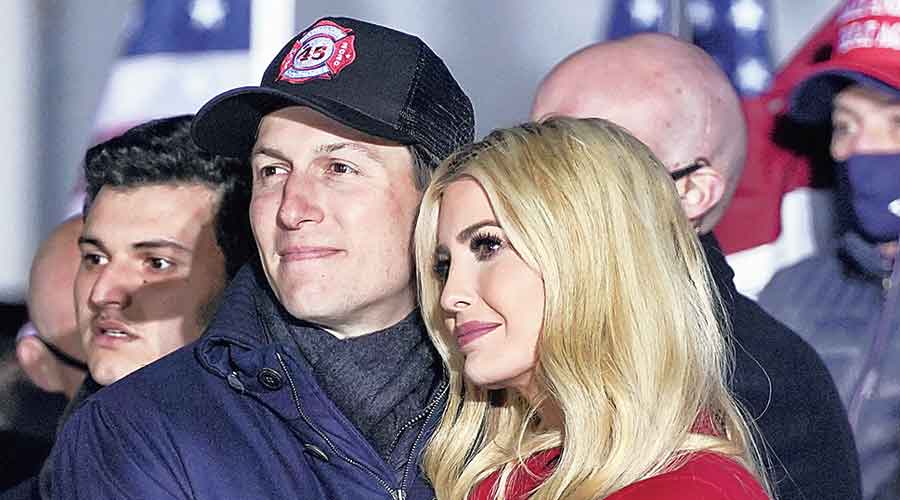 Jared Kushner and Ivanka Trump in Kenosha, Wisconsin.
AP file photo
---
Washington
|
Published 26.11.20, 04:59 AM
|
---
Town officials in Bedminster, New Jersey, have the plans for a possible Trump family future, or at least the blueprints: a major addition to Ivanka Trump and Jared Kushner's "cottage" on the grounds of the Trump National Golf Club, four new pickleball courts, a relocated heliport, and a spa and yoga complex.
As Manhattan awaits word of the Trump family's return, the first daughter and her husband appear to be making preparations elsewhere: a Garden State refuge behind guarded gates, perhaps, or Florida, where President Trump is renovating his Mar-a-Lago estate.
But New York now seems inhospitable and nowhere in their plans.
"In an odd way, they will even have a harder time than Trump himself" in New York, said Donny Deutsch, a brand management mogul in Manhattan and no-holds-barred critic of Trump on cable TV. "He's despicable but larger than life."
"Those two are the hapless minions who went along."
Sam Nunberg, a short-lived Trump campaign adviser, said he would never presume to offer the couple advice, but "I'm moving to Florida next year for taxes and lifestyle."
Wherever they alight, Trump and Kushner seem poised for a quick departure from Washington, where they always struggled to fit in. The couple had already expanded their "cottage" in New Jersey by 2,500 square feet in 2016, adding a basement and a fireplace sitting room, all documented by Trump on Instagram.
The new plans before Bedminster Township call for an expanded master bedroom, bath and dressing room, two new bedrooms, a study and a ground floor veranda, making it more comparable to the $5 million house they rent for $15,000 a month in the gilded Washington enclave of Kalorama.
Plans also call for adding five more "cottages" of 5,000 square feet each to the property, and a recreation complex with spa treatments and a "general store."
A friend of the family said Tuesday that the renovations have been going on for a while, but Trump representatives are set to present the plans to the township on December 3.
New York Times News Service