Iran choice stunned US military officials
Pentagon officials have often offered improbable options to Presidents to make other possibilities appear more palatable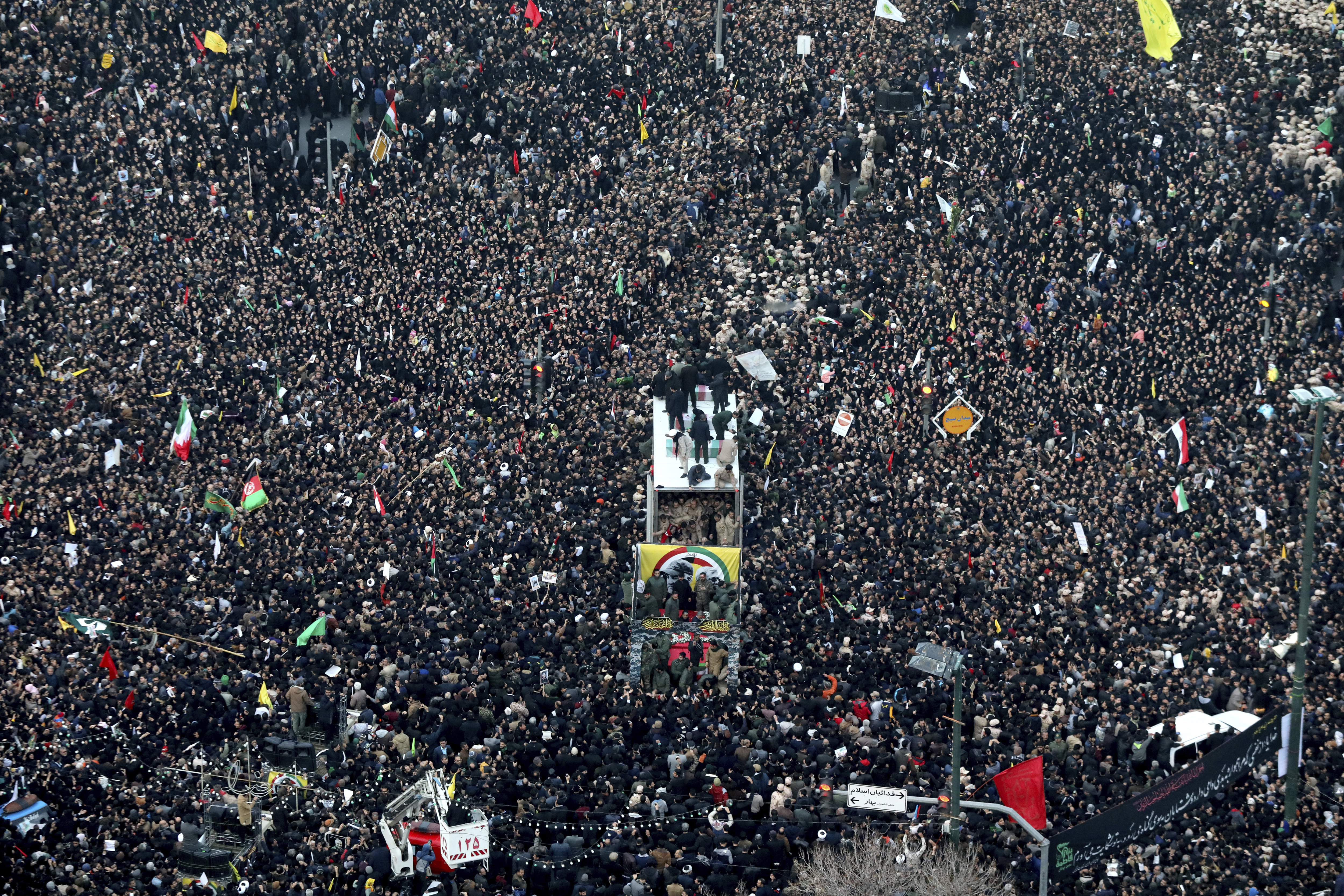 Coffins of Gen. Qassem Soleimani and others who were killed in Iraq by a US drone strike, are carried on a truck surrounded by mourners during a funeral procession, in the city of Mashhad, Iran, Sunday, January 5, 2020
(AP)
---
Washington
|
Published 05.01.20, 09:53 PM
|
---
In the chaotic days leading to the death of Maj. Gen. Qassem Soleimani, Iran's most powerful commander, top American military officials put the option of killing him — which they viewed as the most extreme response to recent Iranian-led violence in Iraq — on the menu they presented to President Donald Trump.
They didn't think he would take it. In the wars waged since the September 11, 2001, attacks, Pentagon officials have often offered improbable options to Presidents to make other possibilities appear more palatable.
After initially rejecting the Soleimani option on December 28 and authorising air strikes on an Iranian-backed Shia militia group instead, a few days later Trump watched, fuming, as television reports showed Iranian-backed attacks on the American embassy in Baghdad, according to defence department and administration officials.
By late Thursday, the President had gone for the extreme option. Top Pentagon officials were stunned.
Trump made the decision, senior officials said on Saturday, despite disputes in the administration about the significance of what some officials said was a new stream of intelligence that warned of threats to American embassies, consulates and military personnel in Syria, Iraq and Lebanon.
Soleimani had just completed a tour of his forces in Syria, Lebanon and Iraq, and was planning an "imminent" attack that could claim hundreds of lives, those officials said.
"Days, weeks," Gen. Mark A. Milley, the chairman of the Joint Chiefs of Staff, said on Friday, when asked how imminent any attacks could be.
But some officials voiced private scepticism about the rationale for a strike on Soleimani, who was responsible for the deaths of hundreds of American troops over the years. According to one US official, the new intelligence indicated "a normal Monday in the Middle East" — December 30 — and Soleimani's travels amounted to "business as usual".
That official described the intelligence as thin and said that Soleimani's attack was not imminent because of communications the US had between Iran's supreme leader, Ayatollah Ali Khamenei, and Soleimani showing that the ayatollah had not yet approved any plans by the general for an attack.
The ayatollah, according to the communications, had asked Soleimani to come to Tehran for further discussions at least a week before his death.
Defence secretary Mark T. Esper and General Milley declined to comment for this article, but General Milley's spokesperson, Col. DeDe Halfhill, said, without elaborating, that "some of the characterisations being asserted by other sources are false" and that she would not discuss conversations between General Milley and the President.
When Trump chose the option of killing Soleimani, top military officials, flabbergasted, were immediately alarmed about the prospect of Iranian retaliatory strikes on American troops in the region. It is unclear if General Milley or Esper pushed back on the President's decision.
Over the next several days, the military's Special Operations Command looked for an opportunity to hit Soleimani, who operated in the open and was treated like a celebrity in many places he visited in West Asia. Military and intelligence officials said the strike drew on information from secret informants, electronic intercepts, reconnaissance aircraft and other surveillance tools.
The option that was eventually approved depended on who would greet General Soleimani at his expected arrival on Friday at Baghdad International Airport.
If he was met by Iraqi government officials allied with Americans, one US official said, the strike would be called off.
But the official said it was a "clean party", meaning members of Kataib Hezbollah, including its leader, Abu Mahdi al-Muhandis. Trump authorised the killing around 5pm on Thursday, officials said.