Hafiz Saeed reckoner for Donald Trump
Fact-check in US and Pakistan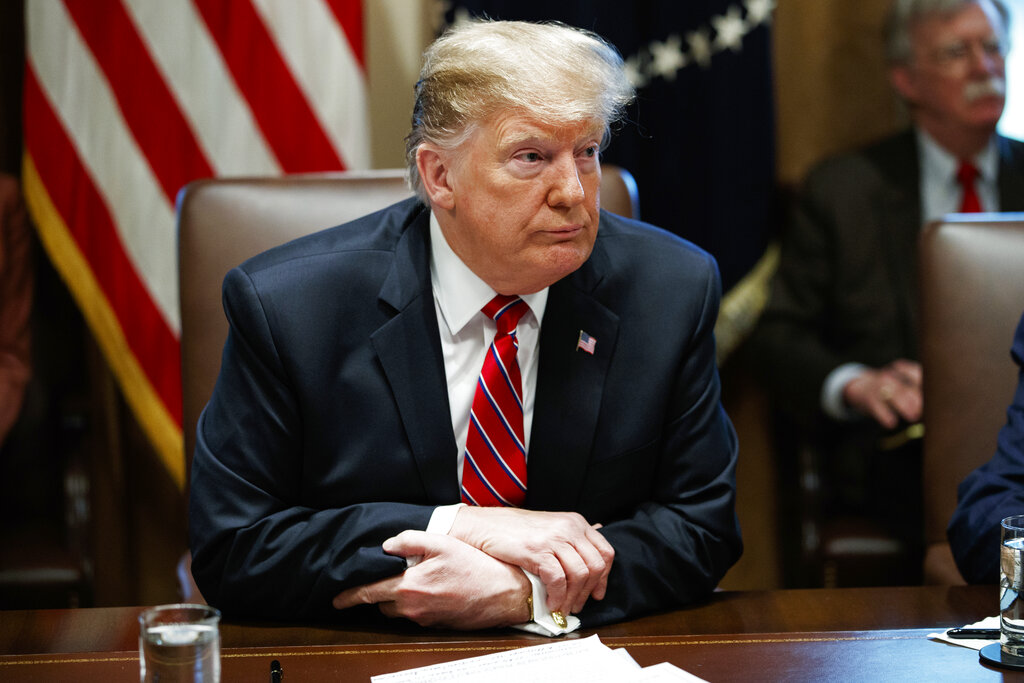 US President Donald Trump during a cabinet meeting at the White House on February 12, 2019, in Washington. On Wednesday, following news of Saeed's arrest in Pakistan, Trump tweeted: 'After a ten year search, the so-called 'mastermind' of the Mumbai Terror attacks has been arrested in Pakistan...'
(AP)
---
New Delhi
|
Published 18.07.19, 08:30 PM
|
---
Pakistanis on Thursday joined Indians and Americans to run a fact-check for US President Donald Trump after he suggested that the whereabouts of Jam'at-ud-D'awah chief Hafiz Saeed, a UN-designated terrorist, were not known for a decade.
On Wednesday, following news of Saeed's arrest in Pakistan, Trump tweeted: "After a ten year search, the so-called 'mastermind' of the Mumbai Terror attacks has been arrested in Pakistan. Great pressure has been exerted over the last two years to find him!"
Pakistan did not respond officially.
But in the US, the House of Representatives Committee on Foreign Affairs offered Trump a ready reckoner. "FYI Pakistan wasn't searching for him for 10 years. He's been living freely, and was arrested and released in: December 2001, May 2002, October 2002, August 2006 (twice), December 2008, September 2009, January 2017. Let's hold the claps until he's convicted."
Pakistani Netizens mapped many of Saeed's public activities over the past decades — leading prayers in the country's largest cricket stadium, floating a political party, holding rallies across the country, including outside the ISI headquarters, and media interviews.
Former Pakistan President Asif Ali Zardari's spokesman Farhatullah Babar said: "Hafiz Saeed has always been around, not 'found' now. 'Arrested' many times in past also in face of pressure and released when int'l pressure relented. Again 'arrested' on eve of Imran visit to US, will be free soon for sure….Poor Trump.''
Indian Lok Sabha MP Asaduddin Owaisi asked what Trump meant by referring to Saeed as the "so-called mastermind". India holds that Saeed was the mastermind. The UN designated him a terrorist after the Mumbai attacks.