Gurudev Sri Sri Ravi Shankar addresses US's state Senate and House of Representatives of Delaware
In India, marking the founder's 66th birthday, The Art of Living volunteers organized several seva activities with the goal of spreading joy and happiness in their communities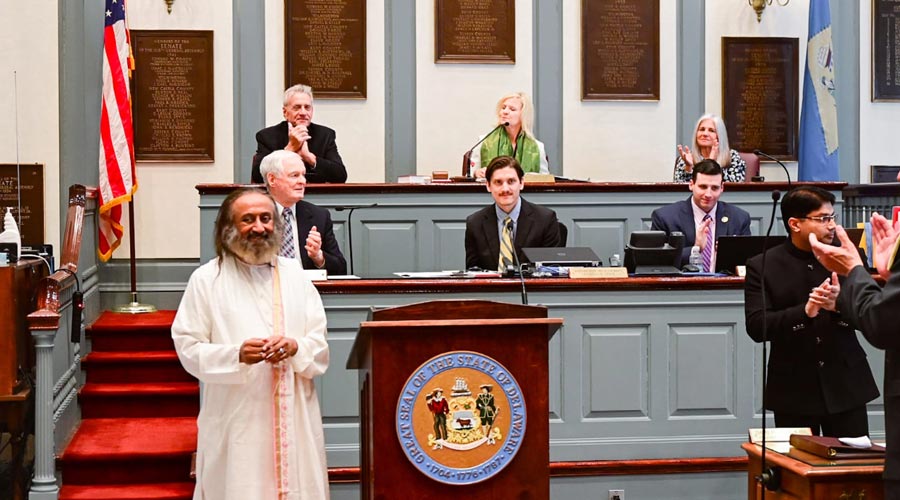 Gurudev Sri Sri Ravi Shankar
---
Bengaluru
|
Published 17.05.22, 05:42 PM
|
---
Global humanitarian and spiritual leader, Gurudev Sri Sri Ravi Shankar, founder of The Art of Living who turned 66 on May 13 addressed both US's state Senate and House of Representatives of Delaware, becoming the first Indian spiritual leader to be invited to both the houses.
Gurudev's address to the Delaware General Assembly was focused on dealing with mental health challenges and establishing peace. Gurudev in his address emphasized the importance of building communities where human values are cherished and nurtured. He also encouraged all the stakeholders to join forces and be a part of the 'I Stand for Peace' campaign, a movement to bring the focus back to peaceful progress, unity and harmony. In US the campaign was launched in Washington D.C on May 6 and is continuing in over 30 cities during his tour.
Interestingly, Delaware is the first state to ratify the constitution of the US and is the electoral constituency of the Hon'ble US President Joe Biden. During the meeting, each chamber presented a tribute acknowledging the extensive work of The Art of Living globally towards peace, trauma relief, conflict resolution, women empowerment and community development. The tributes also recognized Gurudev's long standing role in mediation and conflict resolution in places like Iraq, Sri Lanka, Columbia, Cameroom, Bihar, among others.
"We are proud to honor and thank Gurudev Sri Sri Ravi Shankar's humanitarianism, spiritual leadership and commitment to peace here in the United States and across the world," mentioned John Carney, Governor and Bethany Hall-Long, Lieutenant Governor in their joint tribute to Gurudev, recognizing Art of Living's work. 
Gurudev's 2022 US tour began in Miami where he addressed a conference of physicians on the role of meditation for mental health and overall well-being. He continued to Boston where he shared his thoughts about destigmatizing mental health at Harvard University. This was followed by a dialogue with healthcare providers and administrators on prioritizing healthcare workforce well-being hosted by Children's National Hospital and the National Geographic Society. He then spoke on the crisis of youth mental health with the U.S. Surgeon General at George Washington University.
"It is often found that people with a negative mindset are more active than those with a positive one. The time has come for the voice of peace to be heard loud and clear and we should feel proud to take that action," appealed Gurudev.
Marking the founder's birthday celebrations volunteers across the country have organised various service initiatives. In West Bengal several activities were held across the state:
Meals were arranged for 500 sex workers in Sonargachi
The Art of Living, Howrah (N) chapter organised a mega blood donation camp, where 223 units of blood was collected
1000+ boys and girls were trained as assistant electricians, construction and certification skills, by Skill India
Tree plantation programs were organized all over the state. In Andal alone, 1000 trees were planted