Elon Musk strikes deal to buy Twitter for $44 billion
The influential social network agrees to sell itself to the world's richest man for $54.20 a share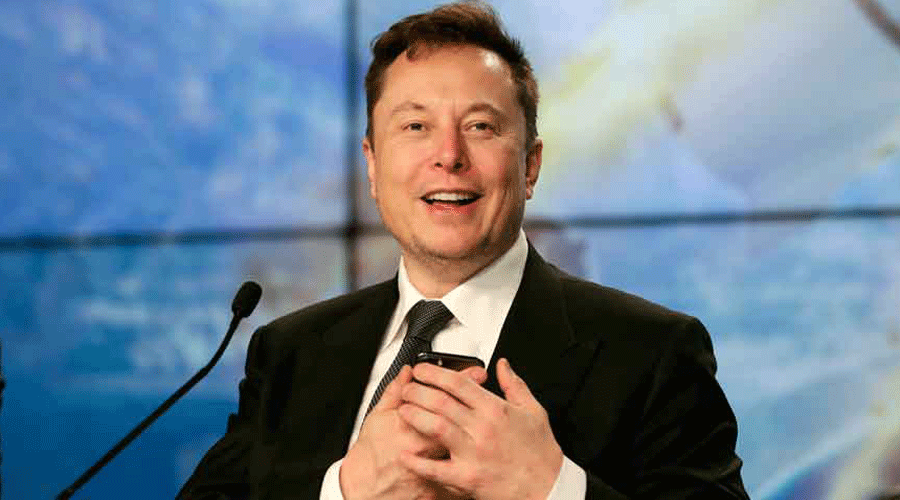 ---
San Francisco
|
Published 26.04.22, 03:31 AM
|
---
Elon Musk struck a deal on Monday to buy Twitter for roughly $44 billion, in a victory by the world's richest man to take over the influential social network frequented by world leaders, celebrities and cultural trendsetters.
Twitter agreed to sell itself to Musk for $54.20 a share, a 38 per cent premium over the company's share price this month before he revealed he was the firm's single largest shareholder. It would be the largest deal to take a company private — something Musk has said he will do with Twitter — in at least two decades, according to data compiled by Dealogic.
"Free speech is the bedrock of a functioning democracy, and Twitter is the digital town square where matters vital to the future of humanity are debated," Musk said in a statement announcing the deal. He said he wanted "to make Twitter better than ever".
The blockbuster agreement caps what had seemed an improbable attempt by the famously mercurial Musk, 50, to buy the social media company — and immediately raises questions about what he will do with the platform and how his actions will affect online speech globally.
The billionaire, who has more than 83 million followers on Twitter and has romped across the service hurling gibes and memes, has repeatedly said he wants to "transform" the platform by promoting more free speech and giving users more control over what they see on it. By taking the company private, Musk could work on the service out of sight of the prying eyes of investors, regulators and others.
Yet scrutiny will likely be intense. Twitter is not the biggest social platform — it has more than 217 million daily users, compared with billions for Facebook and Instagram — but it has had an outsized role in shaping narratives around the world. Political leaders have used it as a megaphone, while companies, celebrities and others have employed it for image-making and brand building.
In recent years, Twitter has also become a lightning rod for controversy, as some users spread misinformation and other toxic content on the service. Former US President Donald  Trump frequently turned to Twitter to insult and inflame, before getting barred from the platform after the January 6 riot at the Capitol last year. The company has repeatedly been forced to create policies on the fly to deal with unexpected situations.
In a statement, Bret Taylor, Twitter's chairman, said the board had "conducted a thoughtful and comprehensive process to assess Elon's proposal with a deliberate focus on value, certainty, and financing. The proposed transaction will deliver a substantial cash premium, and we believe it is the best path forward for Twitter's stockholders".
Twitter's board negotiated with Musk into the early hours of Monday over his unsolicited bid to buy the company, after he began lining up funds for the offer last week.
The discussions followed a Twitter board meeting on Sunday morning to discuss Musk's offer. Obtaining commitments for the financing was a turning point for how the board viewed Musk's bid, enabling the company's 11 board members to seriously consider his offer.
Musk declared his intent to buy the company on April 14 and take it private. But his proposal was quickly dismissed by Wall Street because it was unclear if he could come up with the money to do the deal. Twitter also adopted a "poison pill," a defensive manoeuvre that would prevent Musk from accumulating more of the company's stock.
Musk updated his proposal last week. In a securities filing that was made public on Thursday, Musk detailed how he had put together financing from the investment bank Morgan Stanley and a group of other lenders, which were offering $13 billion in debt financing, plus another $12.5 billion in loans against his stock in Tesla, the electric carmaker that he runs. He said he would use another $21 billion in cash to buy the rest of Twitter's equity.
Several analysts had said they expected Twitter's board to only accept a bid that valued it at a minimum of $60 a share. Twitter's stock rose above $70 a share last year when the company announced goals to double its revenue, but has since fallen to around $48 as investors have questioned its ability to meet those targets.
Musk had tried to negotiate with Twitter using the service itself, threatening in several tweets that he might take his bid directly to the company's shareholders in what is called a "tender offer". A tender offer is a hostile manoeuvre in which an outside party circumvents a company's board by asking shareholders to sell their shares directly to them.
He had also acted erratically on the platform, raising concerns over how he might manage the service should he be in charge of it. On Saturday, Musk took aim at billionaire Bill Gates, saying that Gates had taken a "short" position on the stock of Tesla, which meant that Gates was betting the carmaker's shares would fall. On Sunday, Musk tweeted that he was "moving on" from making fun of Gates.
Moving on …

— Elon Musk (@elonmusk) April 24, 2022
Even so, Musk maintains amicable ties with some high-ranking members of Twitter. Over the weekend, Musk traded friendly tweets with Jack Dorsey, the company's co-founder and a board member. Dorsey stepped down as Twitter's chief executive in November and soon will be leaving its board.
Both men share similar views on cryptocurrencies and on promoting more free speech online. When Musk briefly flirted with joining Twitter's board this month, Dorsey tweeted: "I'm really happy Elon is joining the Twitter board! He cares deeply about our world and Twitter's role in it."
I'm really happy Elon is joining the Twitter board! He cares deeply about our world and Twitter's role in it.

Parag and Elon both lead with their hearts, and they will be an incredible team. https://t.co/T4rWEJFAes

— jack (@jack) April 5, 2022
On Friday, Block, a financial services company led by Dorsey, disclosed that he had changed his title at the firm from chief executive to "Block Head." That shift appeared to resonate with Musk.
"Your new title at Block is fire," Musk tweeted at Dorsey on Saturday, using two flame emojis to signify his approval. Last year, Musk had changed his title at Tesla from chief executive to technoking.
New York Times News Service