Donald Trump flaunts another 'great letter' from Kim Jong-un
Few pen-pal relationships have ever been so proudly celebrated, at least by one of the pals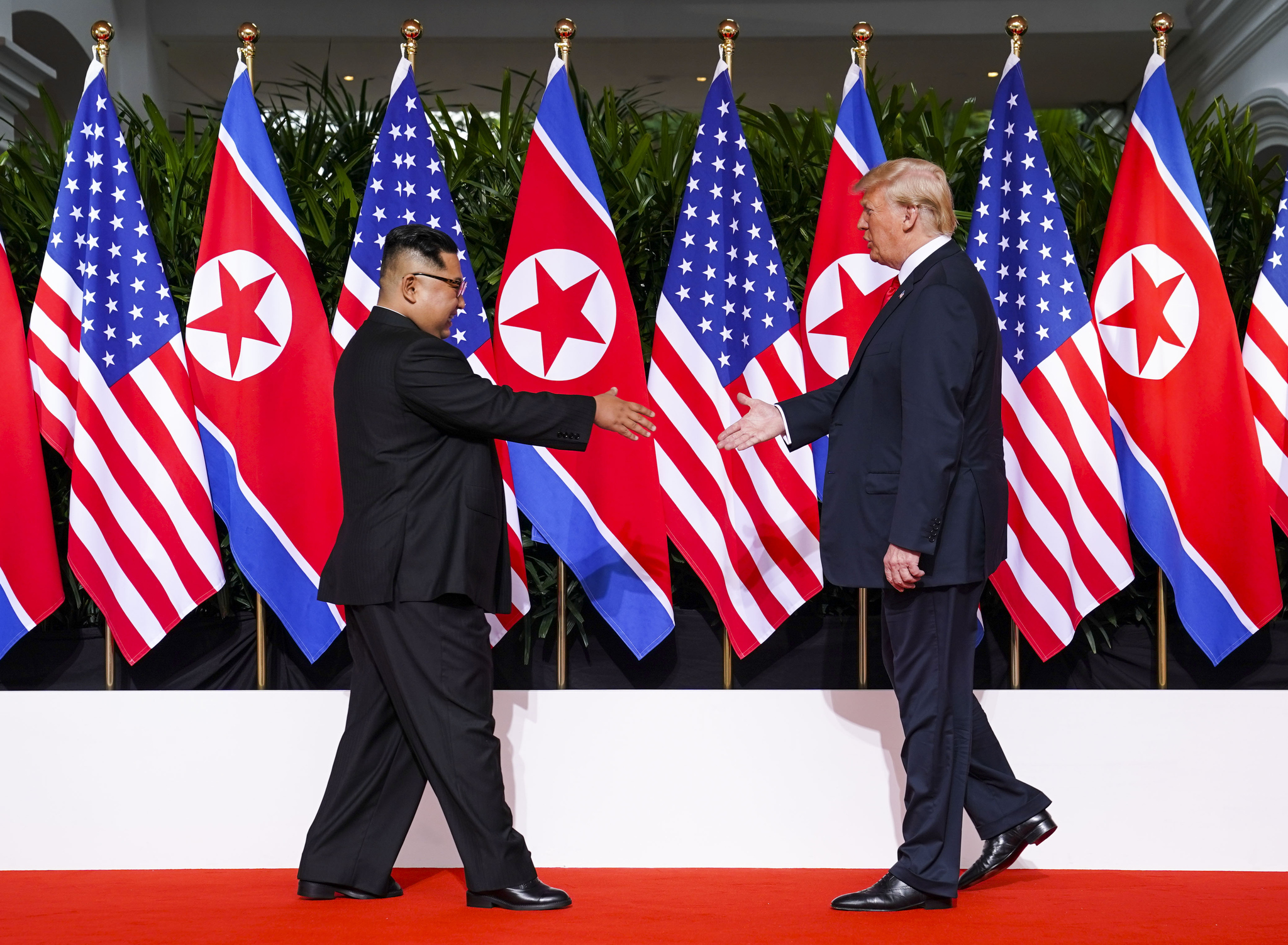 When Kim Jong-un meet for the first time on Sentosa Island in Singapore on June 12, 2018. Trump relishes showing off the "beautiful" and "interesting" letters he receives from Kim, a man he once threatened with annihilation.
The New York Times
---
Washington
|
Published 03.01.19, 08:07 AM
|
---
It has become a favourite parlour trick of President Donald Trump's, and on Wednesday, he was at it again, brandishing his latest letter from the North Korean dictator, Kim Jong-un.
"Those few people that I've shown this letter to," Trump told reporters during a Cabinet meeting, his voice trailing off as he waved three typewritten sheets in front of the cameras. "They've never written letters like that. This is a great letter. We've made a lot of progress with North Korea and Kim Jong-un."
If history is any guide, he will end up showing Kim's letter to more than a few people. Trump delights in sharing with visitors the correspondence he has received from North Korea's leader since they began writing to each other last year.
Typically, according to people who have witnessed such displays, Trump calls to an assistant sitting just outside the Oval Office to bring him "the letters," which he then fans out across the Resolute Desk so the people facing him can get a glimpse. They are translated into English and filled with flowery references to Trump as "Your Excellency".
Theirs is not the first improbable pen-pal relationship — Catherine the Great famously corresponded with Voltaire. Nor is it the most passionate — writers Henry Miller and Anais Nin come to mind. But few pen-pal relationships have ever been so proudly celebrated, at least by one of the pals.
"He wrote me beautiful letters," Trump said at a rally in September. "And they're great letters. We fell in love."
The White House has yet to release any of Kim's missives to Trump, though the President did post on Twitter a brief letter he received from Kim in July. Trump has said he would like to make more of Kim's letters public but that the North Korean leader asked him to keep them private. In the meantime, the President plays peekaboo with inquiring reporters.
"Oh, would you like to see what was in that letter. Wouldn't you like it?" Trump joked last June when they pleaded for details of one letter. "How much? How much?"
"It was a very interesting letter," he continued, "and at some point, it may be appropriate — I may be able to give it you."
Trump has a long history of showing off to visitors. His 26th-floor office at Trump Tower has a windowsill crammed with mementos, including a championship belt sent to him by boxer Mike Tyson; a football helmet from Tom Brady, the New England Patriots quarterback whom the president once said he hoped would be his son-in-law; and a basketball shoe signed by Shaquille O'Neal, the NBA star.
"This is some serious foot," he told a Wall Street Journal reporter, gesturing at the shoe, during the 2016 presidential campaign.
What makes Kim's letters different, analysts said, is that they are key to a highly sensitive diplomatic negotiation over North Korea's nuclear arsenal. The North Korean leader, they said, has set out methodically to cultivate Trump — building a rapport with him, even to the exclusion of other senior US officials, like secretary of state Mike Pompeo, who is overseeing the negotiations.
Some analysts said they believed that South Korea's president, Moon Jae-in, had counseled Kim on the wording in the letters, calculating that the president would respond to flattery and a solicitous tone.
If so, it has worked: Trump has been unstinting in his praise of Kim, even as the nuclear negotiations have bogged down, sometimes rancorously. In one letter, said a person who saw it, Kim complained that he did not want to deal with Pompeo — only with Trump.
"We really have established a very good relationship," Trump said on Wednesday, noting that he and Kim would meet for a second time. If he had not been elected, Trump added, the United States and North Korea would be involved in a "nice, big, fat war."
"From a negotiation standpoint, what Trump thinks is happening is that he has the trust of Kim Jong-un," said Joseph Yun, a former State Department official who has negotiated with North Korea.
"They've bonded, and what that means is that there's not going to be any hostility between them," Yun said. "Whether Pompeo makes progress or not doesn't really matter because everyone has pulled back from the brink. There is no degree of urgency on the part of Trump."
Trump is not the first President to try to turn a hardened foe into a pen pal. His predecessor, Barack Obama, sent two letters to Iran's supreme leader, Ayatollah Ali Khamenei, in 2009 to try to restart negotiations over its nuclear programme. The ayatollah sent a multipage response to Obama's first letter and never replied to the second.
Those letters, however, have never been released; the White House refused even to confirm their existence.
Trump has been considerably less discreet. In June, he posed, smiling, with Kim Yong Chol, an emissary from the North Korean leader, who had hand-delivered a letter from Kim in a curiously oversize envelope. After teasing reporters about its "interesting" contents, he abruptly reversed course, when asked whether he had replied.
"No, I didn't. I haven't seen the letter yet," Trump said. "I purposely didn't open the letter. I haven't opened it."
c.2019 New York Times News Service