Desperate bid to account for dead
The cemetery on the eastern side of Palu has become a focal point for the city's grief as it slowly tries to recover from the magnitude-7.5 quake and the devastating tsunami that it set off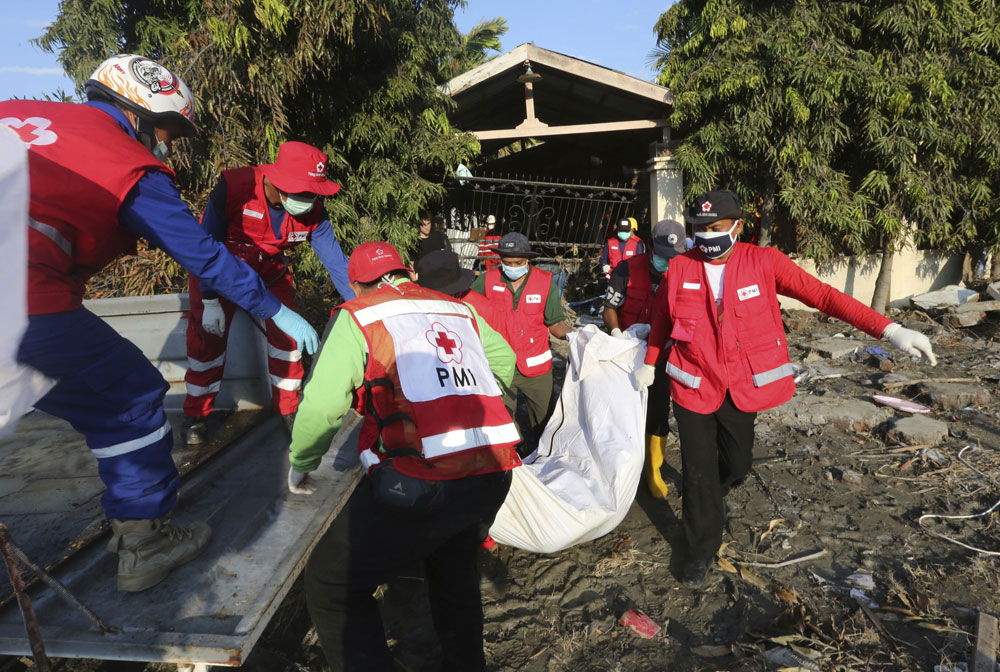 Indonesian red cross team carry the body of a tsunami victim in Palu
Image credit: AP
---
Indonesia
|
Published 02.10.18, 08:31 PM
|
---
Nathan, 17, had run to safety when a powerful earthquake struck his high school on Friday in Palu, on the island of Sulawesi. But he couldn't resist going back to rescue his motorbike.
He died when he was hit by falling debris from the school's Advent Church, which also was his home. It took three days for his uncle, the pastor, to find his body.
On the outskirts of Palu, Nathan's mother, Ling Ling, lay Tuesday morning on the freshly turned dirt of his grave and wailed. She clutched at his headstone. Fistfuls of brown earth slipped between her fingers.
"I'm broken," she cried at the Poboya Indah cemetery as her husband tried to console her. "I have no hope anymore. Let me be the one to die. My life is useless."
The cemetery on the eastern side of Palu has become a focal point for the city's grief as it slowly tries to recover from the magnitude-7.5 quake and the devastating tsunami that it set off.
Officials said on Tuesday that at least 1,234 people in Indonesia had died, including 120 foreigners. Others, still uncounted, lie in the rubble of ruined buildings or were swept away by the tsunami, which in some places reached a height of more than 20 feet.
Nearly 6,400 personnel from an array of government agencies — including the military, the police, the national search-and-rescue agency and the Energy and Mineral Resources Department — were involved in efforts to find survivors, recover bodies and evacuate people from the stricken area, officials said.
More help and equipment were on the way.
As hope for rescuing trapped survivors dwindled, family members turned to the heartbreak of burying those whose bodies were found.
In the equatorial heat, the authorities had little choice but to bury the bodies quickly, mostly in mass graves, first taking fingerprints and photographs for help in identifying them later.
On Tuesday, four trucks loaded with the dead headed up the hill to the Poboya Indah cemetery in what has become a daily ritual. Fifty-four bodies were buried by morning, and more trucks were on their way. The day before, 153 were buried here. Workers using heavy equipment dug a swimming pool-size hole and placed the bodies in rows. Many were in body bags and others were wrapped in carpets, including some with an incongruous cartoon-character design.
"We're going to hold a mass burial every day," said Firman, an army officer who was overseeing the operation. Like many Indonesians, he uses one name.
Fosmawati, 54, was there to bury her husband, Mujiono, 56, in the mass grave. She found his body at the Nasanapura Hospital. "I recognised my husband from his clothes," she said.
At the time of the earthquake, he was working at a chicken farm in Petobo, one of two neighbourhoods that were destroyed when the earthquake turned the soft, saturated soil beneath them into jelly.