China third carrier launch a major milestone for Xi Jinping
The ship is the navy's most modern and resembles the latest American carrier, the Gerald R. Ford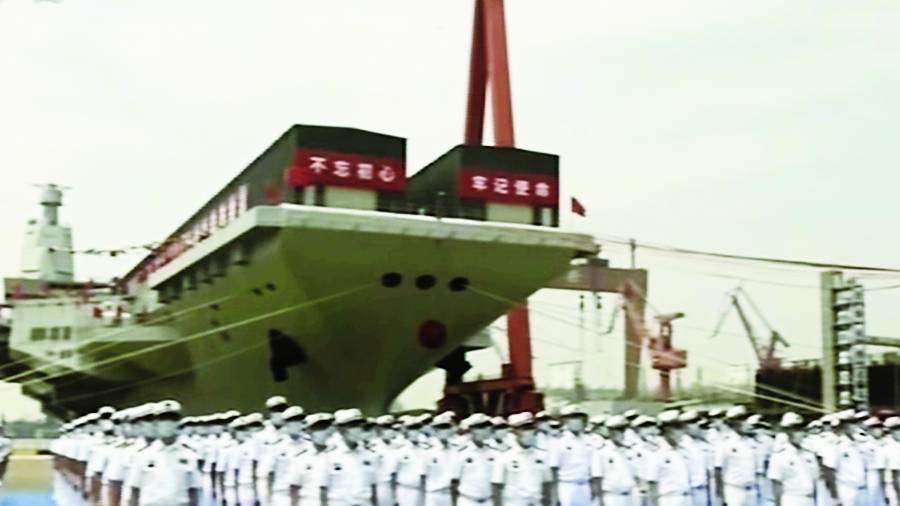 A picture taken from CCTV video footage shows sailors in front of China's third aircraft carrier, christened Fujian, before its launch
AP/PTI
---
Published 18.06.22, 01:33 AM
|
---
China launched its third and most advanced aircraft carrier on Friday, bringing the country one step closer to a modern navy capable of competing with the US's military naval power.
The ship, named Fujian after the Chinese province that sits across from Taiwan, is the navy's most modern and resembles the latest American carrier, the Gerald R. Ford. Though the launch was widely expected, it comes amid heightened tensions in the South China Sea and days after China's defence minister, General Wei Fenghe, warned it would not back down from war with Taiwan if Taiwan took steps toward independence.
"The launch is a major milestone for the People's Liberation Army," said Drew Thompson, a former Pentagon official responsible for China, adding that it reflected "China's long-term ambitions to project power militarily and compete directly against the United States."
Chinese state media on Friday showed naval officers watching as fireworks were set off and confetti was released alongside the carrier in the Jiangnan Shipyard near Shanghai.
Red banners carrying slogans about fulfilling the party's goal of building a modern navy and a strong army were draped across the carrier's deck.
China's top leader, Xi Jinping, has made modernising the military a key mission, and expanding its navy is at the heart of that plan. The new carrier will allow China to extend its power further afield and help to protect its interests in the South China Sea and beyond at a time of geopolitical strain.
Russia's invasion of Ukraine has raised the spectre of war in Taiwan and given more credence to Xi's vision of claiming the self-governed Taiwan as a "rejuvenation" for China. Its military has demonstrated its might in ways that have increasingly drawn rebuke and warnings from Washington and its allies.
"Because China has not been fully unified so far and continues to have disputes in the South China Sea and Diaoyu Islands, it is necessary for China to strengthen its military capabilities," said Song Zhongping, an independent Chinese military analyst, referring to the disputed islands in the East China Sea known in China as Diaoyu and in Japan as Senkaku.
Unlike its two earlier carriers that feature a "ski jump" deck, the Fujian has an electromagnetic catapult system, previously a feature that only the US Navy had, state media reported. The catapults are "a major leap forward" for China's military, allowing it to launch fixed-wing aircraft.
(New York Times News Service)