Brexit talks: Theresa May meets Angela Merkel
May is looking to secure 'assurances' on the agreement to aid its passage through Britain's Parliament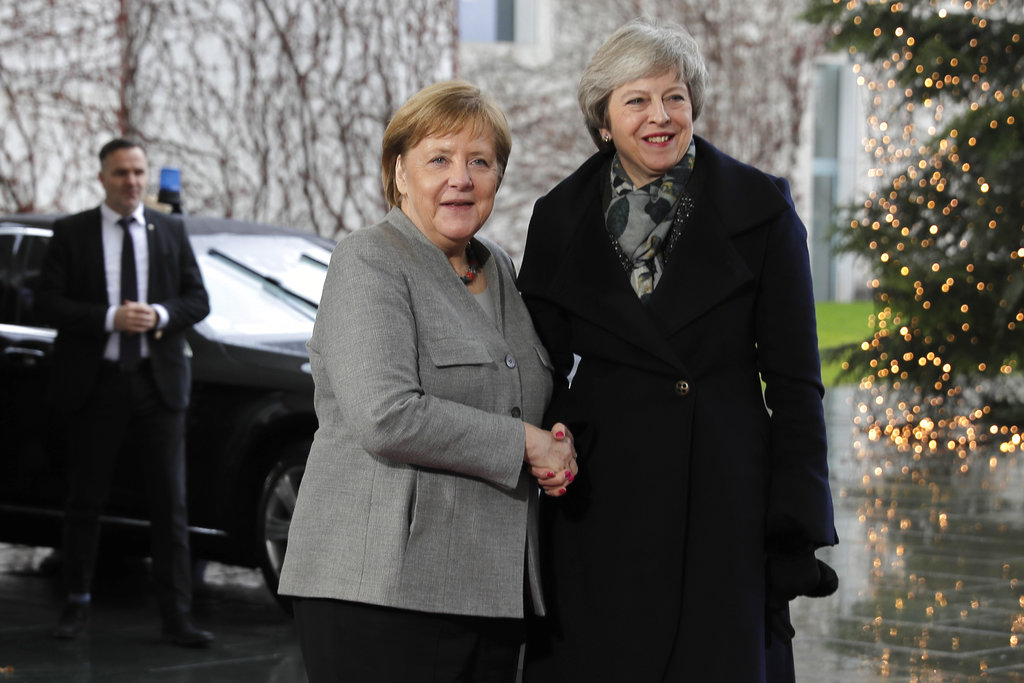 ---
---
British Prime Minister Theresa May is meeting German Chancellor Angela Merkel for talks aimed at salvaging Britain's divorce deal with the European Union.
Merkel greeted May with a handshake in wet, grey weather at the chancellery in Berlin on Tuesday as the British leader made her second stop on a tour of European capitals aimed at securing 'assurances' on the agreement to aid its passage through Britain's Parliament.
Merkel and May made no comment as they went into their meeting, and no statements or news conference were planned afterward. May, who started her tour in The Hague earlier on Tuesday, was due in Brussels later in the day.
May postponed a Parliament vote on the Brexit deal at the last minute on Monday, acknowledging she faced almost certain defeat. German officials, like their counterparts in other EU countries, say there will be no renegotiation of the hard-won deal.
British Prime Minister Theresa May's spokesperson says the government intends to hold a postponed vote in Parliament on her Brexit deal by January 21. James Slack says the government will bring the divorce deal back to lawmakers once May has obtained 'reassurances' from the European Union about a provision on common customs rules that had drawn widespread resistance from parliamentarians.
He said that would be before January 21, previously seen as a deadline for the government to inform Parliament of its Brexit plan.
May delayed the vote, planned for Tuesday, at the last minute, acknowledging the deal would be rejected 'by a significant margin' in Parliament. She is meeting EU leaders to seek new wording on the main sticking point, the so-called 'backstop,' that could reassure Parliament.

The 'backstop' is designed as an insurance policy to ensure an open border between the UK's Northern Ireland and EU member Ireland. But many lawmakers worry that Britain might be stuck in it indefinitely.
A British Brexit minister says May is seeking European Union guarantees that the UK will not become a prisoner of parts of the agreement.