New momentum for 2nd Brexit referendum
Political chaos has put vote on the table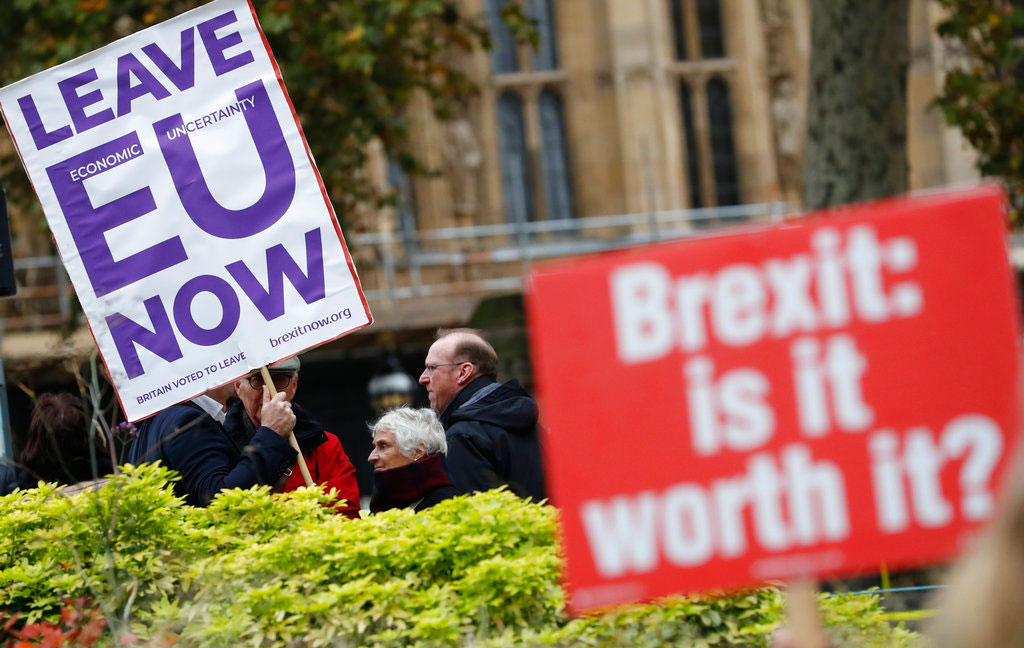 Pro and anti-Brexit protesters hold placards as they vie for media attention near Parliament in London, on Friday.
AP picture
---
London
|
Published 17.11.18, 07:44 PM
|
---
In the course of selling her much-derided plan for Britain to quit the EU, Prime Minister Theresa May on Thursday played what she sees as her trump card, telling lawmakers there are just two alternatives.
"We can choose to leave with no deal," she said, pausing for effect, or "We can risk no Brexit at all."
For those who see stopping Brexit as a prize, not a risk, that admission was some rare good news — a sign that Britain could be on course to reverse its biggest and, to them, most disastrous, decision in four decades. And that would almost certainly rest on holding a second referendum to overturn the 2016 decision to leave the union.
The path towards a second plebiscite has always seemed impossibly treacherous. On Friday, May, who insists there will be no new vote, was sticking to her Brexit plan with the apparent support of two pro-Brexit cabinet ministers, Michael Gove, the environment secretary, and Liam Fox, the international trade secretary.
She also welcomed Amber Rudd, the former home secretary, back into the cabinet as work and pensions secretary, and appointed a little-known figure, Stephen Barclay, as Brexit secretary.
And May's opponents have so far failed to muster the support of the 48 Conservative Party lawmakers needed to force a confidence vote in her leadership.
But the political chaos of recent days — a swirl of cabinet resignations and calls for May to stand aside — has put another vote squarely on the table.
That is because May's plan, which would keep some close economic ties to the EU, now looks unlikely to gain approval in Parliament. That would seem to leave a second referendum as the most promising among a limited number of escape routes to avoid a chaotic, disorderly, no-deal departure.
"I think it's a lot more likely," said Patrick Dunleavy, a professor of political science and public policy at the London School of Economics and Political Science. "The whole effort to try and implement Brexit in a one-party way, without any negotiations with the opposition, without a coalition agreement, looks doomed to destruction."
The first referendum on whether Britain should leave the EU, in 2016, was close — 52 per cent to 48 per cent — and another one would likely be so, too.
"Last summer, the chances of this outcome seemed minimal," wrote Charles Grant, director of the Centre for European Reform, a London-based research institute, in a briefing paper. But the odds have improved, he said, because the Opposition Labour Party is now more positive about that notion if it cannot achieve its favoured outcome, which is a general election.
There are plenty of obstacles, of course. Right now there is no majority in Parliament for a second vote. The Labour Party leader, Jeremy Corbyn, is not sympathetic.
Holding one would almost certainly depend on the EU granting Britain an extension on the current March 29 date for the country's exit. And precisely what question, or questions, would be asked would provoke endless wrangling.
There are also good political arguments against it. The last vote was close — 52 per cent to 48 per cent — and another one would in all likelihood be so, too.
That risks a polarising and angry referendum campaign with an outcome that would be no more definitive than the first vote.