Americans stretch across political divides to welcome Afghan refugees
'Even the most Right-leaning isolationists within our sphere recognise the level of responsibility that America has to people who sacrificed for the nation's interest'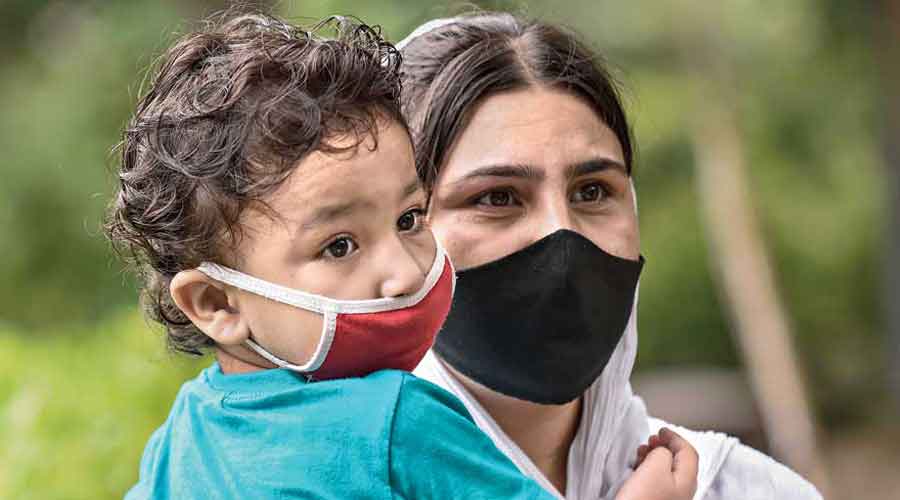 An Afghan woman with her child protests in front of the office of the United Nations High Commissioner for Refugees in New Delhi.
PTI File Photo
---
Phoenix, Arizona
|
Published 07.09.21, 12:45 AM
|
---
The hundreds of parishioners at Desert Springs Bible Church, a sprawling megachurch in the northern suburbs of Phoenix, are divided over mask mandates, the presidential election and what to do about migrants on the border. But they are unified on one issue: the need for the US to take in thousands of Afghan evacuees, and they are passing the plate to make it happen.
"Even the most Right-leaning isolationists within our sphere recognise the level of responsibility that America has to people who sacrificed for the nation's interest," said Caleb Campbell, the evangelical church's lead pastor.
Last weekend, the church inaugurated a campaign to raise money for the dozens of Afghan families who are expected to start streaming into greater Phoenix in the next several weeks. Already, thousands of dollars have flowed into the church's "benevolence fund".
"This is a galvanising moment," said Campbell, 39.
Throughout the US, Americans across the political spectrum are stepping forward to welcome Afghans who aided the US war effort in one of the largest mass mobilisations of volunteers since the end of the Vietnam War.
In rural Minnesota, an agricultural specialist has been working on visa applications and providing temporary housing for the newcomers, and she has set up an area for halal meat processing on her farm. In California, a group of veterans has sent a welcoming committee to the Sacramento airport to greet every arriving family. In Arkansas, volunteers are signing up to buy groceries, do airport pickups and host families in their homes.
"Thousands of people just fled their homeland with maybe one set of spare clothes," said Jessica Ginger, 39, of Bentonville, Arkansas. "They need housing and support, and I can offer both."
Donations are pouring into non-profits that assist refugees, even though in most places few Afghans have arrived yet. At Mission Community Church in the conservative bedroom community of Gilbert outside Phoenix, parishioners have been collecting socks, under-wear, shoes and laundry supplies.
Mars Adema, 40, said she had tried over the past year to convince the church's ministries to care for immigrants, only to hear that "this is just not our focus".
"With Afghanistan, something completely shifted," Adema said.
New York Times News Service