Runners itching to lace up and hit the road have been urged to undergo certain medical tests to guard against cardiac arrest during a run.
Doctors recommend the tests especially for smokers and those above 35 years of age as well as those who have a family history of cardiac diseases.
A group of 30 runners and volunteers who are set to take part in the Airtel Run for Education, partnered by The Telegraph, on November 25 attended a session on Wednesday morning where they were told what they should do to help if a runner collapses in front of them.
"Most of those who fall sick or collapse during a run have an underlying condition that aggravates on exertion. Often these are cardiac conditions such as cardiomyopathy, a structural disease, or Long QT syndrome, which is an electrophysiological defect. These conditions can be detected through tests such as ECG, echocardiogram and treadmill test," said Arijit Bose, head of the emergency department at Apollo Gleneagles Hospitals, the healthcare partner of the Airtel Run for Education.
Someone with any of these conditions should undergo treatment and make lifestyle changes to correct the problem before taking part in a long-distance run, Bose told the participants.
The session was held in the waiting zone of Biswa Bangla Gate in Sector V. Debashis Sen, chairman and managing director of Hidco and additional chief secretary in charge of the IT and electronic department, was present.
The participants were told about the five steps they need to take after seeing someone collapse — check for responsiveness by shaking, slapping or shouting; call for an ambulance; tilt the head and check the airways; begin chest compression if there is no pulse; start mouth-to-mouth rescue breathing after 30 compressions.
"The session was helpful. We were shown how to react in an emergency situation. As for myself, I have taken part in five marathons but never underwent any test. I will go for one this time," said businessman Rahul Gupta, 32.
Doctors, however, say people can fall sick and even suffer cardiac arrest without any pre-existent heart condition, which is why one must stop running and ask for help if she or he feels "unusual or exceptional shortness of breath", chest discomfort or dizziness, according to doctors.
At last year's Tata Steel 25K, partnered by The Telegraph, 52-year-old stockbroker Shyam Sundar Sonika had suffered cardiac arrest and collapsed just 7m short of the finish line. He survived as he was immediately attended to by doctors. Tests had revealed no major pre-existent cardiac condition.
Data gathered during a 10-year study in the US show 59 of the 11 million long-distance runners had suffered cardiac arrest during a run. Seventy per cent of them could not be revived.
Aashish Contractor, head of rehabilitation and sports medicine at Sir HN Reliance Foundation Hospital, Mumbai, said all except healthy young individuals should at least consult a physician before taking part in a run.
The organisers of the Run for Education said three critical-care ambulances and three medical desks would be deployed across 10km.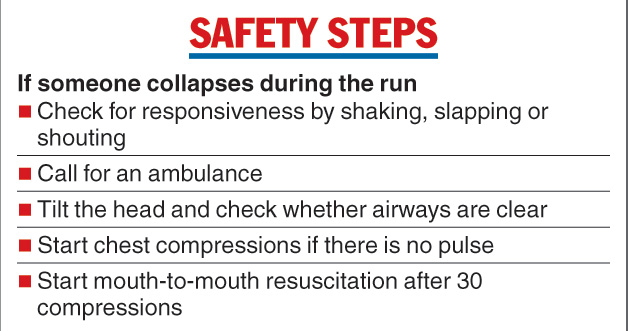 The Telegraph