Worry over relatives stuck in Assam floods
Young professionals from Silchar living outside the state spending sleepless nights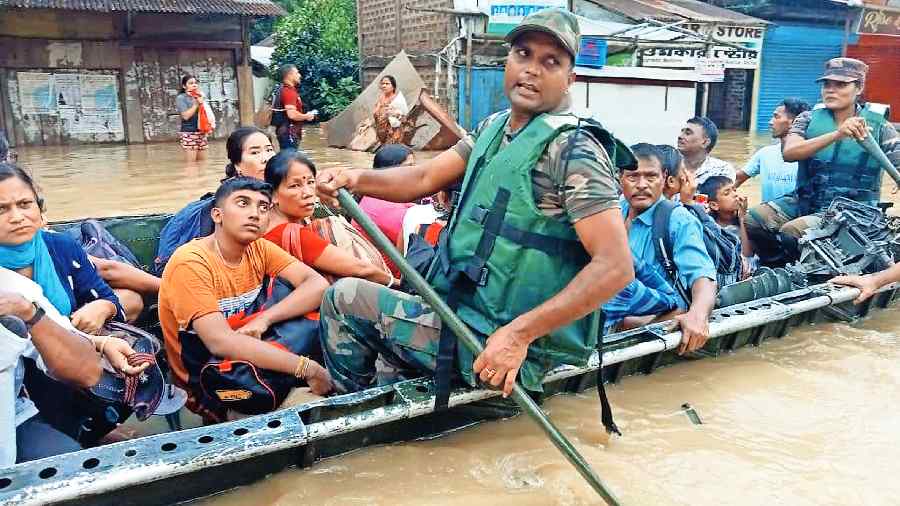 Security personnel ferry on a boat rescued people from a flood-affected area in Silchar on Monday.
PTI
---
Calcutta
|
Published 24.06.22, 12:12 AM
|
---
Young professionals from Silchar in Assam, living outside the state to pursue their careers, have been rendered sleepless with the concern of what might have fallen upon their families as the northeastern state battles grim floods.
The Barak river gushed through the Silchar town on Monday and is yet to recede since then. Most families — including senior citizens and the physically unwell — have been forced to confine themselves to the upper floors of their houses as water has taken over the ground floors.
"My mother and my brother along with my uncle's family are stuck on the first floor of our house. Drinking water connectivity and phone connectivity has been the worst hit," said Bindita Sinha, who is currently based out of Calcutta for her work.
"The saddest part is that my family had to collect rainwater and then boil it so that they could have something to drink at least," Sinha told The Telegraph.
Sinha's family resides on Gobinda Bari Road in Silchar. She had managed to speak to her family once in the past 24 hours. "Our house is situated inside a narrow street off the road and hence sending relief materials to my family is also a problem," she added.
Similar is the case of the parents of Rudranee Das, who is currently residing in Gurgaon. Her parents, both nearing the age of 60, are stuck on the first floor of their two-storey house at Rangikhari in Silchar.
The last time Das checked on her family was on Wednesday evening and was informed that they had been running out of drinking water.
Both Sinha and Das complained that multiple calls to the SOS numbers shared by the administration either remained unanswered or didn't connect at all.
A video message shared on Thursday by Cachar's deputy commissioner Keerthi Jalli on the Facebook page of the district administration confirms that around 2.8 lakh people are stuck in Silchar town and peri-urban areas. Jalli said around 40,000 liters of water, two lakh biscuit packets and 24000 milk cans and 10,000 quintals rice, along with pulses and edible oil, had been distributed so far.
She added that the administration had carried out a trial of air dropping food packets on Thursday, in association with the air force, in some parts of Silchar.
However, the families of Das and Sinha aren't amongst the lucky ones to have received any such aid.
While several flood victims claim the government is trying its best to support the stranded populace, another section strongly criticises the role played by the administration.
Someone like Saptadeep Pal, a resident of Silchar's Rangirkhari area and currently based out of Guwahati, said the large scale of devastation had posed a major challenge for the administration.
"Honestly, hundreds of thousands of people are begging for help every hour. It is practically impossible for the administration to cater for all of them together," Pal —whose elderly parents are stuck in Silchar — told The Telegraph.
But Sinha begs to differ.
According to her, the government and media are both busy highlighting the dissident Shiv Sena MLAs who have put up at a hotel in Guwahati, while they should've actually been focusing on the hardships of the flood victims.
"This is a national crisis. We need aid from all sections of the society and the central government," Sinha added.