Wire mess to be a thing of past in Sector V of Salt Lake
Underground channel mandatory for cable TV and broadband lines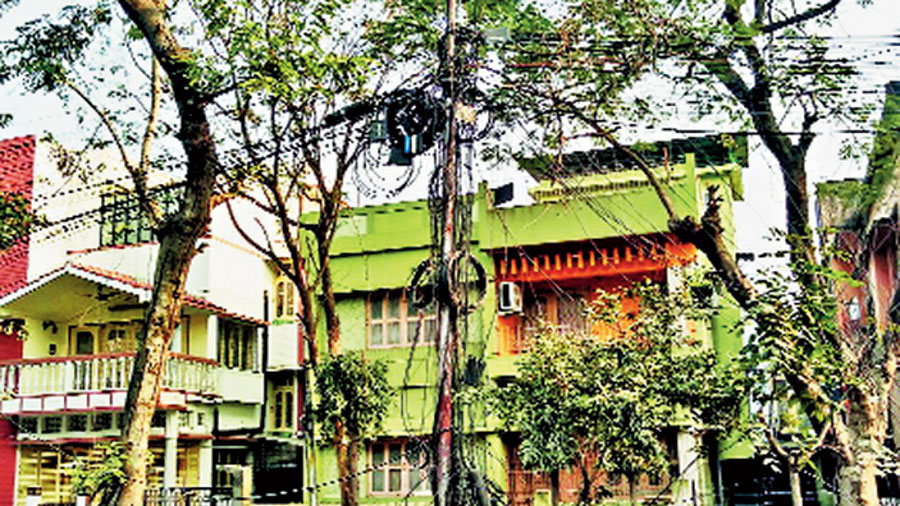 A tangled maze of wires
Telegraph picture
---
Calcutta
|
Published 05.03.20, 08:18 PM
|
---
Sector V in Salt Lake will have an underground conduit to carry cable television and broadband wires.
Officials of Nabadiganta Industrial Township Authority (NDITA), which will build the channel, said the move would clear the overhead mess that is not only an eyesore but also a safety threat.
All cable television operators and broadband service providers have to route their cables through the underground conduit, which will be built at a depth of about 1m. There will be access hatches and junction points every 10ft so that the connections can reach office complexes as well as residential units, an NDITA official said.
There have been plenty of instances of posts laden with cables and junction boxes keeling over on roads causing traffic disruptions and even accidents.
The underground conduit will wind its way below the footpaths of Sector V, the NDITA official said. Apart from footpaths, the conduit will run under dividers on major roads in the area.
Cable television operators and broadband service providers have been told that cables on lamp posts and others street furniture were an eyesore and posed a risk to road users.
Debashis Sen, the NDITA chairman, said three main roads in Sector V had been freed of overhead cables as part of a pilot project.
One such stretch extends from the Wipro crossing to Ring Road via the crossing at College More. Another is Street No. 17 that leads from the Webel crossing to the Decathlon store in EP Block.
"We want to take all overhead cables in Sector V underground at the earliest," NDITA chairman Sen said. "They are an eyesore and are risky for motorists, two-wheeler riders and pedestrians."
Several meetings have been held with cable operators and broadband service providers over the past several months, he said.
Those using the conduit will have to pay a rent to NDITA, an official said.
To ensure that there are no overhead cables, NDITA teams will monitor the area.
"Once they find any cable on lamp posts they will simply cut them off. The teams will visit frequently to ensure there are no overhead wires," Sen said.
Apart from vigilance, they will meet cable television operators and broadband service providers and residents regularly to spread awareness.
Check teams comprising NDITA officials will be formed in the next few months to keep tabs on overhead cables, Sen said.
In Calcutta, despite several announcements, the Calcutta Municipal Corporation (CMC) has failed to clear the mess of wires.