Two by-elections will be fought in Bengal on Tuesday with the ruling Trinamul Congress rather unusually facing challenging narratives in both constituencies.
Barring exceptions like the battle for the Bhowanipore Assembly seat in Calcutta late last year — which Mamata Banerjee had to win to remain chief minister — by-elections have generally been mundane affairs in Trinamul-ruled Bengal.
But Tuesday's twin contests for the Ballygunge Assembly seat and the Asansol Lok Sabha constituency have aroused deep interest because of the dominant campaign themes.
One of them is about a "turncoat" and the other about an "outsider". Trinamul had used both these planks in last year's Assembly elections to target the BJP — which had fielded many defectors from Trinamul and brought in campaigners from outside who seemed to have little knowledge of Bengal's culture or history.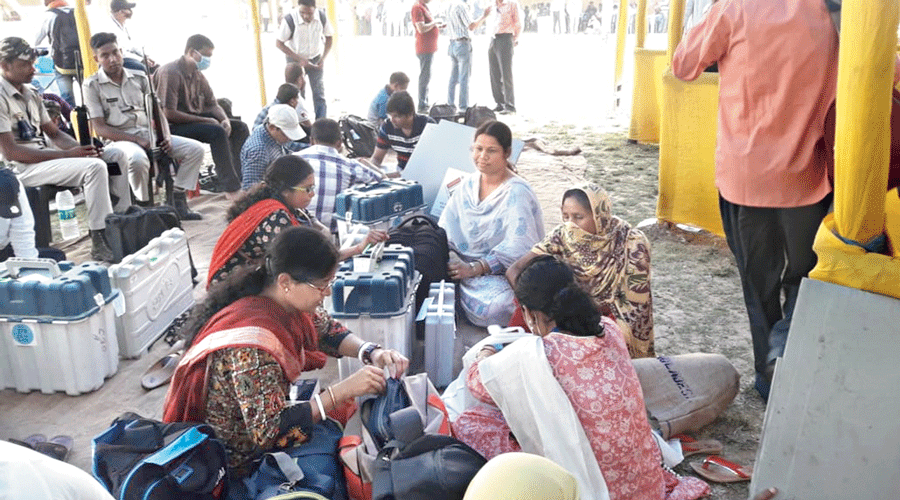 Election officials collect EVMs and other voting material at a distribution centre in Asansol on Monday. Santosh Kumar Mandal
This time the boot seems to be on the other foot.
In Ballygunge, forced into a by-election by the death of former minister Subrata Mukherjee, the talking point has been Trinamul's nomination of former Union minister and BJP turncoat Babul Supriyo.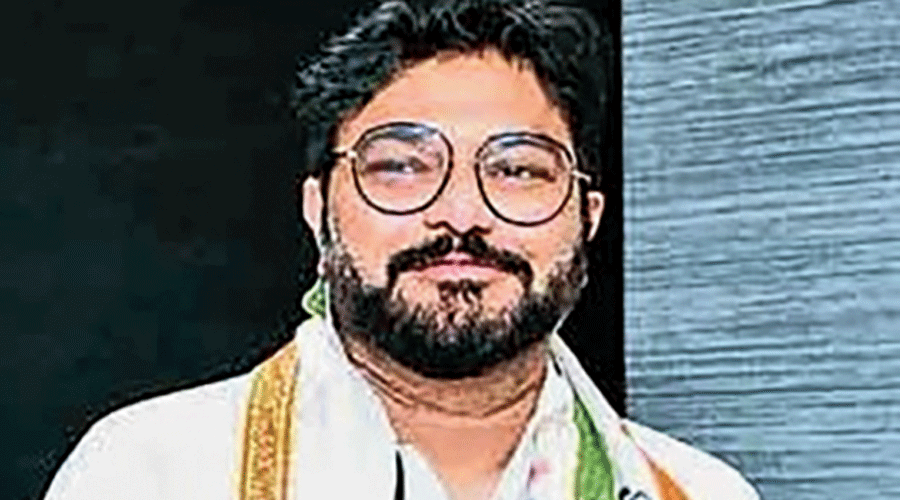 Babul Supriyo. File photo
Trinamul may be confident of retaining the seat, but multiple sources in the party said the "No vote to Babul" campaign was giving sleepless nights to Supriyo, pitted against Saira Shah Halim of the CPM and Keya Ghosh of the BJP.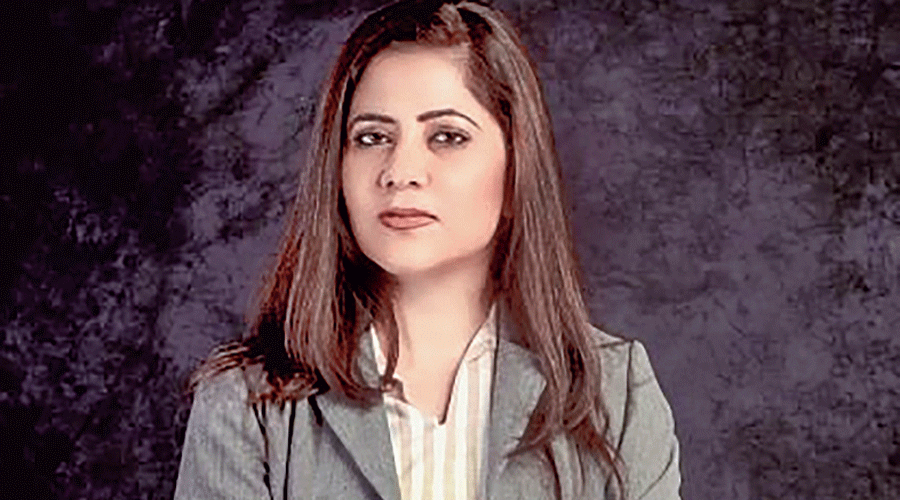 Saira Shah Halim. File photo
More than 220km away in Asansol, where the by-election has been necessitated by Supriyo's resignation as MP, the BJP has tried to turn the tables on Trinamul by labelling its nominee Shatrughan Sinha an "outsider".
BJP candidate Agnimitra Paul's slogan has been "Asansol nijer meyeke chaye (Asansol wants its own daughter)", an improvisation on Trinamul's "Bangla nijer meyekei chaye" from 2021.
Kunal Ghosh, a Trinamul spokesperson, dismissed any chances of defeat. "The people of Bengal have again and again placed their faith in Mamata Banerjee. The two by-elections will be no different; we'll win both by handsome margins," he said.
Even if the prediction comes true, party sources admit that there will be no cakewalks.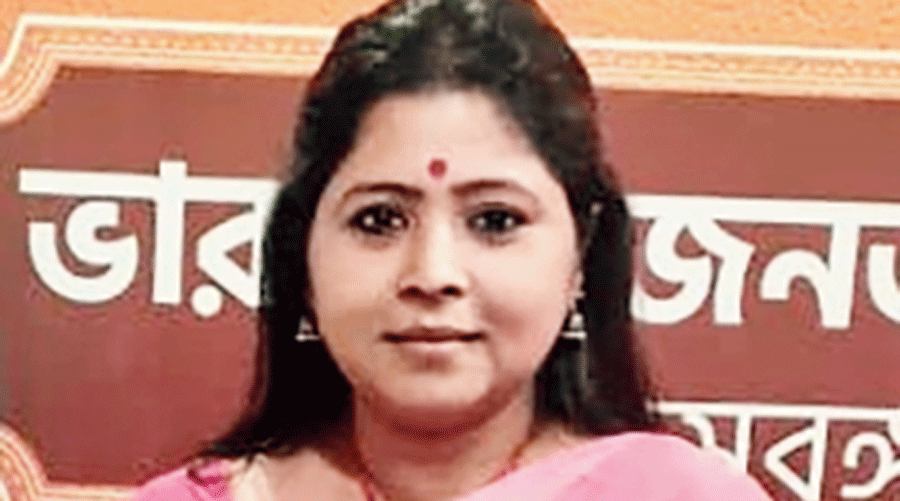 Keya Ghosh. File photo
In Ballygunge, Supriyo's nomination has upset a large segment of the Muslim electorate that had for many years been loyal to Mamata.
Local Trinamul leaders privately admit that the discontent runs deep. So much so that the party's national general secretary, Abhishek Banerjee, had to seek votes in Mamata's name in the constituency.
Muslims make up more than 40 per cent of the 2.5 lakh voters of cosmopolitan Ballygunge.
"We have been with Didi (Mamata). Her exemplary work during the pandemic had earned our respect. But that doesn't mean we will support Babul Supriyo," said Akhter Khan, Ballygunge resident and a driver by profession.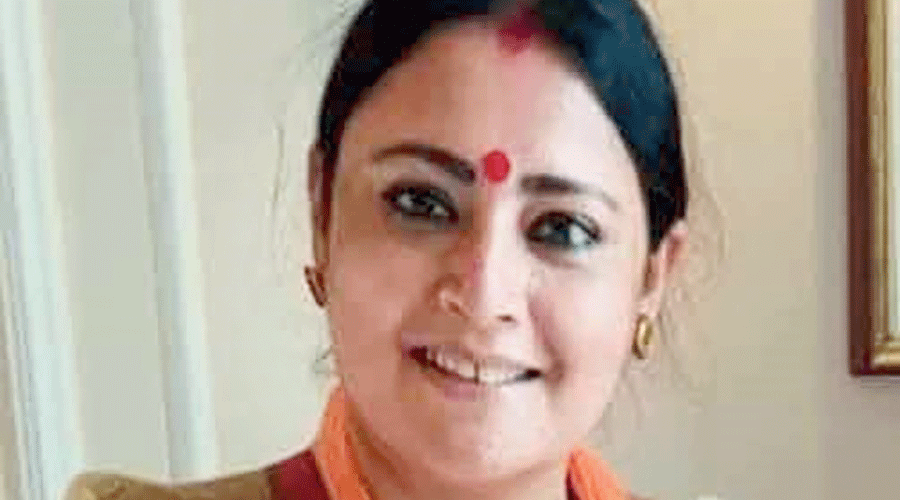 Agnimitra Paul. File photo
Many Muslims in Ballygunge accuse Supriyo of inciting the riots that rocked Asansol in 2018. Supriyo was then BJP MP from Asansol. He had later publicly backed the contentious Citizenship Amendment Act (CAA) and threatened to deport Muslim protesters.
"It's difficult to defeat Babul because I don't think there will be a free election. But I sincerely hope the margin comes down," Khan said.
A Trinamul source agreed the margin would come down from the 75,000-plus votes by which Mukherjee had in 2021 defeated his nearest rival and BJP candidate.
Saira, daughter-in-law of former Bengal Assembly Speaker Hashim Abdul Halim and niece of veteran actor Naseeruddin Shah, is popular among progressive sections because of her role in the anti-CAA movement. Her campaign drew support from several apolitical platforms and activists.
Saira, the activists say, is the strongest secular candidate in Ballygunge.
Her husband Fuad Halim, the Left-Congress nominee from Ballygunge in 2021, had barely polled a 6 per cent vote share against Trinamul's 71 per cent and the BJP's 21 per cent. But Saira is confident of doing well if the poll panel and the police ensure a free and fair election.
"We believe that the Trinamul Congress fears a massive backlash against its candidate. Let's see how the police and the Election Commission fare on polling day," she said.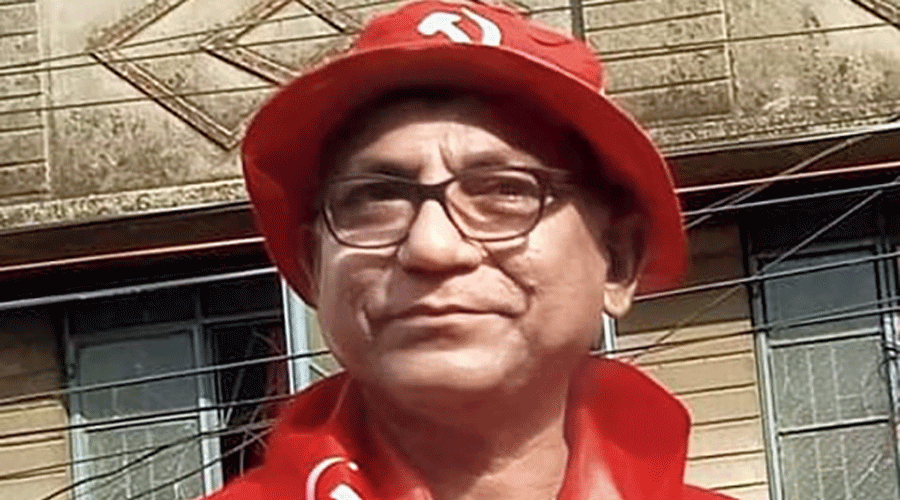 Partha Mukherjee. File photo
Supriyo left everything to the party machinery during the campaign. Unlike his days in the BJP, when he would miss no opportunity to lock horns with his critics, he stuck to the schedule the local Trinamul leadership had worked out for him.
"The party decided where I should go and where I should campaign and I followed that," the singer-turned-politician said.
Supriyo has met the "No vote to Babul" campaign with public defiance. In several of his Ballygunge rallies, he mentioned his years as Asansol MP.
"Whatever I have done for Asansol is available in public documents. I carry that place in my heart," he told a news conference.
Both the BJP and Left nominees have, however, used his Asansol association to mock him.
"If he is right about having done so many good things for Asansol, he should have had the guts to contest from Asansol again on a Trinamul ticket," Paul, sitting MLA from Asansol South constituency, told this newspaper.
Partha Mukherjee, Left candidate from Asansol, said: "The by-election was necessitated because of the personal interests of the former BJP MP, who joined Trinamul. People here have nothing to do with this but the by-election was forced on them at the cost of the taxpayer."
Supriyo won Asansol, an erstwhile Left bastion, both in 2014 and 2019. Trinamul, however, cut down the BJP's 2019 winning margin of 1.97 lakh votes to 64,000 in terms of the combined results of the seven Assembly segments in 2021.
In Asansol, the "daughter of the soil" versus "outsider" campaign has had Trinamul poll strategists worried.
Shatrughan, a native of Bihar, has been consistently countering the "outsider" tag — even invoking Narendra Modi, a Gujarati elected as MP from Varanasi, to justify his candidature.
"I have a longstanding connection with this region. I know the problems of the coal miners and will use my experience in raising their troubles in Parliament if I win from Asansol," he told a rally.
Of Asansol's more than 15 lakh voters, about 1 lakh are employed in the collieries of Bengal and Jharkhand. Over 40 per cent of the voters are Hindi speakers; and around 27 per cent are Muslim. Trinamul is banking on these segments — which are overlapping — to wrest the seat for the first time.
Trinamul sources said Sinha's nomination was aimed at wooing the Hindi-speaking voters as well as strengthening Mamata's national footprint, for the articulate actor-turned-politician can be relied on to attract the spotlight in Parliament.
"We are confident that he (Sinha) will win. His win will expand our party's national presence," a local Trinamul leader said.