Bengal Elections 2021: Voter turnout affected in urban areas by raging Covid pandemic
The four Calcutta Assembly constituencies that went to the polls on Monday recorded 59.91 per cent turnout till 5pm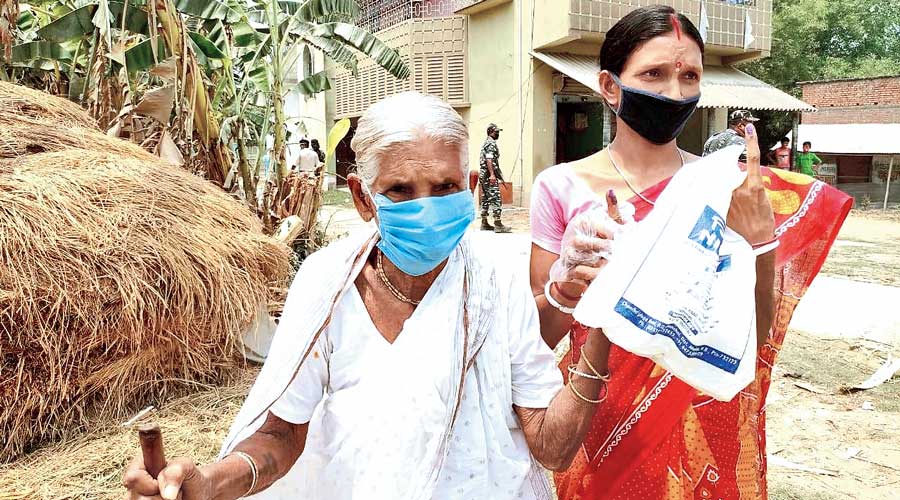 ---
Calcutta
|
Published 27.04.21, 02:42 AM
|
---
Voter turnout in the penultimate phase of the eight-phase Assembly polls in the state was affected in the urban areas by the raging Covid-19 pandemic.
According to the numbers released by the Election Commission of India (EC), voter turnout in the 34 Assembly segments across five districts, including four seats in Calcutta, till 5pm on Monday was 75.06 per cent.
But a district-wise break up clearly brought out the rural-urban divide in Monday's voting.
The four Calcutta Assembly constituencies — Ballygunge, Rashbehari, Bhowanipore and Calcutta Port — that went to the polls on Monday recorded 59.91 per cent turnout till 5pm, significantly lower than the average turnout.
West Burdwan district, which also has several urban constituencies, recorded a 70.34 per cent voter turnout, again, lower than the average of Monday, and its usual average pattern in elections where the turnout per cent touches 84 or so.
On the other hand, South Dinajpur, Malda and Murshisaband, which are primarily rural areas, recorded 80.21 per cent, 78.76 per cent and 80.30 per cent turnouts, respectively, till 5pm.
"It is clear Covid-19 concerns have taken a toll on the poll percentage in urban areas in the seventh phase of polling on Monday," said a poll panel source, adding that the trend was witnessed first in the urban areas of North 24-Parganas in the sixth phase.
According to the state health department's bulletin, Bengal recorded a total of 15,992 Covid-19 lab-reported cases on Monday, of which 3,868 infections were reported from Calcutta and 770 cases from West Burdwan.
"In both the areas where polling percentage was low, people are struggling with a huge number of daily positive cases. This is the reason for the comparatively lower turnout," said a source.
Poll panel sources also said that in the previous phases it was noticed that the voter turnout increased by about 4 per cent in the last 90 minutes with the elections on till 6.30pm.
"It remains to be seen whether that trend holds true this time as well....If that happens, the turnout would be around the usual trend of 64 to 65 per cent in Calcutta," said the source.
A break-up of voter turnout of the four Assembly segments in Calcutta shows that Ballygunge recorded 59.59, Rashbehari 55.93, Bhowanipore 60.01 and Calcutta Port 64.09.
High minority turnout
Another trend — consistent with the earlier phases of Bengal elections this time — was the high turnout in the minority-dominated areas.
"Districts such as Murshidabad, Malda and South Dinajpur, with a high percentage of minority voters, recorded higher polling percentage and these places can even surpass their average voter turnout. Even Calcutta Port, with many minority voters, recorded the highest voter turnout in the city. This may give a hint that ruling Trinamul would be in a better position in these Assembly segments," said a political observer.
Lower turnout in Calcutta till 5pm was attributed to lower participation of people in highrises. "This will surely help Trinamul as people living in these highrises are generally believed to be BJP voters," said political scientist Biswanath Chakraborty.
Campaigning for the eighth and final phase of elections, to be held on Thursday, also ended at 6.30pm on Monday. Thirty-five seats will go to polls on Thursday.
Sitalkuchi repoll
Repolling at booth 5/126 of Sitalkuchi Assembly seat of Cooch Behar will be held on April 29, the eighth and final phase of Bengal polls.
Polling was halted here on April 10 when central forces opened fire to disperse a crowd, which left four youths dead. On Monday, Pawan Kadyan, the district magistrate and district election officer of Cooch Behar, said he had received instructions from the EC to conduct the polls at the booth on April 29.