Bengal Polls 2021: Counting agents' rush for tests strains health staff
The Election Commission's new rules put pressure on hospitals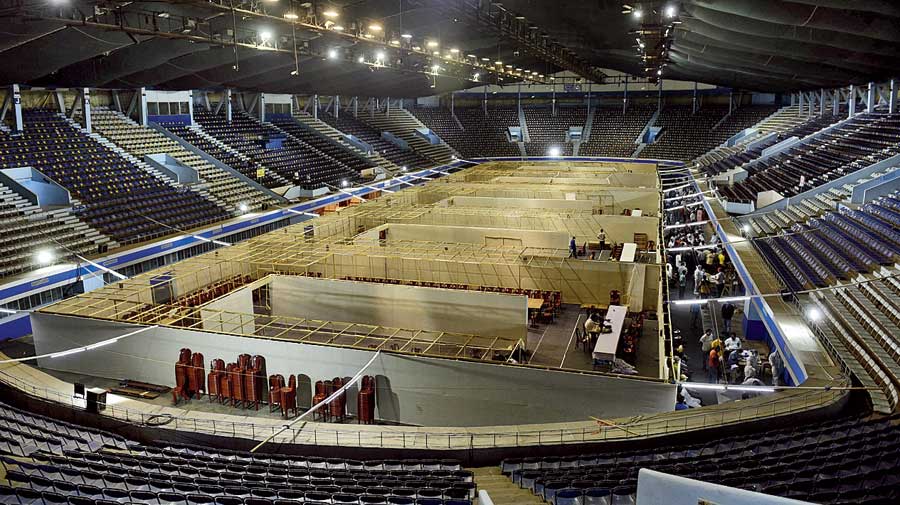 Preparations in progress at the Netaji Indoor Stadium in Calcutta on Friday for counting of votes on May 2.
Bishwarup Dutta
---
Bolpur(Birbhum)
|
Published 01.05.21, 02:02 AM
|
---
Health department officials in several districts were on Friday faced with the task of carrying out Covid-19 tests on hundreds of counting agents after the Election Commission of India required them and candidates to have negative RT-PCR report or two doses of Covid-19 vaccine to enter counting centres on Sunday.
The EC order makes it incumbent upon counting agents and candidates to undergo the Rapid Antigen Test (RT-PCR) during a period of not less than 48 hours before the beginning of the counting process.
Health officials said the pressure became huge as the staff had to test over 40,000 people additionally in two days — Friday and Saturday — across Bengal, in addition to regular patients.
"Around 53,000 tests are done on a day across Bengal amid the huge scarcity of employees as many of them are in isolation after being infected. Now, it has become a challenge for the staff to test an additional 40,000 people," said a senior health official.
According to the officials in districts, every Assembly constituency will have 14 tables for counting and there would be an agent for each candidate, along with three or four counting staff. There are over 2,000 candidates in Bengal. All the political parties are bringing in 30-40 per cent extra counting agents for the test fearing if some are found Covid positive.
"Approximately, 40,000 people had to be tested for Covid in two days. The pressure was extreme on Friday as no political parties took the risk to keep it for May 1. If the commission had ordered the test at least a week ago, then, we could have managed the situation," said the health official.
In Birbhum, health officials opened separate counters for testing polling agents at every block hospital with at least 40 additional staff on Friday.
"We had to withdraw our staff from different rural hospitals and the health services in those pockets were vastly affected. But we could do nothing as we need to give priority to the counting agents and candidates," said a senior health official of Birbhum.
In Burdwan, there were three testing points — Burdwan Medical College and Hospital, Sanskriti Lok Mancha and a government agricultural farm. On Friday, the health officials dedicated Sanskriti Lok Mancha — one of the testing centres — only for counting agents of all political parties. No common people were allowed to test there on Friday.
Mamani Soren, 35, a resident of Nilpur in Burdwan, had reached Sanskriti Lok Mancha for a test as she was suffering from fever but returned when told that she would not be tested there.
"Many common people were deprived of the test or had to travel extra miles to reach other places. We had nothing to do as we had to cope with the crisis of staff. Every day, dozens of our staff are testing positive and we are losing our manpower," said a health staff in East Burdwan.
Sources in different political parties said they had to find 30 per cent extra counting agents for fear of some testing positive for Covid.
A section of political leaders in Birbhum said counting agents had to queue up with several symptomatic persons who had arrived for the tests.
Trinamul leader Tapas Mondal, who brought 30 counting agents for the tests at Bolpur block hospital, said he was concerned about the spread of infection as they had to queue up with those having Covid symptoms.
"We don't know whether we will be infected while getting the test done as we have come in contact with people having symptoms. Hundreds of people with Covid symptoms are roaming around us and we can't identify them. Our agents are scared as they fear they will get infected by visiting crowded hospital premises," said Mondal. Trio arrested
Police arrested an outsourced employee of JNM Hospital in Nadia's Kalyani and two others, including a woman, on Friday allegedly for generating fake Covid-19 test reports using the official user ID and password of the medical facility.
The arrested are Mrityunjoy Ram, a data entry operator attached to the hospital's medical superintendent's office, and Monalisa Biswas and Arup Das, who work at a private pathological laboratory in Kanchrapara as sample collectors.
The residents of Kanchrapara were arrested following a marathon interrogation on Friday afternoon. They were produced in the additional chief judicial magistrate's court in Kalyani and remanded in jail custody for two weeks.
Additional reporting by Subhasish Chaudhuri