Bengal Polls 2021: Amit Shah knocks at doors on Didi's home turf
Mamata is the sitting MLA from Bhowanipore but this time she has contested from Nandigram in a prestige battle with her protégé-turned-BJP candidate Suvendu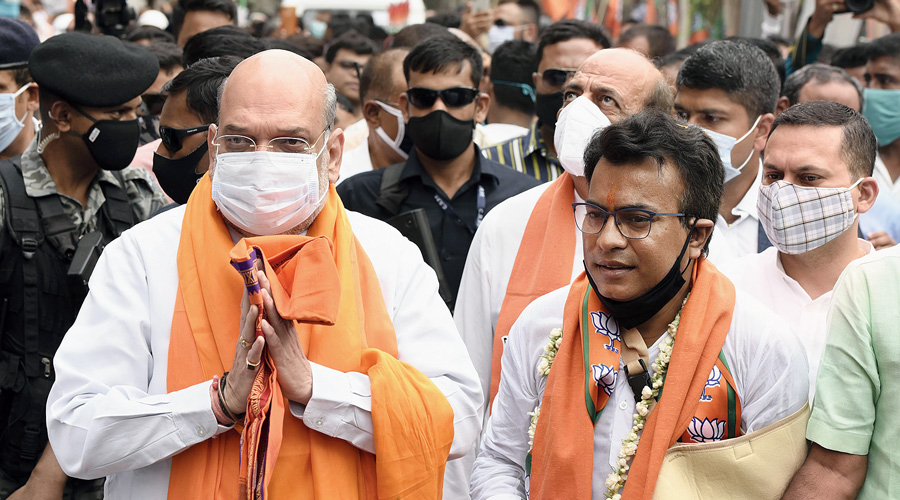 Union home minister Amit Shah campaigns door-to-door at Beltala area in Bhowanipore, Calcutta, on Friday.
Sanat Kumar Sinha
---
Calcutta
|
Published 10.04.21, 01:24 AM
|
---
When Mamata Banerjee was unleashing an attack on Amit Shah in East Burdwan on Friday, the Union home minister was moving from door-to-door in the chief minister's home turf Bhowanipore, appealing to people to vote for the BJP.
Mamata is the sitting MLA from Bhowanipore but this time has contested from Nandigram in a prestige battle with her protégé-turned-BJP candidate Suvendu Adhikari.
Shah visited a Bhawanipore slum in ward 72 of the Calcutta Municipal Corporation on Friday, indicating how important it was for the BJP's central leadership to wrest power in Bengal.
"This wasn't just a road show or a public meeting. The Union home minister calling on every house in a slum and speaking to the residents is very significant because Bhawanipore is Mamata's home turf," a state BJP leader said. "Our leaders believe if we win Nandigram and Bhowanipore, half the job is done," he added.
Mamata has fielded a senior party colleague and minister Sovandeb Chattopadhyay, who is the sitting MLA from the adjacent Rashbehari seat, from Bhowanipore.
BJP leaders said Shah's strategy for Bengal included a battle of perception and Friday's campaign in Bhawanipore was part of the ploy.
"The image of Shah moving around in Mamata Banerjee's home constituency will be televised across TV channels and covered by the media. The perception about BJP's desperation to win Bengal will gain momentum and televised images of Shah leading from the front will sway voters, who are still undecided, towards us," said a senior BJP leader.
In December, Nadda attended a similar door-to-door campaign in a Bhowanipore slum. However, slum residents were reportedly unhappy with the visit as they couldn't talk to Nadda personally.
However, Shah's Friday's event was a success according to the BJP. Local residents like Krishna Makal and Purnima Sardar were happy to see Shah up close. "We are BJP workers. Our vote is for Modiji," Makal said as Sardar nodded.
A day before Shah's campaign, on Thursday, violent clashes took place between BJP and Trinamul workers in the area. BJP's Bhowanipore candidate, Trinamul turncoat and actor Rudranil Ghosh alleged Trinamul goons had threatened to murder party worker Animesh Das. Later, when Ghosh and other party workers had rushed to Das' defence, they were attacked with stones.
"Several BJP workers suffered serious injuries. I have injuries in my left arm and legs. Trinamul goons attacked local women with swords and pistols," Ghosh said.
When BJP workers went to lodge a police complaint at the Chetla police station, Trinamul workers allegedly attacked them again. Later police forces reached the spot and brought the situation under control.
On Friday, Ghosh accompanied Shah in his campaign. Before the home minister walked into 13 Bakulbagan Road slum, under ward 72, he met some injured workers and assured them that after May 2 — the day of results — Trinamul atrocities would end, implying BJP victory. He distributed leaflets among slum residents.
Shah had lunch at the home of Samarendra Prosad Biswas, 89, who has twice been BJP Bengal's state secretary.
At a news meet earlier in the day, Shah referred to poll violence in several parts of the state. "Incidents of poll violence in these elections are far less than what used to happen earlier. I will still condemn such incidents and urge the Election Commission to deal with these firmly," Shah said.
Shah resorted to polarising voters and referred to Mamata's appeal to Muslim voters not let their votes get divided.
Shah said the chief minister should remember that other communities were also hearing her appeal. "The rest should decide for themselves. The Muslims should decide too. But others must understand that she is not even asking them to vote for her," Shah said in an attempt to polarise the Hindu electorate.
He added that if elected the BJP would annul the anti-CAA resolution passed in the Bengal Assembly.
Taking the perception war a notch higher, Shah asked Mamata to start introspecting about the reasons behind her "defeat".
Bhowanipore campaign apart, Shah led two road shows in Jagaddal and Madhyamgram in North 24-Parganas on Friday. BJP national party president J.P. Nadda took part in an event in Burdwan.