Violence and arson in Contai after Amit Shah's rally
Over a 100 vehicles were damaged and at least 15 person injured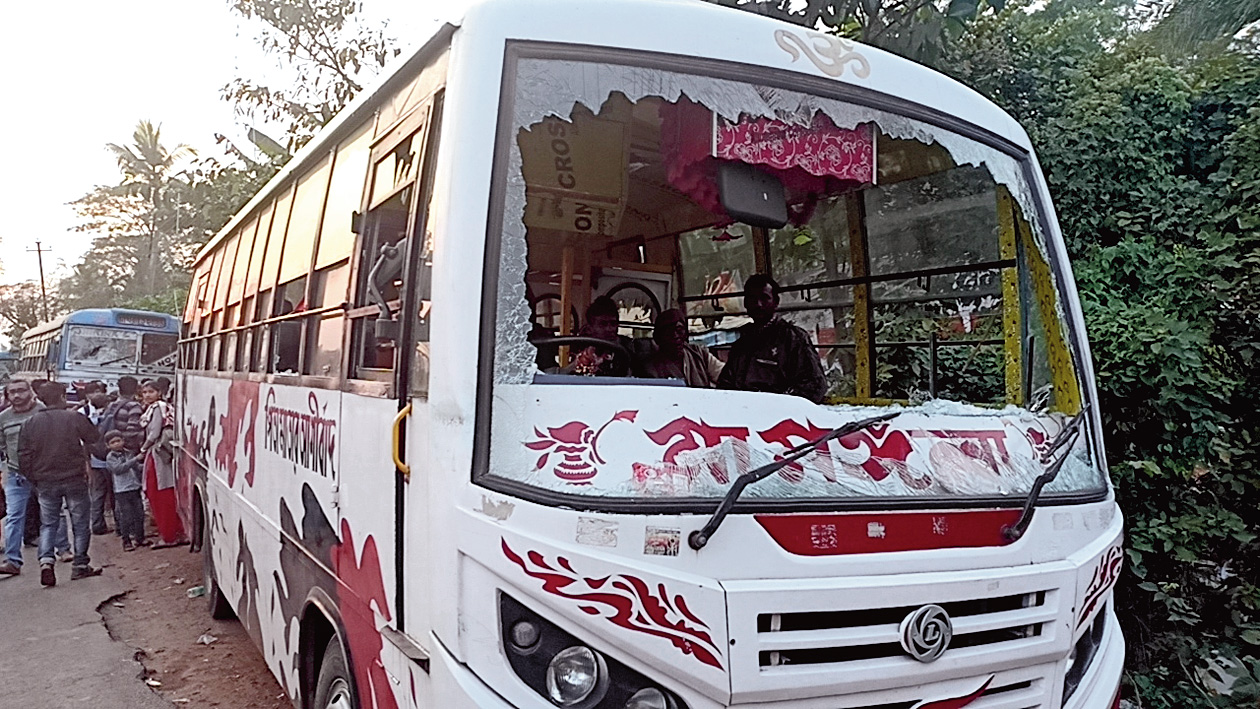 A bus ransacked in the clash.
Jahangir Badsa
---
Contai(Midnapore)
|
Published 29.01.19, 08:45 PM
|
---
BJP and Trinamul supporters clashed in East Midnapore's Contai on Tuesday, shortly after the rally by the national party's chief Amit Shah had ended, triggering a burst of violence and arson that lasted several hours.
The rampage — that led to the ransack of a Trinamul office, left over a hundred vehicles damaged and at least 15 people injured — heightened concerns over the extent to which political violence could intensify in Bengal ahead of the upcoming Lok Sabha elections.
The BJP has planned a rally blitzkrieg in the state and Trinamul has decided to hold meetings at the same places after a few days' gap. On Tuesday, the BJP accused Trinamul of making the first move. "Envious of the success of our rally, the Trinamul Congress launched this brutal attack (on BJP supporters)," BJP leader Mukul Roy said.
Dibyendu Adhikari, Trinamul MP from district headquarters Tamluk, blamed the BJP. "The BJP brought thousands of outsiders, looking for trouble."
Eyewitnesses said that soon after Shah's rally had ended around 4.30pm, BJP leaders like Roy announced through loudspeakers that vehicles deployed to ferry party workers and supporters to and from the meeting venue were under attack from alleged Trinamul activists.
The eyewitnesses said the retaliation was quick. A minor Trinamul office was ransacked and publicity material outside set ablaze.
"There were skirmishes between groups of 10 or 20…. Countless stones were thrown, people armed themselves with everything from sticks to chairs, hurling anything they could at each other," said a shop-owner.
Police said three personnel needed hospitalisation. Additional superintendent of police (rural) Indrajit Basu said eight persons had been arrested over the clashes.
Later on Tuesday evening, Trinamul workers blocked roads between Contai and Nandakumar, leaving thousands of vehicles stranded. BJP leaders alleged that at least 50 vehicles, stranded in the snarls while ferrying its supporters from the rally, were identified and vandalised by Trinamul supporters.
Trinamul plans to observe a "dhikkar divas (Day of Condemnation)" in East Midnapore on Wednesday and hold a counter-rally on Sunday at the same venue where Shah spoke on Tuesday. District Trinamul chief Sisir Adhikari said Sunday's rally would have a much "bigger turnout".