Video shows Trinamul MLA's 'threat' to BJP voters
Pandaveswar Assembly constituency is part of Asansol Lok Sabha seat where a by-poll is scheduled for April 12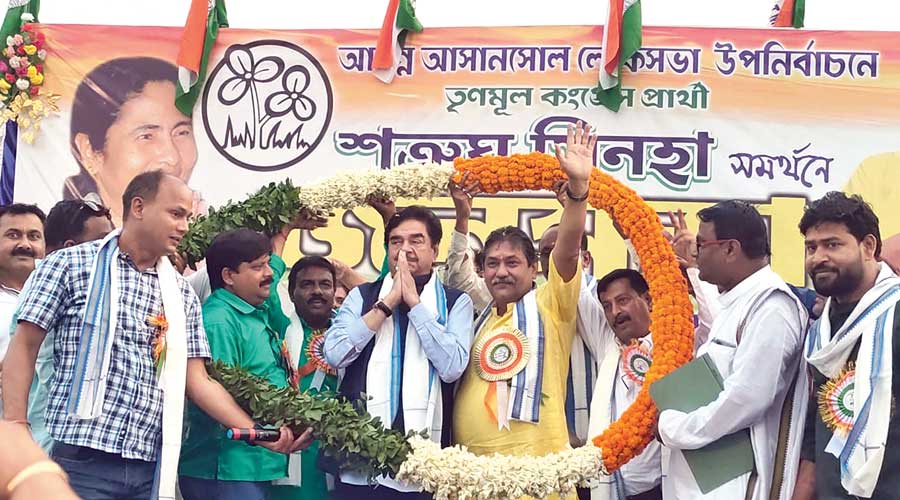 Trinamul's Asansol bypoll candidate Shatrughan Sinha and Pandaveswar MLA Narendranath Chakraborty (in yellow kurta) during the campaign at Pandaveswar.
Picture by Dipika Sarkar
---
Asansol
|
Published 30.03.22, 01:32 AM
|
---
A purported video-clip showing Trinamul MLA from West Burdwan's Pandaveswar, Narendranath Chakraborty, exhorting his party men to "threaten" die-hard BJP supporters and prevent them from going to vote for the forthcoming Asansol bypoll started circulating on social media on Tuesday.
Pandaveswar Assembly constituency is part of Asansol Lok Sabha seat where a by-poll is scheduled for April 12.  
The 41-second video, authenticity of which has not been verified by The Telegraph, emerged on a day a three-member team led by the state chief electoral officer visited Asansol and held a review meeting with district magistrate Arun Prasad and police commissioner Sudheer Kumar Neelakantam in the run up to the poll.
Chakraborty allegedly made the comment during a recent meeting with party workers.
In the viral video Chakraborty is heard saying: "…ar jara kattor BJP, jader ke bhangano jabena tader ke chomkate hobe…Bolben apni jodi vote dite jaan amra dhore nebo BJP ke vote deben. Voter por apni kothay thakben seta apnar nijer risk. (…and those who are die-hard BJP supporters will have to be intimidated…If you go to vote we will consider that you will vote for the BJP. After poll gets over, you will have to live at your own risk)"
Asked about the video, Chakraborty said he failed to recall any such video or his words. "I have not seen the video yet. It may be any old video clipping," he said and described himself as a grass-root level party worker.
In 2016, Chakraborty was arrested from Calcutta Airport with a revolver and three cartridges. He was carrying the firearms without licence. He was then a functionary of the Trinamul-run West Burdwan zilla parishad.
The BJP and the CPM asked the election commission to take immediate action against the Trinamul MLA over the video.
The BJP candidate from Asansol, Agnimitra Paul, has lodged a complaint with the police commissioner, while a team of BJP MPs has lodged a complaint with the ECI in New Delhi. While the BJP took up the issue with the ECI, Paul threatened the ruling party with "retaliation" if they tried to adopt coercive measures on polling day.
"We have been constantly saying that the situation in Bengal is not conducive to hold free and fair elections. Now, a ruling party MLA is seen instructing his party workers to intimidate our supporters," said Sukanta Majumdar, the state BJP chief.
CPM's West Burdwan district unit secretary Gauranga Chatterjee said the fundamental right to be able to vote was being threatened by the ruling party.
"This is intimidation of voters. We have seen the ruling party looting votes and deterring people from casting votes. We will lodge a complaint with the Election Commission and urge them to declare all polling booths as super sensitive," he said.       
Trinamul president in West Burdwan and Asansol mayor Bidhan Upadhyay said he was yet to see the video. "I have not seen the video but our party does not support such acts. People are already blessing us and we do not need to intimidate people or the opposition," he said. 
As a precautionary measure, the district party has banned use of mobile phones during internal meetings.