Two newborn red pandas raise Darjeeling zoo's cute quotient
The captive breeding centre was set up back in the 1980s and is the only such site in the country used for breeding and conservation of the small mammal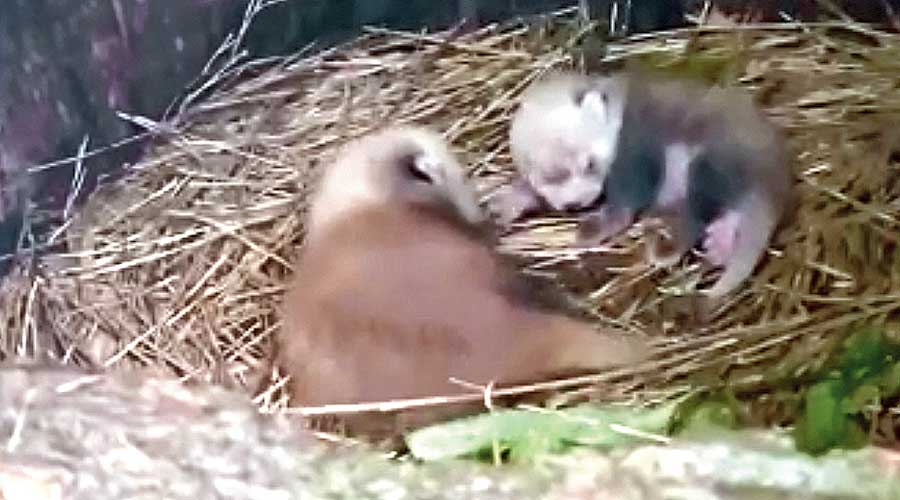 The newborn red pandas at the breeding centre of the Padmaja Naidu Himalayan Zoological Park in Darjeeling.
Telegraph Picture
---
Siliguri
|
Published 09.07.21, 12:59 AM
|
---
The stork visited the Padmaja Naidu Himalayan Zoological Park (PNHZP) in Darjeeling on Thursday, as Shobha, one of the female red pandas of the zoo, gave birth of two furry cubs at Topkay Dara, the captive breeding centre of the species run by the zoo.
Dharmdeo Rai, the director of the PNHZP, said after the birth of two panda cubs, the population of the species at the centre has increased to 25.
Red pandas are a major attractions for tourists who visit the zoo every year.
Rai said the cubs were fathered by Noel, a male red panda who is also an inmate of the zoo. "The cubs and their mother are in good health. We are keeping them under constant watch," said Rai.
The captive breeding centre was set up back in the 1980s and is the only such site in the country used for breeding and conservation of the small mammal.
On June 5, two more cubs had been born in the centre. Along with captive breeding, the state forest department has also drawn plans to release some of the red pandas in the wild, particularly in the forests located on the upper reaches of Darjeeling hills like the Singalila National Park and the Neora Valley National Park.
Apart from pandas, the park is also known for captive breeding place of some other animals which only survive in cold climates such as snow leopard, Himalayan tahr, Tibetan wolf and blue sheep are also carried out at the centre.
Sources at the zoo also spoke about a short video that became popular on social media a couple of days back. It showed three snow leopard cubs playing in the zoological park. Zima, a female snow leopard, had given birth to the cubs on April 12. Namkha, the father of these cubs, is also a resident of the park.