Turbulence alert for new NIT graduates
'Dear graduates, you are setting your foot in a rough and uncertain world'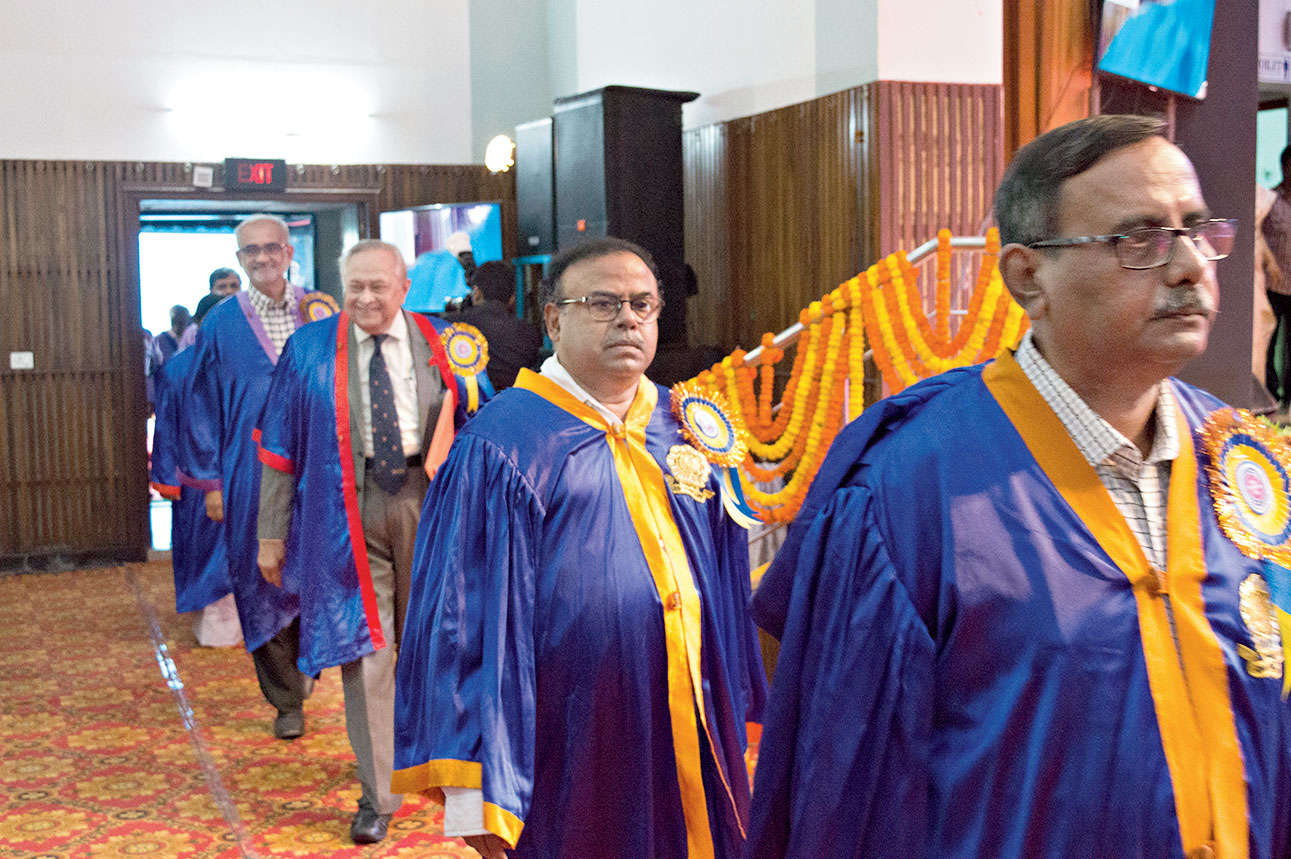 ---
|
Durgapur
|
Published 07.09.19, 07:26 PM
---
NIT Durgapur director Anupam Basu warned in his convocation address on Saturday that the graduating students were entering an uncertain world amid "turbulence and challenges in the economy, the job scene and above all in social and human relations".
"Dear graduates, you are setting your foot in a rough and uncertain world. We hear about the turbulence and challenges in the economy, the job scene and above all in social and human relations," the professor of computer science and engineering, who is on lien from IIT Kharagpur, said.
"It's a world that is far from the… (one) in which you have spent your student days. Yet you are best equipped to deal with this unkind reality."
Queried by this newspaper, Basu later said he had wanted to convey a "message".
"The job market is gradually shrinking. We are facing an economic challenge. The growth rate is coming down," Basu, also chairperson of the NIT's board of governors, said.
"Given this situation, I wanted to say that when an engineer steps out (of college) he cannot expect a rosy world (outside)."
According to official data released on August 29, India's economic growth had dropped to a seven-year low of 5 per cent in the April-June quarter because of a slowdown in manufacturing and sluggish agricultural output.
Maruti Suzuki India said on Wednesday it had decided to suspend production for two days at its Gurgaon and Manesar plants, a sign of the growing crisis in the automotive sector that has shed over 3.5 lakh jobs since the start of this financial year.
Asked how a graduate should try to cope, Basu said: "Innovation, may be self-entrepreneurship, could help them face the challenge. They have to be innovative and adaptive.
"They need to arm themselves with proficiency in areas like the Internet of things, machine learning. They need to find out where these technologies can be suitably used so they can be gainfully employed. They have to think out of the box."
'Blind belief'
Scientist Bikash Sinha, the chief guest at the convocation, asked the students to develop a "scientific temper".
"You should not cloud your mind with superstition, parochialism, blind belief…. India's strength lies in its diversity, plurality," the former director of the Variable Energy Cyclotron Centre and the Saha Institute of Nuclear Physics said.
After the convocation, Sinha told this newspaper: "Until and unless India comes out of the shackles of religion, the country cannot progress fast…. India has been very much vibrant because of its pluralism."
As an instance of "blind belief", he cited a remark that Union human resource development minister Ramesh Pokhriyal "Nishank" had made at the IIT Kharagpur convocation on August 27.
Nishank had claimed that the "Ram Setu" — a chain of limestone shoals between the Indian and Sri Lankan coasts — was an ancient engineering marvel.
"The minister… has no right to speak all this rubbish. It's an instance of blind belief," Sinha said.
Former IIT Kanpur director Indranil Manna was the guest of honour at the NIT convocation. Some 768 BTech students, 205 MTech students, 28 MBA students, 33 MCA students, 10 MSW students and 79 PhD students were awarded their degrees.