TMC's Udayan Guha wins Dinhata Assembly bypoll, sets record
Of the votes polled, Guha secured 84.15 per cent, while BJP's Ashok Mandal had to face the humiliation of securing only 11.31 per cent votes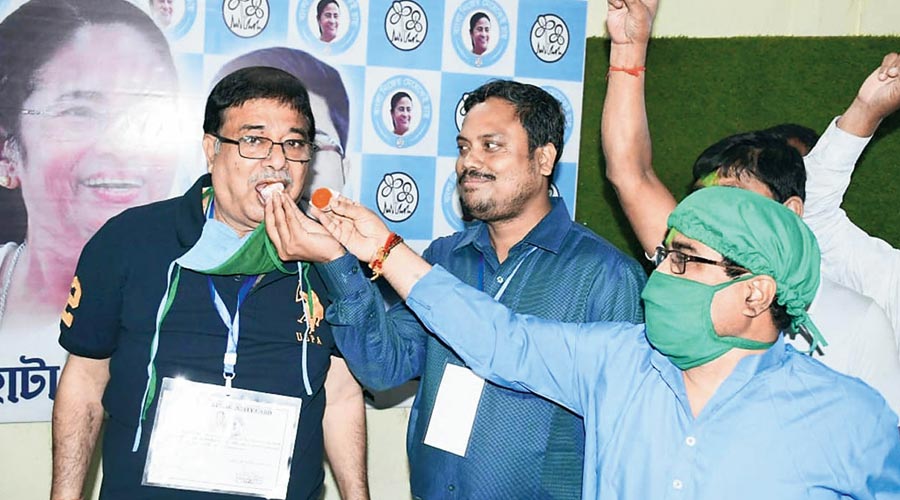 Trinamul leaders offer sweets to Udayan Guha on Tuesday.
Main Uddin Chisti
---
Cooch Behar
|
Published 03.11.21, 01:38 AM
|
---
Trinamul's Udayan Guha won the Dinhata Assembly bypoll on Tuesday with a whopping margin of 1.64 lakh votes, a record in Bengal's Assembly poll history, dealing a massive blow to the BJP and its Cooch Behar MP Nisith Pramanik.
Of the votes polled, Guha secured 84.15 per cent, while Ashok Mandal of the BJP had to face the humiliation of securing only 11.31 per cent votes despite the party's polarising strategy using the recent Bangladesh unrest.
Exactly six months ago on May 2, Guha lost to Pramanik by 57 polls. Pramanik vacated the seat leading to the bypoll. 
"The BJP miserably failed the acid test (in Dinhata, under Cooch Behar Lok Sabha seat) as its vote share came down by almost 36 per cent from the Assembly polls. In the 2019 Lok Sabha polls, the party secured 43.14 per cent," said a political observer.
The party lost even in booths where Pramanik and Mandal are voters, a source said. "Our organisational capabilities have dwindled... On poll day, we could not field agents in most of the 417 booths," said a BJP source.
As the results came up on Tuesday, district and state BJP leaders tried to blame Trinamul "terror".
Party insiders, however, pointed out two key issues that held back the saffron camp
"Thousands of minorities had voted for us in past elections, along with Rajbanshis. But this time, we could not get their support. Results show that after the Assembly elections, almost three-fourths of our support base has shifted to Trinamul," said a senior BJP functionary of Cooch Behar.
Second, he said the recent notification issued by the Union home ministry that extended jurisdiction of the BSF from 15km to 50km within the Indian territory from the international border. The entire Dinhata seat falls within 50km..
"Trinamul leaders could explain how this would inconvenience people in Dinhata. In contrast, the BJP's plan to highlight the unrest in Bangladesh backfired," said a veteran in Cooch Behar politics.
The results have naturally left Trinamul leaders jubilant in Cooch Behar, where infighting within the party was considered one of the key reasons for BJP's rise in the district.
"The downfall of BJP has started in Cooch Behar. It is also a mandate against Nisith Pramanik who had made tall talks earlier," said Guha, the Trinamul candidate.