Trinamul tries to grab Priya Ranjan's legacy
As Congress marks death anniversary of its leader, ruling party announces bronze statue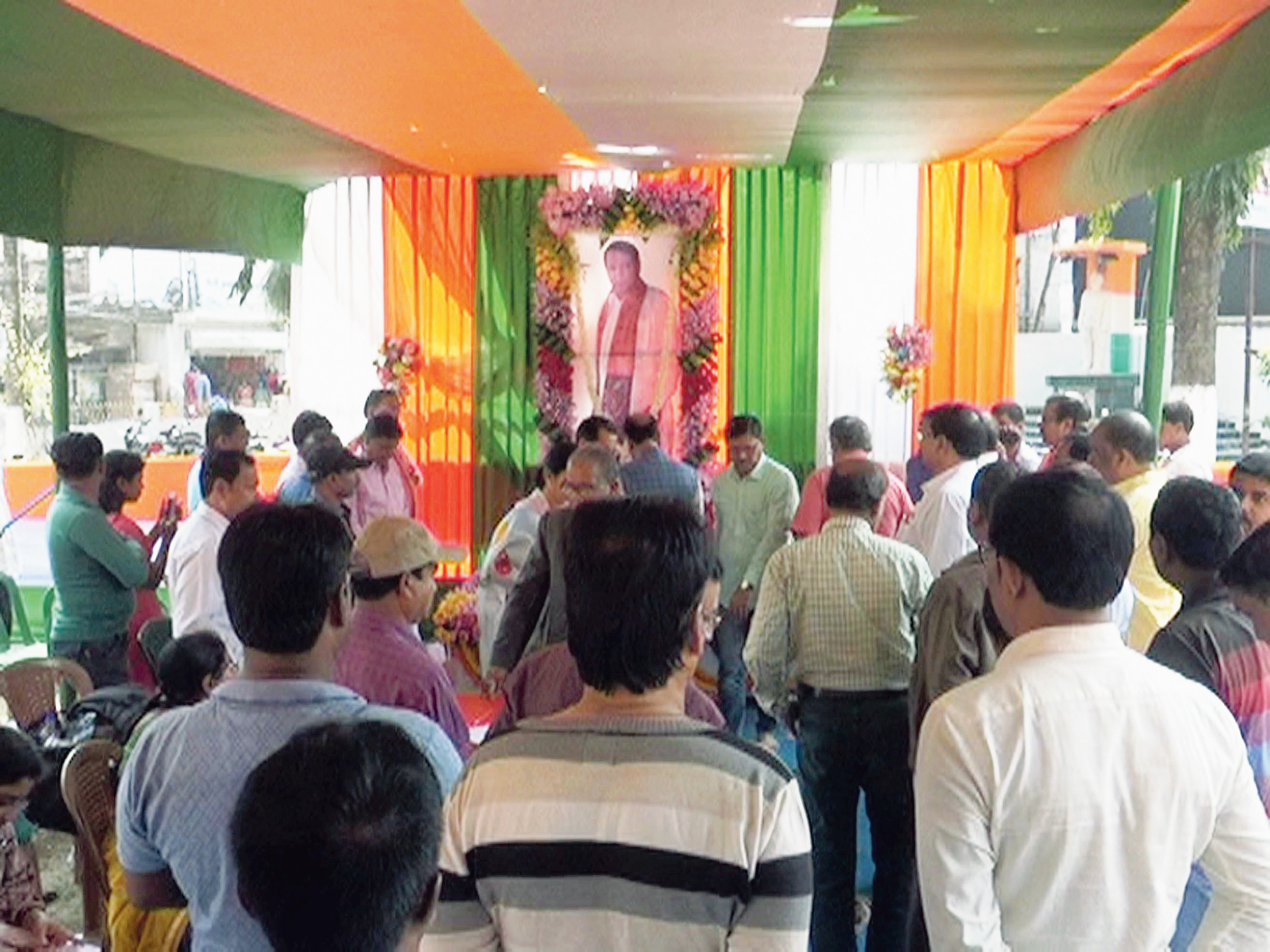 ---
Raiganj
|
Published 20.11.18, 08:06 PM
|
---
The Trinamul Congress on Tuesday checkmated the Congress by announcing that the Raiganj civic body run by the ruling party would install a bronze statue of Priya Ranjan Das Munshi to honour the late Congress veteran.
The Congress was seen going full throttle to mark Das Munshi's first death anniversary on Tuesday with the party putting up placards, festoons, banners and decorated gates carrying photographs of one of the most influential leaders of Raiganj.
Observers believe the Congress was trying to revive the party's fortune in the North Dinajpur district by using Das Munshi's legacy.
Trinamul, however, overshadowed the Congress's initiative on Tuesday.
Sandip Biswas, the chairman of Raiganj municipality, led his councillors to Raiganj Institute Hall where the Congress was organising a blood donation camp and a memorial service and participated in the event to steal the thunder from the Congress.
In a day's notice, the civic board also convened a meeting and passed a resolution to install a bronze statue of Das Munshi at Siliguri More in Raiganj town.
"We have passed a resolution to install a bronze statue at Siliguri More. We are with Trinamul and he was with the Congress but Priyada was everybody's leader. We want to rise above politics today," said Biswas.
To give credence to their effort, the municipality formed a nine-member committee and included four teachers of the town to oversee the installation. The rest of the members are Trinamul councillors.
"The committee will decide on the details like the height and the style of the statue. It will be installed by February 20 next year," said Biswas.
The urban body also decided to close the crematorium in town for a day. Munshi had been cremated there last year.
The civic body had earlier decided to waive charges that the Congress was supposed to pay for the gates and other display materials.
"Trinamul virtually overshadowed the Congress today," said an observer. "The way events unfolded is also a clear indication that the political legacy of Priya Ranjan Das Munshi is still strong in Raiganj," said the observer.
Das Munshi took ill on October 12, 2008 and had gone into a coma at his home at Kaliaganj, 24km from here. He was shifted to Delhi and was under treatment for nine years before he breathed his last.
In 2008, the Congress was in power in all local bodies in North Dinajpur and most of the MLAs in the district were from the Congress. Das Munshi was also the Raiganj MP then.
Since 2011, the Congress started losing support and gradually lost all local bodies and could only retain two Assembly constituencies.
Smarting from the day's turn of events, Mohit Sengupta, Raiganj MLA and the district Congress president, said: "We welcome their decision to install the statue but Priya da's ideology was to practise clean politics and if they really want to honour Priya da, they should follow his ideology."