Trinamul accused of double standards as party leaders press Nadia villagers to give up land
Villagers resist plot acquisition for rail project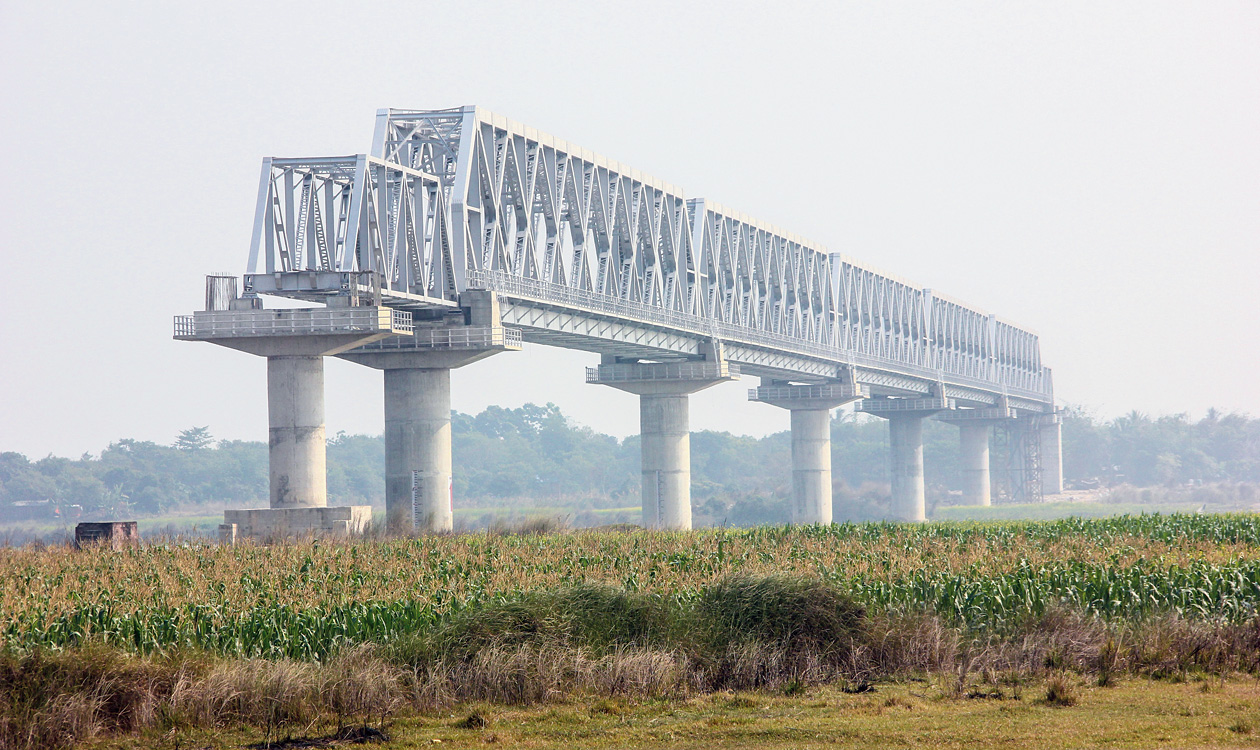 The incomplete rail bridge over the Bhagirathi for which land has to be acquired.
Abhi Ghosh
---
Nabadwip(Nadia)
|
Published 05.01.19, 08:30 PM
|
---
Residents of a village in Nadia's Nabadwip have opposed the takeover of 50 acres for a rail project and accused the ruling Trinamul of adopting "double standards" on land after the local authorities served acquisition notices.
The protests in Mahisura cast a shadow on the future of the rail plan and other infrastructure projects in Bengal.
The problem started about six months ago when the notices were sent to 180 Mahisura villagers to acquire the land for tracks approaching a 600metre bridge over the Bhagirathi river. The route will connect Nabadwip Ghat and Nabadwip Dham.
Villagers said the notices were for two mouzas consisting of multi-crop land and 200 homes. "We have sent written requests to the state and the railway authorities to search for an alternative plot. We are poor and have nothing except these plots. We are shocked to see Trinamul leaders and district officials forcing us to part with our land. This is the double standard of Trinamul," said Raushan Ali, a farmer whose 10 bighas fall under the project.
The state has to acquire land even for central agencies like the railways and the National Highways Authority of India (NHAI) under the Railways (Amendment) Act, 2008, or the National Highways Act, 1956.
"The state has not accepted the new land acquisition act that came into force from January 1, 2014. It does not acquire land for state projects. But we acquire land for central agencies. This causes confusion in rural areas," said a senior state official.
In Mahisura, villagers expected Trinamul leaders to be sympathetic. "We expected the state government and local (Trinamul) MLA Pundarikakshya Saha to listen to our appeals. If our demands are not met, there will be strong resistance against the acquisition," said Israfil Seikh, another villager.
Trinamul MLA Saha had accused the BJP of "inciting" the villagers. "The farmers should vacate the land. They will get very good compensation. Unfortunately, the BJP and some outsiders are misleading the villagers for vested political interests," said Saha.
Chief minister Mamata Banerjee has in the past made it clear that central infrastructure projects must go ahead. In 2017, she had expressed displeasure at villagers' opposition to the acquisition of a large water body in Hooghly's Goghat for a rail link to Tarakeswar. She had stressed that the project must be completed and promised to rehabilitate all affected fishermen.