TMC, Cong vie for Ghani Khan legacy
Rival parties offer tributes on birth anniversary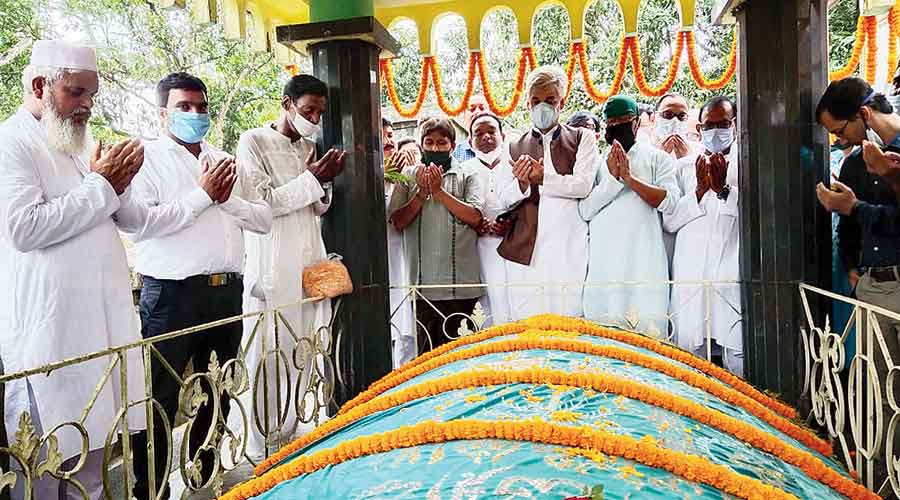 ---
|
Malda
|
Published 02.11.20, 01:24 AM
---
The Congress and the Trinamul Congress separately observed the 94th birth anniversary of late A.B.A. Ghani Khan Choudhury, who is still considered as the tallest political leader of Malda and whose political influence remains unchallenged even 14 years after his demise.
The birth anniversary celebrations are being seen as efforts by opposing parties to claim the legacy of the Congress patriarch, who was synonymous with development and secularism.
The Malda leadership of both the Congress and Trinamul is led by Ghani Khan's descendants.
The Congress is led by Ghani's younger brother and Malda South MP Abu Hasem Khan Choudhury a.k.a Dalu and MLA Isha Khan Choudhury, son of Dalu.
Mausam Benazir Noor, Ghani's niece and a two-time MP, had left the Congress and joined Trinamul last year. Although Noor lost the Lok Sabha seat, Trinamul got her elected to Rajya Sabha and made her the party's district chief.
Congress leaders on Sunday offered floral tributes to Ghani's mazaar (tomb) at Kotwali, where Ghani lived for 80 years.
Isha Khan Choudhury and three other Congress MLAs, along with a large number of party workers, offered prayers at the mazaar around 8.30am.
Noor, on the other hand, accompanied by Trinamul leaders Narendranath Tiwary, Sumala Agarwala, Subhamay Bose and others, went to Ghani's tomb around 10.15am and paid tributes.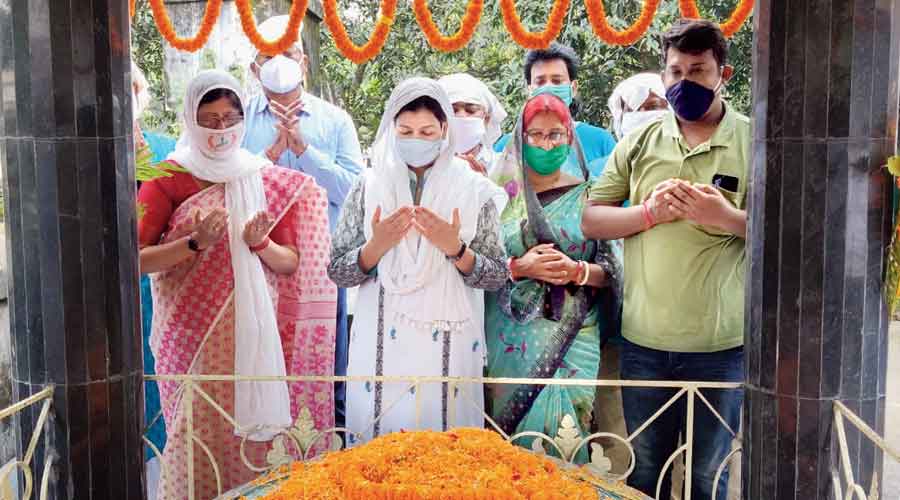 After paying homage to Ghani, the Congress leaders garlanded two statues of the Congress stalwart at Rathbari and Brindabani Ground in Malda. Later, they cut a cake bearing Ghani's name at the Town Hall.
Trinamul leaders, on the other hand, decorated the statue of Ghani Khan at Rathbari with flowers and cut a giant cake.
Noor addressed the party workers and exhorted them to inculcate the spirit of Ghani Khan's uncompromising fight for secularism and development.
Isha and Noor claimed that their respective parties were true torchbearers of Ghani Khan's legacy.
"My uncle Ghani Khan Choudhury never compromised with communalism. He never thought of quitting the Congress and despite all odds, died as a staunch Congress man. Thousands of youths here got employment because of him. Congress is the only party that carries forward Ghani Khan's legacy in true sense. Ghani Khan and the Congress cannot be separated ideologically, politically and practically," Isha said.
Noor claimed the dream of her Barkat (as Ghani was popularly known as) Mama (maternal uncle) of defeating the Left Front was materialised by none other than Mamata Banerjee.
"Barkat Mama handed his political baton to Mamata Di. The Trinamul supremo in true sense is the true torchbearer of Ghani Khan's principle. Both of them have courted development and secularism as the ways of their lives. I am proud to be a descendant of Ghani Khan and privileged to work under Mamata Banerjee," Noor said.