TMC-BJP clash at Bhatpara, bombs hurled, bullets fired
Police sources said the fracas took place over the control of a party office that a section of the BJP leadership had allegedly forcefully occupied a few months ago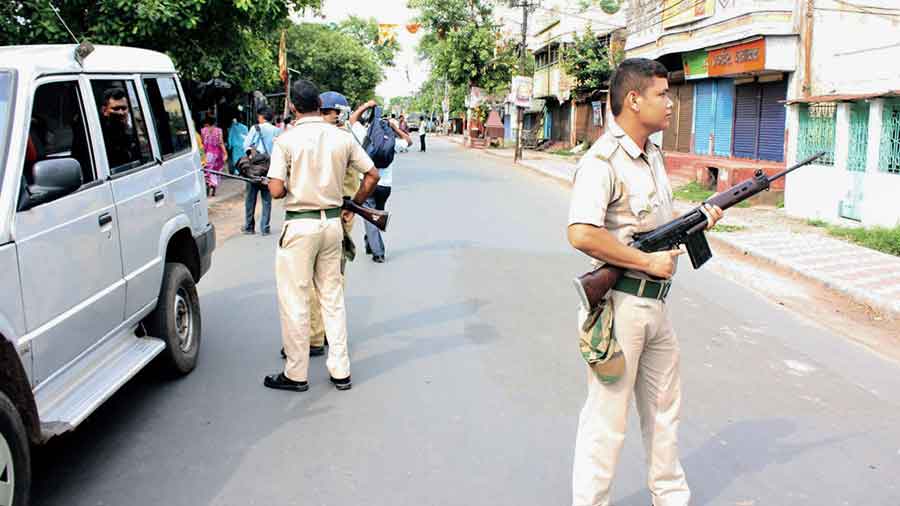 The police have detained 10 persons in connection with the violence
File picture
---
Bhatpara
|
Published 08.08.20, 02:51 AM
|
---
At least 10 persons were injured in a clash between the supporters of the Trinamul Congress and the BJP at Ramnagar here on Thursday night.
Local sources said several bombs had been hurled and bullets fired by supporters of both the parties. No casualty was reported. 
A large police team brought the situation under control. The police have detained 10 persons in connection with the violence.
The area remained tense even on Friday, particularly after the visit of BJP MP Arjun Singh in the morning. He had gone to meet the injured BJP supporters.
Police sources said the clash had taken place over the control of a party office that a section of the BJP leadership had allegedly occupied a few months ago forcefully.
Local sources said the trouble began about 9.30pm on Thursday when a group of Trinamul-backed goons allegedly hurled bombs at a BJP office at Ramnagar when a feast was being held there.
"Goons with Trinamul connection came on four bikes and started hurling bombs at the party office. They also fired indiscriminately. 
Our party workers tried to escape but got injured while coming out of the office. The goons had tried to paint the party office green, but they failed as our supporters from the nearby area rushed to the spot," said a BJP leader.
A group of BJP activists attacked Trinamul supporters in retaliation and hurled bombs. 
This led to a clash turning the area into a battlefield.
Local BJP MLA Pawan Singh alleged that top Trinamul leaders had unleashed terror in the area out of vengeance as it failed to bring the area under their control ever since their defeat in the last Lok Sabha election.
However, Trinamul leader from Bhatpara Dharampal Gupta refuted the allegation. "Goons having proximity to BJP had occupied our party office and our workers were attacked when they had gone to take control of it on Thursday night."
DC Zone 1, Barrackpore, Ajay Thakur, said: "Three persons have been arrested for their involvement in the clash. We are probing the incident."