Timber mafia loot Purulia forests
'We have often faced attacks from the mafia and also tribals'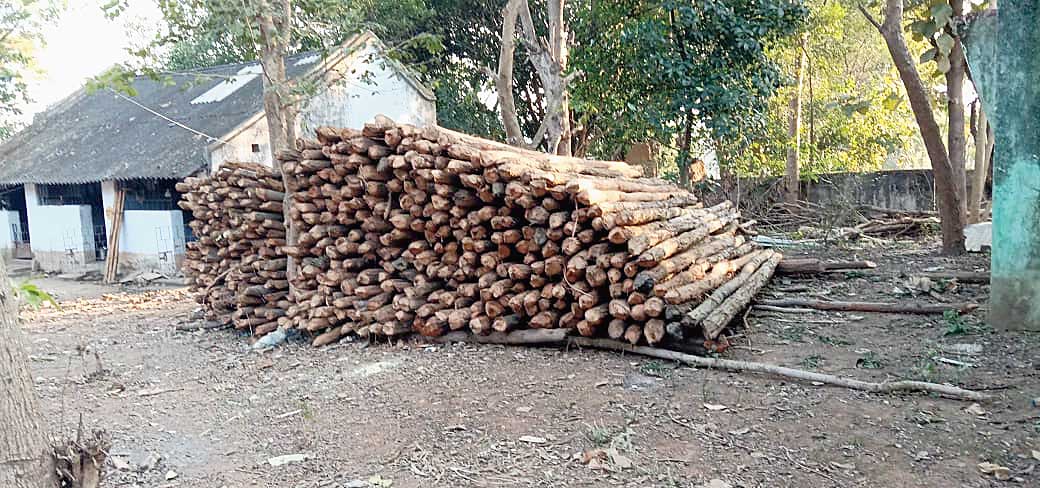 Timber seized recently from the forest of Kuchia in Purulia's Bandawan block.
Picture by Biswanath Roy
---
Purulia
|
Published 07.03.20, 08:56 PM
|
---
The district is losing much of its green cover to the timber mafia with state government officials pleading helplessness in the absence of adequate manpower to stop the carnage.
The felling of trees has been a major headache for forest officials in Purulia's Bandawan block, where the density of green cover is high and the area is situated along the Dalma Hills in Jharkhand.
Explaining the modus operandi of the cartel, a source said the timber mafia, with roots in the neighbouring state, hired tribal villagers in Bandawan to cut trees. Forest department officials carry out raids but face resistance from the armed cartel that operates deep inside the forest.
"We conduct raids whenever we receive information about smuggling of timber and cutting of trees but face resistance from the mafia. We cannot overpower them as they are armed," said Debarshi Biswas, the ranger of Bandawan II.
"We have often faced attacks from the mafia and also tribals," said a forest official.
"All I have is three forest guards and two beat officers to cover a forest spread over 4,500 acres. It is not possible for us to properly guard the trees. Moreover, we often get busy chasing away elephants from human habitats," said the official.
Forest officials said police could not help them fight the mafia. The police, he said, had their hands full as they have to keep an eye on possible movement of Maoists along the Jharkhand border.
A police officer acknowledged that they could hardly help the forest officials during their raids on the timber mafia. He said: "We, too, have manpower shortage and that prevent us from assisting forest officials."
Recently forest officials seized 814 pieces of logs from two places at Kuchia and Salidi forests in Bandawan close to the Jharkhand border.
Sources said that after the trees, mostly saal, were felled, they get smuggled into Jharkhand. However, a forest official lamented that there had been no arrests even though a large number of trees had been cut.