Three devotees dead amid heat and 10-lakh crowd
Police said devotees had come to offer prayers at the temple for Danda Mahotsav, a five-century-old Vaishnav festival associated with Sri Chaitanya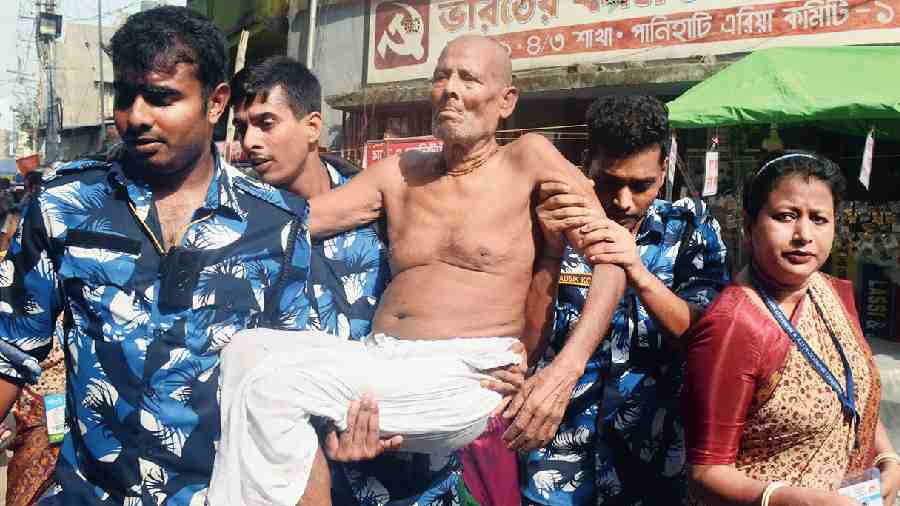 An elderly devotee being evacuated by volunteers from the Iskcon temple at Panihati, North 24-Parganas, on Sunday.
Ankit Mukherjee
---
Calcutta
|
Published 13.06.22, 02:06 AM
|
---
Three persons died and over a hundred others fell ill reportedly owing to heat coupled with the rush of devotees at the Iskcon temple yard in North 24-Parganas' Panihati on Sunday afternoon.
Police and district administration officials said nearly 10 lakh devotees had come to offer prayers at the temple for Danda Mahotsav, also known as Chira Dadhi Utsav, a five-century-old Vaishnav festival associated with Lord Shri Chaitanya and his disciple Shri Raghunath Das.
Sources said that for many years, the festival is had been hosted with logistic support from Panihati Municipality authorities but the "unprecedented rush" this time unsettled all arrangements.
Many elderly devotees, trying to access the temple via narrow lanes in scorching heat, fell ill owing to dehydration and were rushed to Panihati state general hospital.
Three were declared dead.
This eventually prompted the district administration to shut down the temple and debar entry to all routes heading to it. A large team led by Barrackpore police commissioner Manoj Verma checked entry to the temple premises and led an evacuation operation to avoid more loss of lives.
The deceased were Subhash Pal, 70, his wife Sukla Pal, 63, of Purbasthali in East Burdwan who had come to their married daughter's home near the Iskcon temple at Dandapanitala ghat in Panihati to offer prayers, and their relative, Chhyaya Das, 74.
The Pals' son-in-law, Debasish Banik said his flat was adjacent to the Iskcon temple.
Local MLA Nirmal Ghosh said the rush was "unimaginable on Sunday. "The festival was suspended for the last two years because of the Covid situation. So this year, a large number of devotees began to pour in from morning. We had no way to control the swelling crowds…. Eventually, we decided to stop entry with the help of police and volunteers, otherwise more people would have fallen sick."
Devotees blamed poor crowd management. "The loss of lives and chaos could have been avoided had police and organisers stopped the entry of the people earlier," alleged Soma Debnath, a devotee from Bongaon.
Minister Jyotipriyo Mullick, who went to the spot, said: "It is a lesson for us all. We tried our best to provide all support. The number of devotees was beyond our imagination."
Chief minister Mamata Banerjee tweeted: "Distressed to know three old devotees due to heat and humidity bin Danda Mahosav at ISKCON temple at Panihati. CP and DM have rushed, all help being provided. My condolences to the bereaved families, solidarity to devotees."
She later called Iskcon Calcutta vice president Radharaman Das, and conveyed her condolences.