Theatre artistes want CM aid
Demand for health insurance coverage for artistes struggling due to pandemic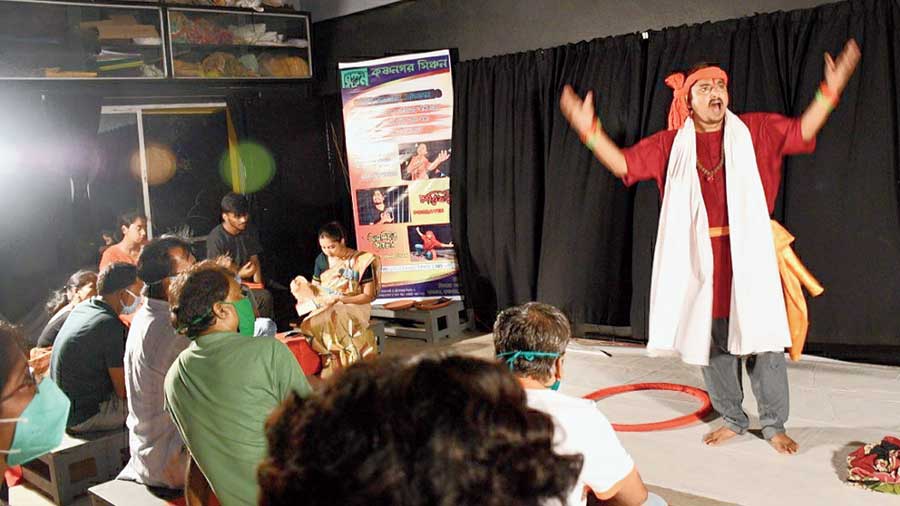 ---
|
Calcutta
|
Published 23.09.20, 01:35 AM
---
A group of senior theatre personalities has written to chief minister Mamata Banerjee to arrange health insurance coverage for group theatre artistes as many of them are struggling will health and financial crisis ever since pandemic halted their earnings.
The email sent to Mamata by eminent playwright-director Chandan Sen on behalf of Bango Natya Samhati, a welfare organisation of amateur theatre artistes, states: "A large number of theatre artistes, who are mostly amateur, are suffering from financial stress because they are associated with an unorganised sector. The Covid situation has increased the uncertainty and insecurity of these artistes since they have no work and hence no money. Several people and theatre groups have come forward to help them by providing food, but meeting their medical needs have become a big challenge."
Sen said that the decision to write to Mamata was taken after the death of at least nine theatre artistes recently from Covid-19 and other illnesses.
Bango Natyo Samhati comprises eminent theatre personalities including Sen, Manoj Mitra, Bibhash Chakraborty, Arun Mukhopadhyay and Meghnad Bhattacharya. Senior members of the organisation have sought an appointment with Mamata at Nabanna to discuss the plight of theatre artistes.
Bango Natyo Samhati has also urged the chief minister to introduce health insurance protection policy for theatre artistes similar to the one she had announced for television actors and technicians of Tollygunge a few years ago.
At present, television actors and technicians get Rs 2.5 lakh health insurance coverage under state government's medical scheme.
"At least nine theatre artistes across the state have already died during the pandemic. They could not afford proper medication owing to financial crisis. There are many struggling to keep their treatment going for lack of money. If the chief minister, who we think is a great friend of the cultural community, extends help to such people we will remain ever grateful to her," Sen added.
Speaking to The Telegraph, Sen said: "We had taken up the issue with Trinamul MP Dinesh Trivedi, who advised us to submit an appeal with the chief minister. Accordingly, we have sent an email to the CM. We have also apprised MP Sougata Roy of the issue. Both the leaders have assured us to take up the matter with the chief minister."
A member of Bango Natya Samhati said unlike television artistes and technicians, theatre artistes were unorganised. "This is why we fail to draw the attention of the state administration," he added.
Many theatre organisations in the state are trying to help artistes in distress with shows for a select audience who are willing to contribute.
On Monday evening, Sinchan theatre group in Nadia's Krishnagar began a weekly show for a limited number of viewers to garner funds for theatre artistes.
Sinchan director Susanta Halder said: "Theatre artistes are passing through a difficult phase and many of them have no money to buy medicines and even arrange daily meals."
Under Unlock 4.0, the Centre has allowed holding open-air theatres with a ceiling of 100 persons from September 21.